Shalhevet alum is awarded Best Soldier in directorate of the IDF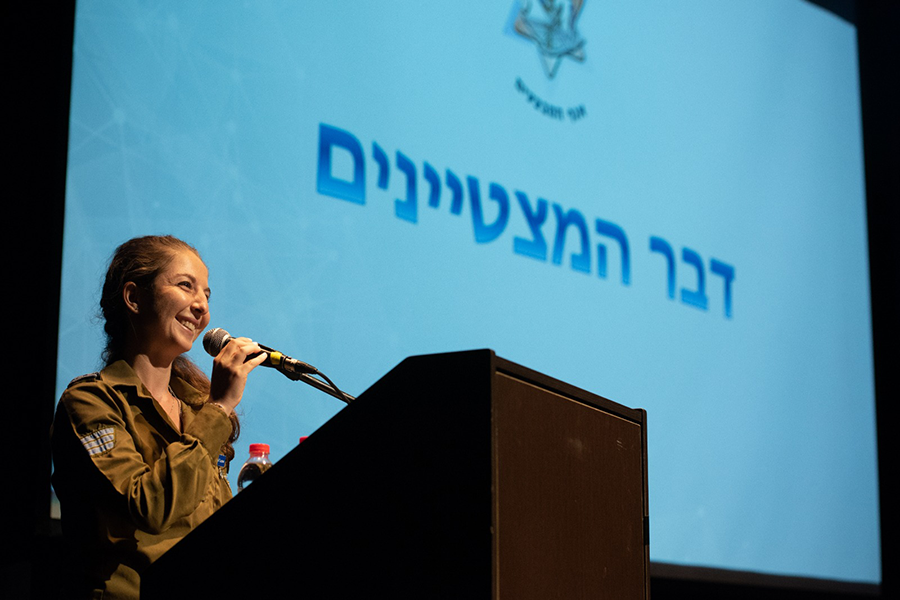 Alumna Rachel Lester, Shalhevet class of 2012, was named an Outstanding Soldier in the Operational Directorate of the Israel Defense Forces this year, making her one of about 20 soldiers to be chosen by the various parts of the IDF responsible for planning the use of military force.
Rachel was awarded for her work in the Spokesperson's Unit as leader of English-language social media, editing field videos and creating graphics and other materials for Facebook and many other platforms.
"In her position, she succeeded in creating digital content that was very successful online and supported the increase in legitimization of the IDF," said the master of ceremonies at the presentation, according to IDF video of the event. Rachel is the first to volunteer for every task and in her work, demonstrates care, dedication, and deep commitment."
The Operations Directorate is comprised of various sections of the IDF and making sure they work well together. Rachel couldn't say exactly what due to security concerns. The IDF's website described it this way:
"The Operations Directorate is responsible for preparing the IDF for war. It coordinates the work of the General Staff, ensures that the various branches of the IDF work together, and makes military recommendations to the relevant political authorities in the government of Israel."
Rachel was also the soldier chosen to speak for all awardees at the award presentation, which was held Sept. 24 in an Air Force auditorium in Herzliya. At the ceremony, she stood on the stage with her family and friends who were in the audience — the IDF had flown her mother, father and brother to Israel from Los Angeles for the occasion.
The head of the Operational Directorate presented Rachel with a plaque and shook her hand.
In a telephone interview with the Boiling Point, Rachel said she tries to be honest and human in describing Israeli operations and soldiers to the world.

"I try to portray Israel and the IDF in the way that it actually is," Rachel said, "as opposed to how it is portrayed by people that have never been in the IDF, and just humanize the IDF."
While giving the speech, she was thinking: "I cannot believe that I have the opportunity to be standing here telling in front of 500 people what it means to be to work hard and work harder than you thought you could," she said.
Her friends and family were in the audience waving signs and cheering, she said.
"The whole auditorium gave me a standing ovation," Rachel told the Boiling Point. "I just felt like a rock star."
Shalhevet Hebrew Department Chair Ms. Mickey Rabinov didn't know Rachel as a student, but served as an Air Force officer in the IDF herself and said that to have been received the Outstanding Soldier Award, Rachel must have leadership skills and be mature, assertive, a role model and "well put-together."

"Usually people with very high leadership skills, people that put themselves first before the others, people that are team players" receive the award, said Ms. Rabinov.
As a junior at Shalhevet, Rachel took five AP classes and held three positions at the Boiling Point at once; over the years she served as managing editor, chief layout editor, features editor, staff writer and staff pollster. She also participated in other co-curriculars, including choir, softball and yearbook, and still got good grades.
"I learned how to really juggle, and balance and just never quit," said Rachel. "Those are lessons that I think made me the soldier that I was…. Shalhevet just really helps push limits and teach people how just to be outstanding."
Rachel finished her official IDF service Nov. 14 but retains the same job, working as a civilian in a position the IDF created for her — leading English-language social media.

She saidshe expects to have more time to herself now that she is no longer a soldier. As a civilian employee, she also has a set number of hours, and her job has specific guidelines.
She said it's been "a good dynamic" commanding soldiers whom she used to serve alongside.
Meet the Writer
Benjamin Gamson, News Editor
Benjamin Gamson joined the Boiling Point during his freshman year as a staff writer and became Polling Director during the second semester of freshman year, in his sophomore year Benjamin currently serves as News Editor. Outside of Boiling Point, Benjamin is a member of the Shalhevet Model Congress team and is a grade representative for the Agenda Committee. While not in school, Benjamin enjoys following politics, current events, baseball, and listening to music.