Basement flood repairs will take all summer, officials say
Shalhevet basement classrooms will be closed for the remainder of the school year because flood repairs may take all summer to complete, officials say.
The damage, which was caused by a broken city water main on Fairfax Avenue and 8th Street at around 1:30 am April 2, flooded the school's five basement classrooms with up to six inches of water.
Head of School Rabbi Ari Segal said cleanup and repairs, which are being conducted by a company called 911 Restoration, would involve replacing basement flooring, cutting out and repairing drywall in the basement walls, and thoroughly cleaning the whole area.
"I'm 99.9 percent sure it will be ready to start for next academic year," said Head of School Rabbi Ari Segal in a meeting with the Boiling Point editors last month.
"Whenever something like this happens, we don't know the quality of the water that came in," Rabbi Segal said. "Until 911 Restoration tells us that it's safe for people to be down there, we can't even start reconstruction."
The space is not only damaged, but dangerous. The doorway by the elevator that leads to the lower basement room is sealed off with sheet plastic, and on it is a sign that says "Microbial Hazard," "Danger, "Keep Out" and "Authorized Personnel Only." It also says, "Respirators and protective clothing are required in this area."
"When the water came in to the building, it brought in with it contaminants that are on the street, in the soil — carried them into the building and migrated throughout the lower basement area," said account and senior project manager Mr. Albert Garcia of 911 Restoration.
"Materials like drywall and wood, within 24 to 48 hours of exposure to that, they will grow mold on them."
"
When the water came in to the building, it brought in with it contaminants that are on the street, in the soil — carried them into the building and migrated throughout the lower basement area.
— Mr. Albert Garcia, 911 Restoration
Since time period has already passed, he said, the assumption is that mold has already grown. To eradicate it, the company will cut out drywall, the material that makes up walls, to a point where every wall in the basement is only four feet tall.
As of now, the area is still closed off and no one is allowed to come in. But Mr. Garcia said it wasn't so dangerous anymore. When they first put the microbial hazard sign on the door, if someone was to enter the area without the proper gear and suit, they might breathe in airborne mold spores, which could have resulted in asthma or allergic reactions, he said.
"There's different things that affect different people," Mr. Garcia said. "If you were to go in there, maybe your eyes would water. Maybe another person would go in there and they would sneeze, another person would go in there and get a headache."
However, since then, mold has been removed so it's somewhat less dangerous, he said.
According to Mr. Garcia, there are many things involved in repairs and reconstruction. First, they had to get all the contents out, some of which could be salvaged and some not.
He said each room would be isolated and addressed separately. That way, once they are all done and a consultant comes to test them, if one room needs more repair then they can fix it without having to change the other isolated areas.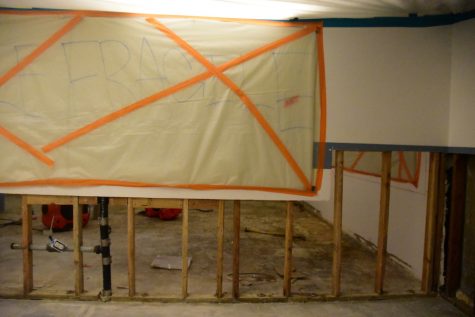 School custodian Diego Agustin-Sanchez said the flood water came in through a wall in the southwest corner of the basement and was gushing for around five hours until it leveled out. A school security guard — Edwin, who did not want to give his last name — found it first and alerted authorities.
Mr. Garcia said the water flowed downward into Shalhevet.
"The water came downhill and there was so much water that it forced its way through the foundation of the building," Mr. Garcia said. "Whatever is at street level, obviously it picked it up and it carried it with it down to the basement. So we're gonna decontaminate it before it's turned back over."
Shalhevet has been managing without the five classrooms by relocating them to rooms upstairs, and no class has had to be displaced to, say, the turf. According to Rabbi Segal, the school can technically function without it.
The most crowded result has perhaps been in the art room, where two classes share the space during certain periods. One of the rooms flooded was an art space that Ms. Samantha Garelick had set up for her two freshman art electives.
Now that the basement room is out of use, she has relocated to the main art room on the third floor, where she also is teaching classes for art teacher Ms. Roen Salem, who has been out sick. Ms. Garelick says having all her classes in the same room is beneficial.
There were a few art supplies that were damaged in the flood, but this only included pads of paper, some oil pastels, and other recyclable materials, student's personal artwork was not affected, she said.
"I would say that the flooding kinda threw everyone for a loop," Ms. Garelick said. "I think I was the only one who had real supplies that I didn't want to be left in storage for who knows how many weeks or months, so the amazing custodial staff on one Friday afternoon, including Lily, helped me move everything upstairs."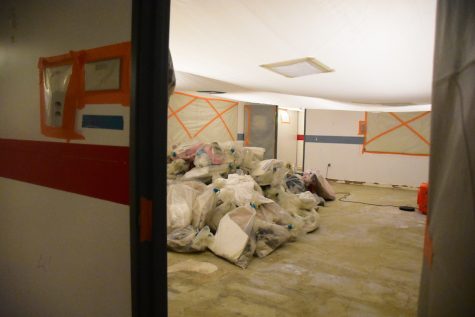 According to Ms. Sarah Emerson, Shalhevet Chief Operating Officer, the renovations may benefit Shalhevet in some ways in the long run. For example, one classroom didn't have the right type of electrical outlet so they ran an extension cord, so now they know how to address these issues and improve the basement.
"We're going to be creative and resourceful," said Ms. Emerson. "We've been using the basement so we know what was missing, so we do get the opportunity to fix."
A similar situation happened three years ago, she said, when a broken water main flooded the basement, and the repairs took around the same amount of time.
Last time, the renovations were paid for through LADWP self-insurance, which means the agency had put money aside to deal with issues like this rather than buying insurance, but according to Rabbi Segal it was challenging since it was a governmental agency and there were "many bureaucratic levels to go through."
This time, Shalhevet repairs are being paid for through the school's own insurance company.
View Comments(1)
Meet the Writer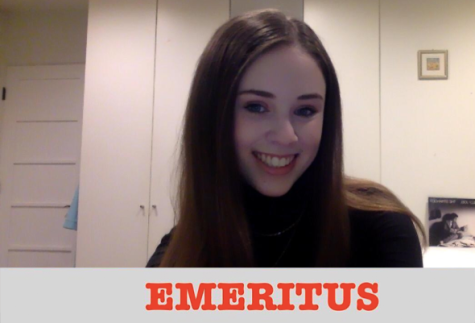 Molly Litvak, Editor-In-Chief Emeritus
Molly is studying at Midreshet Torah v'Avodah seminary in Jerusalem and will attend Columbia University in New York next year.