FLOOD: All basement classrooms under inches of water after city main breaks
Swampy basement moves all classes to second and third floors, closes northbound lanes of Fairfax
A huge gush of water from a burst city pipe poured through a basement wall and into a storage room early this morning, overflowing into two basement levels of Shalhevet, flooding all basement classrooms and hallways, and closing northbound Fairfax Avenue during the morning rush hour.
Classes were relocated to rooms on the second and third floors.
The water in the lowest storage room was 19 inches deep at 2 p.m., while the classrooms and school hallways, about a foot higher in elevation, were about 3 inches under.
Viewed from the stairway next to the elevator, the main hallway looked like a canal with doorways opening into clasrooms that were partially submerged.
"They have to bring machinery, maybe rip the flooring, the streets," said school custodian Mr. Diego Sanchez. "It's going to be a disaster."
Mr. Sanchez said he at first measured the hallway and classroom water to be around six inches deep. He does not expect it to settle more.
The leak was discovered this morning by a school security guard while he was doing his morning sweep of the building. The guard, Edwin B., declined to share his last name.
Flooded were all five basement classrooms, along with bathrooms, storage rooms and the electrical room.
The Boiling Point office and elevator level weren't affected because they are nine steps higher than the basement's classroom level.
Earlier today, Ms. Lili Einalhori, Director of Facilities and Registrar, said no one would be allowed into the basement until the Los Angeles Department of Water and Power said it was safe and cleared it for entry. That happened just after lunch.
"The reason we are concerned is because it went into the electric room," Ms. Einalhori said during breakfast period. "If there's a shortage somewhere and somebody touches the water anywhere, they can get electrocuted."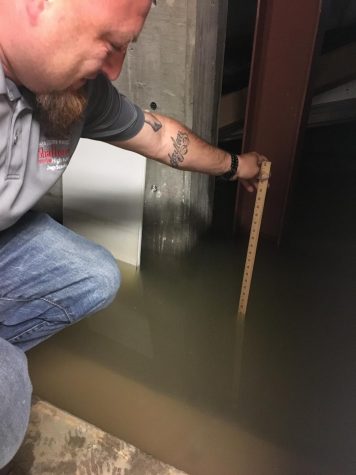 Once it was allowed, Boiling Point staff wearing boots provided by the custodial staff toured the hallways and Room B101, the largest basement classroom.
There was around two inches of water in B101, and dark black color of the room's carpet was partly covered by murky dirt in the water. In one corner, a few binders and boards from projects were drowned. Water came up the front and sides of metal cabinets, while and desk and chair legs stood like stilts.
The deepest the water on the classroom level was around three inches in the northwest corner hallway. It was about two inches in Room B101.
Outside Shalhevet, the northbound lanes of Fairfax Avenue were closed from San Vicente to 8th Street. Mud coated the road and Shalhevet driveway, and crews from Water and Power as well as Southern California Gas blocked off the corner of Fairfax Avenue and 8th Street to repair the broken water main.
There was no allowed access to Shalhevet's driveway, so officials opened the back gate of the parking lot on Orange Grove Avenue — used mainly for sanitation trucks — for carpool hour.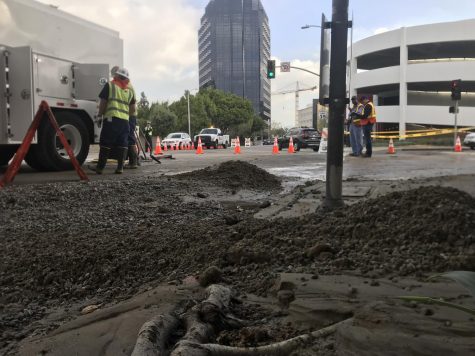 According to Mr. Sanchez, however, there were some cars pulling in through the Fairfax entrance, meaning they crossed over illegally from the southbound lane. This could be grounds for a traffic ticket if they were to be caught.
All along the sidewalk and streets of Fairfax in between San Vicente and 8th Street were mud and sand that had spilled out from the parking strip and from planters along the sidewalk.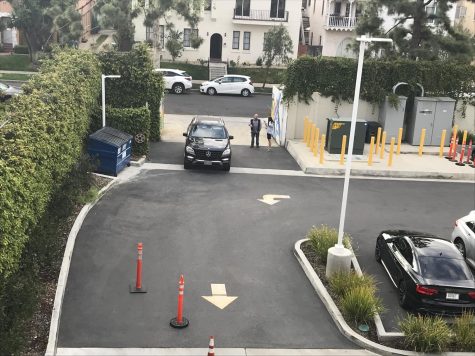 There were three emergency vehicles on Fairfax and 8th, parking enforcement officials directing traffic at Fairfax and San Vicente, and around five department workers from the LADWP and SoCal Gas drilling on 8th Street between Fairfax and Orange Grove.
"They have to excavate," said a Water and Power worker on the scene who did not give his name. "They have to dig the ground up, they have to identify a place where all the safe spots to dig are before you can dig in the city."
Ms. Einalhori said street repairs were scheduled to end at around 2:00 p.m. today, and at that time Fairfax Avenue would be reopened.
Students were informed of the situation through a Schoology post at 7:19 a.m. from Judaic Studies Principal Rabbi David Block that read: "As you may have heard, there's a flooding incident in basement. Please do NOT go down there today for any reason. All classes there will be relocated – we'll keep you posted."
Following this was a list of the new classroom assignments, nine of which were on the second floor and three on the third.
Because of the 11th-grade chessed trip to Phoenix and so-called "senior ditch day," only ninth- and 10th-graders were on campus today, meaning there were rooms to spare.
But Rabbi Block said that didn't make much of a difference and extra rooms weren't needed.
"There are certain classrooms in particular periods that are unused," said Rabbi Block. "Even though there are juniors and seniors missing today and we could have used those classrooms, we actually didn't need to."
Carpool should be normal this afternoon and tomorrow, but this morning students faced a longer trek to school since their usual route was occupied.
"I came from that Fairfax side and it was closed so I had to go all the way around," said freshman Kayla Golbari.
It is unclear yet how long the basement will be unusable. But at 4 p.m., an official of the company starting the cleanup work predicted the flooded area would not be back to normal any time soon.
"It's quite a process, so it'll take several, many weeks to get it to the point where they can actually put it back together," said Mr. Albert Garcia of 911 Restoration, who had arrived to start vacuuming out the water with giant plastic hoses. Just removing the standing water, he said, would take many hours.
This story won Fifth Place, NSPA 2019 Digital Story of the Year in the Multimedia News Story Package.
Leave a Comment
Meet the Writer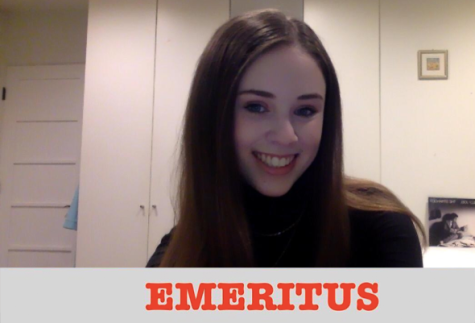 Molly Litvak, Editor-In-Chief Emeritus
Molly is studying at Midreshet Torah v'Avodah seminary in Jerusalem and will attend Columbia University in New York next year.