Administration asks for more compliance with dress code
A boys dress code leniency was put on probation in January after administration officials said it was being violated too often. It was reinstated, however, after the semester break.The policy allows boys to wear non-collared shirts if they wear tzitzit (fringes) that are visible, and to wear jeans as long as they are dark blue.
Dean of Students Rabbi Ari Schwarzberg led a discussion at Town Hall Jan. 2 saying that it had become cumbersome for the faculty to police violations of school rules — especially dress code violations — and that their time would be better spent doing "what they're here for," which is teaching.
"There are some students at Shalhevet High School who are currently and consistently not respecting the dress code expectations of the school," Rabbi Schwarzberg said. "Faculty need to be involved in something very frustrating, annoying, and very unexciting — dress-coding students…It's terrible."
He said that some boys — 10 or fewer — break dress code by wearing non-blue jeans and others wear non-collared shirts without tzitzit. The administration has been permitting boys to wear blue jeans since 2014, and a proposal brought to the Just Community last year passed allowing boys to wear non-collared shirts provided they are wearing tzitzit that are visible.
Rabbi Schwarzberg said those rules would be put on probation to ensure that what he called the dress code "covenant" was being followed. If not, he said, then it would illustrate a lack of partnership among the student body. But no specific result was announced
"If we cannot live up to the expectations," he said, "then you're putting us in the position to say that this agreement only has one side to it — and not both sides.
"There's no policy that's being changed, but we need to create a probationary period."
Before the probation was announced, the floor was opened for a few speakers. Junior David Edwards spoke first, and said he thought a more clearly defined policy would increase student cooperation.
"I feel like we need a clearer policy with these nuances," David said.
"
It becomes a much more joyous and enjoyable community when you don't have to engage in anything that is disciplinarian.
— Rabbi Ari Schwarzberg, Dean of Students
Senior Adam Ritz said he remembers hearing that the boys' dress code had its basis in formality, to reciprocate for girls' dress code, which is based on tzniut, or modesty.
But Rabbi Schwarzberg said he'd never heard of that idea before.
"I don't know where it comes from," Rabbi Schwarzberg said.
Adam also said Shalhevet's dress code didn't seem based on "solid ideas."
"I think dress code at a private school could be a good idea if it's based on a moral," Adam said.
In response to Adam, senior Adira Waldman said she thinks boys' dress code is actually more relaxed than girls' dress code because it's less restrictive. She also said she feels the ultimate goal of tzniut could be better reflected in the current girls' dress code.
"I definitely think there might be suggestions that could be implemented," Adira said, without giving examples.
Rabbi Schwarzberg tried at the beginning of the meeting to make it about the responsibilities of Just Community members. But the conversation then shifted to dress code adherence, and then at the conclusion of Town Hall, Rabbi Schwarzberg said boys' dress code would be on probation for two-and-a-half weeks as a result of an increasing number of boys' dress code violations.
Dean of Academic Affairs Ms. Aviva Walls said letting boys was a way to balance the school's need for formality with its desire to encourage students to wear tzitzit. Thus, t-shirts are allowed, but only with long sleeves.
"It's was compromise," Ms. Walls said. "The decision was to allow tzitzit but there has to be a long-sleeved shirt too."
Although close to an hour was spent on the topic, when it was over, Rabbi Schwarzberg said later that the Town Hall hadn't accomplish its objective. He had wanted it to be about community responsibility and following rules in general, but the majority of speakers instead spoke about whether dress code was fair.
"Nobody addressed the piece about the school changing a policy and people not following it and what should happen as a result of it," Rabbi Schwarzberg said.
But he thought dress code could serve as a way to talk about "accountability" of the student body.
"The goal here today is to try to move the needle a little bit, for each of us to take a little bit more responsibility upon ourselves as members of the Just Community," Rabbi Schwarzberg told the assembly.
According to the school's website, the Just Community is Shalhevet's "educational vehicle" that teaches kids how to be a part of a democratic society.
"The Just Community also is a means through which students are empowered to be active participants in their own education," it says.
In previous years, this was interpreted to mean that students voted on some school policies at Town Hall, including the consequences for not following them. Last year, however, the administration asked the Fairness Committee to decide on consequences in closed meetings, and Town Halls this year have been used to discuss things but not to decide on them.
Rabbi Schwarzberg said minimizing violations would create the best school environment for learning.
"How can we ensure that faculty are spending 95 percent of their time only in the realm of education — what they want to be doing?" Rabbi Schwarzberg said.
He also said that he wants to reduce "confrontation" between students and teachers.
"It becomes a much more joyous and enjoyable community when you don't have to engage in anything that is disciplinarian," Rabbi Schwarzberg said.
The day after the dress code Town Hall, Yoetzet Halacha Atara Segal led a conversation for girls to discuss "practical" elements of the girls' dress code.
---
Get the latest from The Boiling Point. Sign up for our news feed.
---
Leave a Comment
Meet the Writer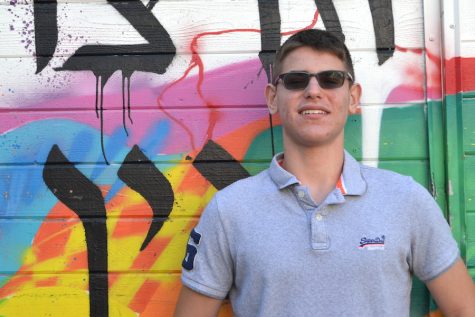 Alex Rubel, Senior Editor
Alex joined the Boiling Point as a staff writer in his sophomore year, rose to Sports Editor in his junior year and is serving as both Sports Editor and Senior Editor this year. Aside from journalism, Alex loves playing and watching sports, flying planes and following the stock market.