Pertussis spreads to Harvard-Westlake and two other schools besides Shalhevet, protocols differ
Health department issues warning to doctors as illness spreads across Los Angeles County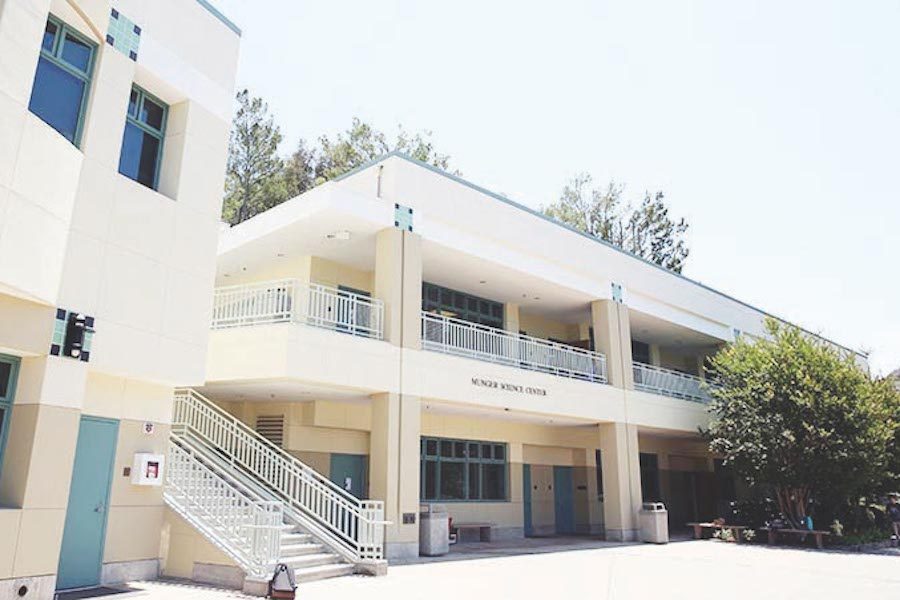 There were at least five documented cases of pertussis among Shalhevet students last fall, and a continuing outbreak at Harvard-Westlake School starting around the same time has sickened 30 students there so far.
Two other schools have also seen sharp rises in the illness, also known as whooping cough, prompting the Los Angeles County Health Department to issue warnings and instructions to parents and physicians. It said there were three "clusters" of cases in people age 11 – 18, in different parts of the county.
"Because of the waning immunity from pertussis-containing vaccines and the increased exposure in facilities with multiple cases, providers should consider pertussis even in vaccinated persons with minimal to mild symptoms, especially in adolescents," the warning to physicians states.
Shalhevet's cases resulted in a Health Department official recommending that students not babysit for 21-day periods after each diagnosis, which ended up being 53 days in all. And Choirhawk practice was cancelled for two weeks upon a third diagnosis among the 23-member singing group.
"
Shalhevet's cases resulted in a Health Department official recommending that students not babysit for 21-day periods after each diagnosis, which ended up being 53 days in all."
Pertussis, also known as whooping cough, begins with cold-like symptoms before escalating to an infectious disease of coughing fits. The disease is easily treated with antibiotics, and students are required by the Los Angeles County Health Department to stay home for at least five days.
While it is not life-threatening for teenagers, it can be for another demographic: babies under the age of one — a group many students at school babysit frequently. According to the federal Centers for Disease Control (CDC), about half of babies one year old or less with whooping cough end up in the hospital, and can get pneumonia. Some of them die.
Dr. Julie Higashi, an infectious disease specialist with the LA County Health Department and mother of junior Kiku Shaw, recommended that therefore, Shalhevet students not babysit children under the age of one until 21 days after the last case at school had been diagnosed, which was Dec. 9. Twenty-one days after that was Dec. 31, after which the outbreak was considered over.
One reason is that pertussis immunity from vaccinations doesn't always last more than a few years, protecting humans well when they're vulnerable babies but less well as they grow up.
The other is that people can be sick and contagious before they realize that what they have is not a cold but whooping cough.
"There's an initial phase that's roughly seven to 10 days that's like a normal cold." Dr. Higashi said. "Because pertussis symptoms can be hidden in the initial stage, student babysitters should monitor themselves for any cold-like symptoms — especially if they babysit for their teachers, she said.
Harvard-Westlake, with campuses in Studio City and Bel Air, has been reporting cases of pertussis since Nov. 16 and was at 30 last week, according to the high school newspaper, the Chronicle, which posted an article about it Feb. 28. A week earlier, officials there sent out an email saying that any student exhibiting flu-like symptoms would be sent home.
"Upon the opening of school on Tuesday, Feb. 19, anyone who exhibits flu- or cold-like symptoms will be sent home until written proof of negative test results and/or completed treatment is provided to our attendance office," the email said.
"A note from a doctor stating that a child has been vaccinated against pertussis or does not exhibit clinical evidence of pertussis will not be sufficient."
Last week, the Health Department told Harvard-Westlake that if the number of cases grew, it would consider banning the school from interscholastic activities until the outbreak subsided, the Chronicle said.
With an enrollment of about 1,600 students, Harvard-Westlake has seen 1.8 percent of its students test positive for the whooping cough. With five cases in 260 students, Shalhevet's illness rate is slightly higher, 1.925 percent.
In Shalhevet's case, Chief Operating Officer Ms. Sarah Emerson sent emails sent to parents Oct. 29, Nov. 5, and Nov. 8, with an attached letter from the Health Department urging them to take students to the doctor if they showed regular cold symptoms and mention they'd been exposed to pertussis.
Signed by Dr. Sheree Poitier, Chief Physician 1 of the Los Angeles County Department of Public Health, it said students who were coughing "may not attend school until their doctor sees them."
But Shalhevet did not require proof of treatment or a negative pertussis test for students with symptoms to be in school.
Dr. Higashi said it was because of the size of the school. For example, Harvard Westlake's email provided the contact of their school's own Community Health Officer, something Shalhevet does not have.
Dr. Higashi said that Shalhevet handled the situation well given that there was no designated person to track the spread.
"This is the issue that we're looking at now: how do schools track these things?" Dr. Higashi said in mid-December after all five cases were announced.
"It's really difficult for a school like Shalhevet to pretty much set up its own surveillance, to have one person whose task it is to track all of this stuff.
"I think Shalhevet did more than most schools do to raise awareness about what to do. I want to commend the school for trying to get the word out and actually getting kids tested, because that was important."
However, because there were six faculty members with infants under one year old, Dr. Higashi recommended that students should avoid babysitting, especially for faculty members and others with children in that age group.
In addition, choir director Mrs. Joelle Keene cancelled two weeks of practice when a third case of the illness was diagnosed among the Choirhawks.
Mrs. Keene said she had discussed the situation with Dr. Higashi after freshman Danielle Finn, who sings alto in the group, was diagnosed Dec. 8.
"She said singing tends to 'aerosolize respiratory secretions,' which I imagine means to make particles smaller," Mrs. Keene wrote in a message to the Choirhawks on Schoology. "When you sneeze, you sneeze larger droplets, and everyone knows and so you use a tissue or whatever. But when you sing, the same thing that would be a droplet is instead a spray, more of a mist, and no one is aware of it. Which would make it easier to spread in a singing group."
Danielle said her doctor was initially doubtful that she had pertussis because her symptoms did not include coughing. Most other cases, including seniors Josh Sarir and Hannah Friedman, experienced intense coughing and difficulty breathing prior to their diagnosis.
"The doctor said it's not whooping cough, but I asked him to test it," Danielle said. "But two days later, the results said I had it, and now I'm on antibiotics and everyone in my house is on it also."
She missed five days of school as required and returned the following Friday.
On Feb. 26, the Health Department announced that it was monitoring three "clusters" of pertussis cases in schools, affecting students ages 11-18. It said the median number of cases the clusters was 17.
Reached by the Boiling Point, Idriss Fasassi, Epidemology Analyst at the LA County Department of Public Health Immunization Program, would not share the names of the other schools in the cluster. But he said he was not aware of the pertussis case at Shalhevet, and Shalhevet is not among the three.
Community Editor Jacob Joseph Lefkowitz Brooks contributed to this story.
---
Get the latest from The Boiling Point. Sign up for our news feed.
---
Meet the Writer
Lucy Fried, Co Editor-in-Chief Emeritus
Lucy Fried was co-editor-in-chief during the 2018-19 school year and is now a student at the Hartman Institute in Jerusalem. She will attend UC Berkeley beginning next year.