Two guidance counselors, one mission: look at the "whole person"
By Tobey Lee, Sports Editor
September 29, 2017
If you're feeling stressed or blue or nervous, Shalhevet has two new guidance counselors for you to talk to — and they're a little nervous, too.
"I wouldn't use the word "scared", but there's definitely a little nervousness," said Ms. Gabriela Marcus, who along with Ms. Esther Rbibo has replaced Ms. Rachel Hecht, who founded the school's counseling department when she arrived in 2008.
Rbibo and Marcus will have separate offices. Rbibo has taken Rachel Hecht's old office, and Marcus does not have a designated office yet. However, she explained that when Rbibo was not in office, she would use her office for the day.
Rbibo received her masters from Cal State Northridge and Marcus received her masters last June from Cal State LA.
"My philosophy is basically just kind of like an open door," said Ms. Marcus, who grew up in a Modern Orthodox family and attended North Shore Hebrew Academy of Great Neck, N.Y.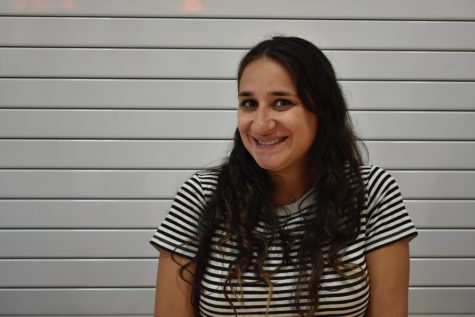 "I want everyone to feel super comfortable to come and talk, check in, if something is going on that you know you feel overwhelmed with — just kind of need somebody to vent to or work some things through with," she said. "That is kind of what I'm here for."
Ms. Marcus is married to the brother of Daniel Schwartz, who helps with lunch duty and is the office assistant.
Ms. Rbibo grew up in LA and attended Bais Yaakov high school. She likes surfing, traveling, cooking and hanging out with people she loves.
"My philosophy is just kind of looking at every person," Ms. Rbibo said, "looking at all the different aspects of the person, their emotional reality, the way they think about things, their talents, their abilities, their strengths, challenges, and kind of how do we bring that all together to help every student be as successful as he or she can be."
Mrs. Rbibo has prior experience working as a counselor, at feeder schools of Shalhevet such as Maimonides and Emek.  
Both women hope to see students beyond their school identities.
"We try and look at the whole person," Ms. Marcus said. "Being whatever issue you might be having, but what's going on at home, what's going on socially… I think the most important thing for me as a counselor would be building really good relationships with you guys."
Ms. Rbibo will be working four days a week, while Ms. Marcus, who is expecting her first child before Rosh Hashanah, will only be working part-time after the chagim.
Both hope to pick up where the counseling department left off last year.
"I think that you know you guys had a great counseling department before, so just continuing that," said Ms. Marcus.  "We're trying to hopefully do some really cool programming with the parents and all the students, and trying to do programming that's interesting."
"Also, having people know that they have two people they can come to about whatever they want," she added.
Ms. Rbibo and her husband have four children, two at Emek and two in preschool at Chabad of Burbank.  
Mrs. Marcus studied theater at NYU and was an actor before she became a counselor. She also likes to write and hang out with friends. When Marcus is on maternity leave, Rbibo will be at Shalhevet four times a week.
Rbibo and Marcus are not necessarily scared to transition to Shalhevet, however, are both nervous.
"I wouldn't say I'm scared, I'm actually super, super excited… of course there's always a little bit of apprehension whenever you start something new… I'm super excited to be here," said Rbibo.
Marcus has a similar feeling about coming into Shalhevet.
"I wouldn't use the word "scared", but there's definitely a little nervousness," said Marcus.
Ms. Rbibo has similar goals for the department.
"Generally, my goal is to just help every student feel that he or she has a place to come to, that there's never a time where he or she feels alone or they are struggling with something and think they can't access any type of support."
"I want every student to feel supported at Shalhevet," said Rbibo.