For Dr. Basheer, dance, food and chemistry are all international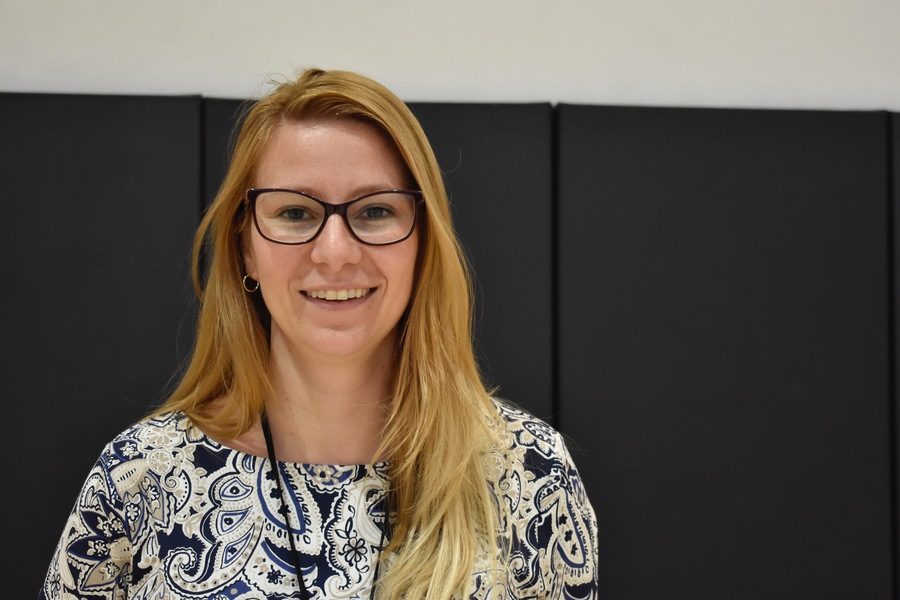 Benny Zaghi, Senior Editor
September 23, 2017
Don't be afraid to dance like nobody's watching in front of new Physics and Biology teacher Dr. Elizabeth Basheer. Growing up in in Springer, N.M. — a town of only 1,000 people — did not prevent her from getting into international cooking and dancing, which she still enjoys today.
Dr. Basheer, who will be teaching 9th grade Biology, SAS Biology, and Physics this year, attended New Mexico Highlands University and joined the International Club, where students from a myriad of nationalities would share their cultures.  But it was at a science awards banquet where she met her Lebanese husband,  on a night where they both received awards — his for best student in General Chemistry and hers for best in Organic Chemistry.
"We have a lot international friends, and I like to learn their dances," said Dr. Basheer. "I also like to cook international food so if I have a friend let say from Japan, I would want to learn any dishes that they grew up eating."
Her openness to other cultures lends itself to her teaching style, which involves seeing students as different from one another.
"I am a teacher who pushes my students hard to go as far as they can, but I consider myself nice in that I try to listen to my students and work with my students," Dr. Basheer said.  
"If my students want to talk to me about something they are having trouble with, I don't say, 'it is due, get it done,' I generally work with them and helping them cope with the problem."
Dr. Basheer began tutoring science and math to middle and high school students when she was an undergraduate in New Mexico Highlands U. Then she taught chemistry labs for four semesters in graduate school in South Carolina, where she earned her PhD in Chemistry in 2013.   
She moved with her family to Los Angeles in 2014 and since then has been tutoring students from Milken, Beverly Hills, and Palisades Charter high schools.
Dr. Basheer's favorite meals to make are adas bi hamood, a lentil and lemon soup that she learned how to make from her mother-in-law, and green chile stew, a New Mexican dish she learned from her grandmother.
She also learned how to make Ukrainian Borscht, a beet soup, from a friend from Ukraine, and how to make Chinese dumplings while living in China for a summer. Another dish she makes is spicy Indian-style green beans and potatoes, taught to her by a neighbor from India.
If you like to dance, don't worry if you have no moves to show her.  Dr. Basheer said she can teach you various types of dances that she learned from her husband's friends. Her favorite dances are the bachata and the salsa — which of course is also a type of spicy food.