13 awards at Penn Model Congress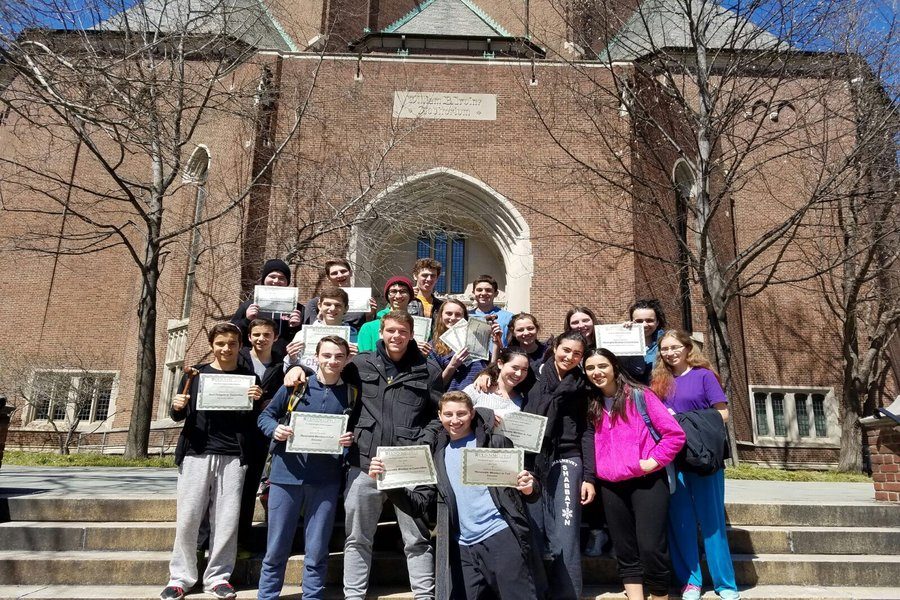 Staff Report
UPDATED: Despite missing half of committee sessions and one third of full sessions for Shabbat, Shalhevet's Model Congress team won 13 awards at Penn Model Congress this past weekend.
Senior and co-captain Maya Golan said she was extremely proud of the team.
"I think we all supported one and another and that really was shown through our success," said Maya. "I couldn't have asked for a better way to end my journey with the Model Congress team."
Among the winners were junior Rosie Wolkind who won three awards, the most ever by a Shalhevet student, and senior and co-captain Alec Fields who won two.
Rosie won a Best Delegate award in the National Security Council, an Outstanding Delegate in Full Session and an Honorable Mention in committee.
The total of 13 awards is noticeably fewer than last year at Penn, where Shalhevet won over 20 awards. However, it is a big step up from Princeton Model Congress earlier this year at which the team won seven awards.
Shalhevet as a whole won two Best Delegate awards, known as gavels, two Outstanding Delegate awards in Full Session and nine Honorable Mentions.
Out of five committee sessions and three full sessions, two-and-a-half committee and one full session took place on Shabbat, so Shalhevet delegates had to miss those sessions.
Here is the full list of awards:
2017 Penn Model Congress Awards
Committee Awards
Intelligence: Honorable mention – Ilan Bouskila
Homeland and Government Affairs:Honorable Mention – Rose Wolkind
Judiciary: Best Delegate – Zack Hirschorn
Education and Workforce:Honorable Mention – Maya Tochner
Oversight and Government reform:Honorable Mention – Alec Fields
Foreign Affairs: Honorable Mention – Zev Kent
Veteran Affairs: Honorable Mention – Ami Nelson
Full Session–
Honorable Mention : Jonah Sanders
Honorable Mention Outstanding Delegate: Rami Gruman
Honorable Delegate: Maayan Waldman
Outstanding Delegate: Rose Wolkind
Honorable Mention: Alec Fields
Special Committees
National Security Council:
Best Delegate: Rose Wolkind