Students explore athletic opportunities beyond the Shalhevet gym
As Shalhevet's seniors watch for their college admission emails this month, their classmate Nathan Benyowitz faces a different kind of waiting game.
While others are wondering about dorm life, food and science departments, Nathan is wondering which tennis team he'll play on. Just like Early Decision, the college recruitment process for athletes is now in full swing.
"I'm constantly checking my emails, checking the recruitment websites to see if anyone has committed to any schools that I possibly want to go to, because a certain amount of schools only have a certain amount of spots per year," said Nathan, who would like to attend either University of Delaware or San Diego State University.
"It takes a lot out of me," Nathan said.
Nathan and his fellow seniors Eli Greenberg, Edan Sokol and Sammy Ellenhorn are four of over seven million high school athletes who'd like to play competitive sports in college. Out of all those athletes, fewer than 500,000 will be able to compete in NCAA sports.
These numbers make the college recruitment process extremely competitive, with some students starting the application process as early as freshman year.
As seniors, they may spend hours making phone calls, sending in resumes, emailing coaches and doing whatever they can to stand out from the crowd.
"Most of the recruiting processes for athletes are very different," said Ms. Chelsea Braun, who works one-on-one with soccer players at some of Shalhevet's feeder schools.
Ms. Braun played on UCLA women's soccer team when it won a championship.  She remembered her recruitment experience vividly and said she and her teammates compared notes.
"I can tell you that we all had different experiences," Ms. Braun said.
Not only does the process vary person by person, but it also differs depending on the sport, the college-level division, and the end goal of the student athlete, Ms. Braun said. Nathan, Eli, Edan and Sammy are not doing the same things, and have not followed similar paths.
Typically, after calls are made and emails sent, students go on unofficial visits where they are shown the university, meet the team and the coach, and get a sense of what the school is like.
Then, if a particular school shows interest in a player, he or she is invited for an official visit. Official visits offer a more intimate and scheduled experience, with more time spent with the coaches and team, and they are mostly paid for by the school.
Nathan discovered his love for tennis when he was only four years old. Since then he has won various competitions, tournaments, and is now ranked top 80 in California for his age bracket.
So far, he has had official visits to Lafayette College and University of Connecticut this year.
"I'm basically an un-official member of the team for the 36 hours I am there," Nathan said. "The school pays for everything, except for my flight."
Other athletes use a program called the National Collegiate Scouting Association, or NCSA. NCSA is a college recruitment service that promises to "verify" student athletes, confirming that they meet certain standards and getting them noticed by coaches.
Firehawk soccer team captain Eli Greenberg is using NCSA to contact coaches and get invited to  soccer tryout days. Since Eli has high school but no "club" experience, it's harder for college coaches to judge his potential, whatever it might say on his resume, so the NCSA endorsement helps.
Eli, who plays goalkeeper, spent last Sunday trying out for coaches at UC Santa Barbara, and in October did the same at UC Davis.
"Within the first two weeks of having my profile completed, I had five or six messages from coaches – that's pretty good," said Eli.  He said it might have happened even without NCSA, but not as early in the year.
"NCSA also put my profile out for other coaches to reach out to me," Eli said, including schools seeking goalkeepers on the East Coast.
Another factor for would-be college athletes is what NCAA Division a college plays in. Nathan Benyowitz is applying to only Division I schools, one of which is the University of Delaware.
Division I, or "D-I", schools are usually the largest schools, offer more scholarships to athletes, have better facilities and larger budgets, and also compete in the major sports conferences in college sports such as the Big Ten, ACC, SEC, and Pac-12.
Division II schools are mostly smaller than D-I schools, offer fewer scholarships, have smaller budgets, and do not have as many broadcasting deals as D-I.
Division III schools are more academic and not allowed to offer athletic scholarships, and according to PrepScholar.com, are focused more on the athletes' playing, rather than accumulating revenue through college sport entertainment.
Firehawk basketball power forward Sammy Ellenhorn is applying to a few D-III schools, including California Lutheran University, Chapman University and Occidental College.
"I'm really excited," said Sammy. "I'm just sort of happy for wherever I can play, because I just like playing basketball."
One of Sammy's teammates, Edan Sokol, is applying to a few D-I schools, hoping to be a "preferred walk-on" – a player invited to the team without a scholarship – for Boston University.
His application process is similar to Nathan's and could land him a spot on a major team.  But it comes without a guarantee of playing time, according to Athletic Director and Firehawk basketball coach Ryan Coleman.
Edan said Coach Coleman had helped him get noticed.
"He put us in a lot of big tournaments," said Edan, including the West Valley Tip-off Classic and the Ventura Classic and Century High School Classic, "and some coaches go to that to spot out talent. I've played in some showcases because of Ryan also."
Shalhevet's female athletes have not played intercollegiate sports, as far as the Boiling Point has been able to determine. Former Firehawk basketball star Sigal Spitzer '15 said she considered it but could not find a shomer Shabbat team at a university she wanted to attend.
She does participate in intramural basketball at the University of Pennsylvania.
One thing Shalhevet's athletes do have in common with their fellow seniors is a plan to stop in Israel for a year on their way to whatever comes next.
While they are there, both Nathan and Eli hope to play their sports. Eli hopes to find gap year a program in Israel where he can play soccer as well as learn in yeshiva.   Nathan said it would add another dimension to his sports life.
"It's sharing my tennis with my homeland more, not necessarily playing professionally," Nathan said.
And though their application process may be different, Shalhevet's athletes share with their classmates one of the most defining emotions of senior year: suspense.
At least one Shalhevet alumnus has had success at the Division I level – JoJo Fallas, class of 2013, who is a varsity basketball starter for Cornell.
Getting his acceptance, he said, was "pretty special."
"It's something I will remember for the rest of my life," said JoJo, who has been scoring an average of six points per game at Cornell this year.
"It was the combination of a lot of work and a long process that felt like it would never end, so it was a very fulfilling time."
Leave a Comment
Meet the Writer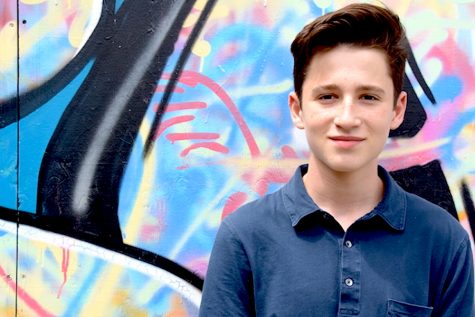 David Edwards, Video Editor
David Edwards joined the Boiling Point in his freshman year, writing about the journey some students take to become athletes in college, and as a sophomore wrote about the North Korean nuclear crisis. Since working on a video for last year's Color War, David's passion for film and video spiked, and he made a video tribute to the arts at Shalhevet for last year's school gala. Besides Boiling Point, David enjoys politics, history and anything to do with film.