Mock Trial team advances to final four in LA County
Defeats Santa Monica HS to reach semi-finals in 99-school contest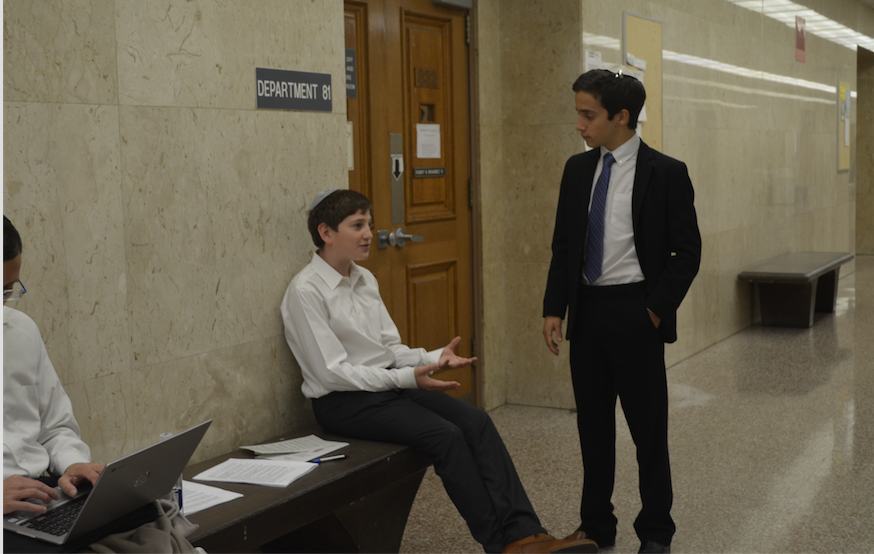 Nomi Willis, Staff Writer and Hannah Jannol, Community Editor
November 18, 2016
In its best showing in school history, Shalhevet's Mock Trial team has advanced to the semi-finals of the Constitutional Rights Foundation Mock Trial Competition, defeating Santa Monica High School Nov. 16 and advancing to the final four teams in Los Angeles County.
The next round is set for Monday, Nov. 28, at the Los Angeles Superior Courthouse downtown.
Only undefeated teams advance, and only four of 99 schools who started have made it this far.  
Points are awarded on a scale of 1 to 20 for performers of each role in the trial (lawyers, defendants, etc.), as judged by legal professionals. The Firehawks' scores for the first, second and third rounds were 244, 301 and 284, respectively.  
"I think we moved on so far because we're all just so dedicated and we wanted it so badly," said senior Talya Ohana, who captained the team this year alongside senior Alex Reich. "Alex and I coming into this decided our number one goal was to move on because we wanted to make Shalhevet history."
She added that this year's team had a lot of experience. Talya is in her second year and also had two years of experience on Valley Torah's team before she transferred to Shalhevet. Alex Reich, Maya Golan, Maayan Waldman, Ariel Cohen, and Sam and Zack Hirschhorn are each in their third or fourth year on the team.
The winners of the semi-finals will advance to one more competition. Winning that competition means winning the county.  From there the winning team moves on to the statewide competitions in Sacramento, where it faces off against over 30 other counties in California.
Team members have been traveling downtown on different weekdays, sometimes multiple times a week, throughout the month of November.  Dressed in suits, ties and heels, they have been regularly seen gathered in the cafeteria around Mincha time waiting for their rides.
The group has now successfully completed five undefeated rounds.
Mock Trial competitions focus on a single case the entire season, with members arguing for the prosecution or defense and playing roles ranging from witnesses, lawyers, timekeeper and bailiff, whichever they are assigned.  
The cases are always fictitious and designed so that the prosecution and defense having equal chances of proving their side.  
This season's case is called People v. Aubrey.  Team members said its fictional defendant, Cameron Aubrey, is accused of the human trafficking of Lin Stark. According to Lin Stark, Aubrey underpaid him for his work as a chef and trapped him in his apartment. But Aubrey said he was just trying to help Stark with his career and never meant to cause any harm.
Junior Ariel Cohen argued for the defense and impressed the judges of the competition.
"Ms. Cohen would be my worst nightmare," said one of the Mock Trial scorers, who identified herself as a having been a prosecution attorney for 18 years.
Team members said most other teams are advised by attorneys, while the Firehawks' faculty adviser is history teacher Mr. William Reusch.  Mr. Reusch said he drives the van, sets up transportation, collects money, helps the team with some ideas and take notes from "a very outsider's point of view."
"When it comes to legal precedents and how to read a case and stuff, they just figure it all out themselves," Mr. Reusch said. "I think that that gives them a pride in doing the work."
Former debate coach Mr. Christopher Buckley told The Boiling Point this was the furthest the mock trial team had progressed.
"We advanced to the quarterfinals in 2008, and that was our best-ever finish until this year," Mr. Buckley said.