Different teams, same spirit as 2nd Annual Steve Glouberman Tournament opens today
Glouberman is back, with its four days of basketball, broadcasting, blasting music, and ruach (spirit) along with some changes.  Games start tomorrow and will run through Sunday, Nov. 13.
The second annual Steve Glouberman basketball tournament will also feature new game locations and some new events.
But the biggest change is who's playing: Most of the teams different from last year's.
Only five of eight boys' teams who played in 2015, and just three of the six girls' teams, will be back.  According to Principal Reb Noam Weissman, some declined an invitation and others were not invited to return.
Among the not returning is last year's winner, the Heschel Heat of New York City, which defeated YULA to win the boys' championship.  Shalhevet boys took third place last year, defeating Frisch after having lost to YULA in the semifinals. Teams from Berman of Rockville, MD, de Toledo from West Hills, and Akiva of Southfield, Mich., also will not be back.
Shalhevet's Lady Firehawks claimed the girls championship last year, defeating Frisch of Paramus, N.J..  Frisch will be back, as will teams from from Shalhevet, YULA, SAR of Riverdale, N.Y., and TABC of Teaneck, N.J.
Four new boys' teams and three new girls' teams—including teams from Israel – will play this year.
New boys teams will come from MTA of New York City, Valley Torah of Valley Village and North Shore Hebrew Academy of Great Neck, N.Y. New girls teams are from High School of Boca Raton, Fla., and North Shore of Great Neck.  
In addition, there will be both boys and girls teams from the Elitzur Petach-Tikvah club near Tel Aviv.
"We tried to find teams that really wanted to come to this tournament and identified with the goals of the tournament," Reb Weissman said "We found a really good group of teams. We tried to invite the teams that are going to really want to be part of our culture."
Once again this year, a majority of games are scheduled on Shalhevet's Reich Family Basketball Court. But overflow games will take place at two new locations instead of the Westside JCC.
New venues will be the JEM Center, about three miles away on Santa Monica Boulevard in Beverly Hills, and Pan Pacific Park, near the Grove.
The tournament honors the memory of Shalhevet alumni parent Steve Glouberman z"l, who died in 2015 after a long struggle with cancer. His children Leah '11, and twins Jeremy and Rachel '15, all played Firehawk sports, and Mr. Glouberman had played basketball for YULA.
 "The Glouberman tournament isn't just a fun and competitive way for Jewish boys and girls across the country to bond on the court," said sophomore shooting guard and small forward Asher Dauer. "It's also a weekend of building long-lasting friendships with kids we wouldn't usually see."
The Elitzur team became involved with the Glouberman Tournament thanks to Jewish geography. Rabbi Binyamin Krauss, is the principal of SAR (Salanter Akiba Riverdale) Academy, and his cousin runs the Elitzur team in Israel. The team was looking for a tournament, so Mr. Krauss put the team in touch with Shalhevet Head of School Rabbi Ari Segal.
Again this year, the tournament was organized mostly by Director of Student Life Ms. Raizie Weissman. Among her responsibilities this year was arranging housing for 250 players.
"It's such a great time for kids from the East Coast, West Coast, and Israel to come together and bond over basketball," said Raizie. "It's also in memory of Steve Glouberman who was an amazing man, and hopefully this will foster a lot of love for sportsmanship, bonding, and Jewish values."
Mrs. Dina Glouberman, Steve Glouberman's sister-in-law, and basketball parent Mrs. Heidi Sokol helped out, Raizie said.
A welcome BBQ for the players was planned for on Thursday night after the first day's games. On Friday night, players are going to different host families for Shabbat dinner and then to an Oneg at the Young Sephardic Chabad Community Center. Saturday davening and lunch for the teams will be at Beth Jacob.
Head of School Rabbi Ari Segal called the changes "just fine-tuning things," as opposed to a major overhaul.  
"The tournament will feel essentially the same," said Rabbi Segal. "The same energy, the same getting to meet students from across the country and now the world."
That was good news for sophomore Maya Miro.
"This was one of my favorite events of freshman year, and I can't wait to experience it again," Maya said.
Leave a Comment
Meet the Writer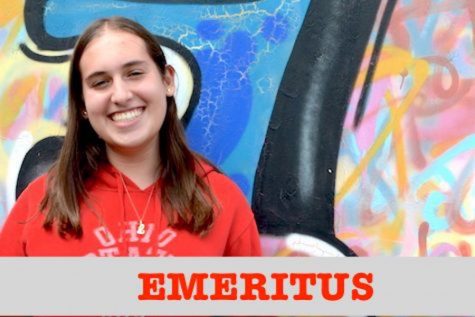 Clara Sandler, Co Editor-in-Chief Emeritus
Clara Sandler was co-editor-in-chief during the 2018-19 school year and then studied  at the Midreshet Lindenbaum seminary in Jerusalem.  She is now a junior at the University of Chicago.