Mismatch between rivals helps boys Flag Football team win two against YULA; Girls to play Panthers Nov. 3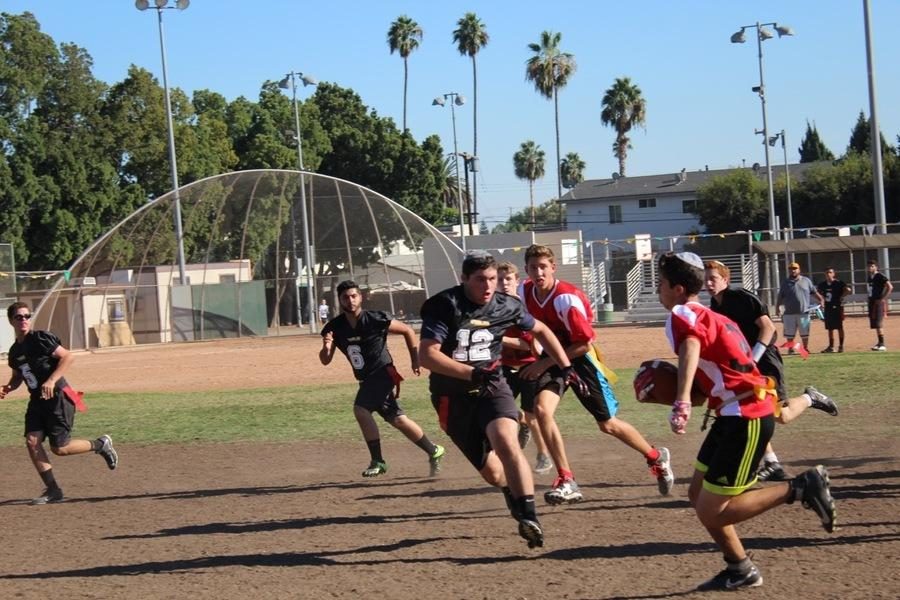 By Ami Nelson, Staff Writer
October 23, 2016
The week may have ended badly, but it started with high spirits. In a matchup that was uneven in more ways than one, the Boys Flag Football Team nearly shut out YULA, with the final score being 33- 6, on Sept. 16 at Poinsettia Recreation Center.  
This win came a few days after another Shalhevet football win against YULA, in which the score ended up being 40-13.  The momentum of the team from triumphing over YULA the previous game attributed to the win, according to some players.
"It's always a tense game playing against [YULA], but we're definitely a lot more confident now that we beat them by that much [last game]," said senior defensive linemen Sammy Ellenhorn.
Sophomore wide receiver Asher Dauer had similar thoughts.
"We've already played them three times, so we're a lot more comfortable, and everyone on the team knows their opponent," said Asher in an interview before the game.
Their confidence showed in their performance.  Going into halftime, Shalhevet was up 20-0 thanks to two touchdowns by sophomore Zack Muller and one touchdown by senior Eitan Halpert, both wide receivers, all thrown by captain and quarterback Alex Silberstein.  
In the second half of the game, Alex was pulled for senior quarterback Ezra Hess who, on his first down, threw a 50-yard pass to junior offensive linemen Avi Weinreb.  With under one minute remaining, Shalhevet was up 33-0 on YULA.  
The sole touchdown for YULA happened in the last 30 seconds, preventing a shutout.That happened when the Panthers' quarterback threw a 20-yard pass and was caught on the edge of the end zone by their wide receiver. 
The high score reflected several key plays by Shalhevet, including interceptions by three players and touchdowns by 4.
YULA's head coach, Dennis Cervantes, thought his team had still played well.
"At least [the players] didn't quit," said Coach Cervantes in an interview after the game.  "It just didn't go our way this time."
At the Sunday game, it was clear that the game was mismatched, due to the number of players on each team.  While the Shalhevet team has enough players for both an offensive and a defensive team – who take turns on the field depending on which team has the ball – YULA haa only enough to fill a team with each member playing constantly.
Shalhevet Athletic Director and Boys flag football Coach Ryan Coleman thought the size of the teams contributed to their win.
"The size of the teams matter in terms of fatigue, because the [smaller teams'] players will be more tired, but they also won't be able to focus at practice," Coach Coleman said in an interview with the Boiling Point.
When asked if he thought those wins were fair, Coach Coleman thought they were not only fair, but a testament to the dedication of football at Shalhevet. 
"The number of kids that come out are a credit to how inspired the student body is to play football," Coach Coleman said. "But there isn't anything we can do about that.  We just have student body that is more dedicated."
The game following this win, Shalhevet lost to AGBU, ending a 30-game in-league win streak.
"AGBU has a defensive strategy that gives us trouble, but they are just more talented than YULA," said Coach Coleman, when asked why beating a team like YULA was easy, but AGBU was difficult.
The Titans also have enough players for separate offensive and defensive teams.