First-ever Israeli in MLB would not play on Yom Kippur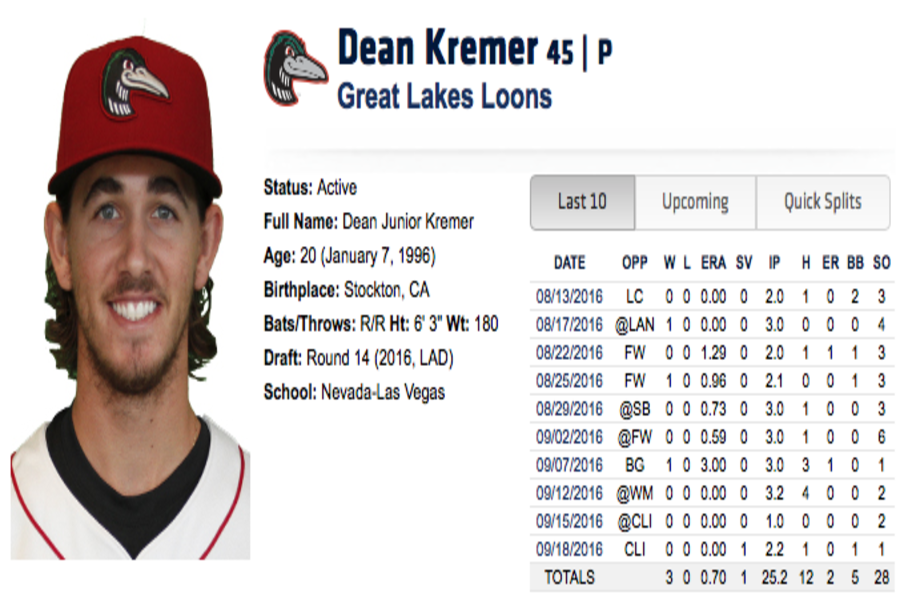 Jordan Fields, Sports Columnist
October 11, 2016
Dean Kremer, a 20-year-old pitcher drafted by the Los Angeles Dodgers in the 14th round last summer, is the first Israeli citizen to sign with a Major League Baseball team. He now plays in the minor league system, which is where most pro players get their start.
He was also drafted in the 38th round out of San Joaquin Delta Junior College in Stockton, Calif., by the San Diego Padres in 2015, but elected to pitch for one season at the University of Nevada Las Vegas. He then re-entered the draft in 2016.
After signing with the Dodgers in June 2016, Kremer played this past summer for two of the Dodgers minor league teams – first in a rookie league for the Ogden Raptors in Utah, and then in an "A" League for the Great Lake Loons in Michigan.
His combined statistics are 31-2/3 innings pitched, a 2-1 record, 35 strikeouts, and an Earned Run Average of 2.27. The Loons won the Midwest League championship, defeating the Clinton LumberKings three games to one in a best-of-five series.
According to milb.com, in the series-clinching game, Kremer pitched the final 2 2/3 innings and allowed no runs and just one hit and one walk to preserve a 9-8 Great Lakes victory.
The Boiling Point interviewed Kremer by telephone prior to his Sept. 4 game with the Loons.
Q: According to your biography, you were born and raised in California. How are you Israeli?
A: Both of my parents are, and the rest of my family are born and raised in Israel. I am the first generation here. That gives me citizenship.
Q: Have you been to Israel before?
A: Yes. I go every summer to visit family. If I wasn't here playing baseball right now, I would be over there… My family lives kind of all over, but mostly I am around Tel Aviv.
Q: Do you speak Hebrew?
A: Yes, I speak fluently.
Q: Are there any other Israeli baseball players in Major League Baseball or in the minor leagues?
A: No, I believe I'm the only one.
Q: Being an Israeli born in Stockton, how did you get into baseball?
A: My dad played tennis his whole life and then he came over to the United States on a college scholarship to play tennis. When I was born, he was done, and he didn't' want to be around the courts anymore. He wanted to put me in baseball and we lived right next door to a little league field.
Q: I read you are going to play for the Israeli team in the World Baseball Classic (WBC). Are there any other players on that team who aspire to be in the Major Leagues, or play in the minor leagues?
A: For the WBC, the way it works is you only have to be eligible for citizenship for that country. For Israel it is easier to get citizenship. Pretty much the whole team is Jewish minor leaguers.
Q: What are Israel's chances for qualifying in the World Baseball Classic?
A: I think we have a real good chance. Looking at the roster I recognize some of the names, former big leaguers and people that I have seen in the minors for awhile.
Q: What is your favorite part about playing professional baseball in the minor leagues?
A: It's just fun. I love playing baseball. I want to do it for as long as I can.
Q: What is the hardest part?
A: Pitching when you are struggling. When you hit a rough patch, and trying to get out of the rough patch.
Q: Is there anything surprising that happened while playing in the minor leagues?
A: It is definitely different than playing in college. Travel is different. We play every day. We have to run on no sleep some games. That's different. I never had to do that.
Q: What are your plans for the off-season?
A: I am going to work out, get stronger, come back and do what I can… I'll be at home in Stockton.
Q: Is there a difference between playing college baseball and playing in the minor leagues?
A: Yes, it is definitely different. The hitters are better. Everybody has pop. Everybody can hit the ball out of the yard.
Q: You were drafted by the San Diego Padres, but you decided not sign with them. What was the reason for that?
A: I didn't feel like I was mature enough to start my minor league career. I wanted another year to live outside the house and to get bigger and stronger. When I went to junior college I lived primarily at home.
Q: What was your feeling when you got the call that the Dodgers were drafting you?
A: I was very excited. The Dodgers are a great organization to be part of.
Q: Had the Dodgers been scouting you for a while?
A: For this past season yes.
Q: Would you play a game on Rosh Hashanah or Yom Kippur?
A: No, I would not.
Q: What is your advice for Israeli teenagers who might want to play professional baseball?
A: My advice would be to work hard, trust the process and get a little better every day.