Rabbi Segal defends Just Community constitution
Head of School says document needs 'tweaking,' not rewriting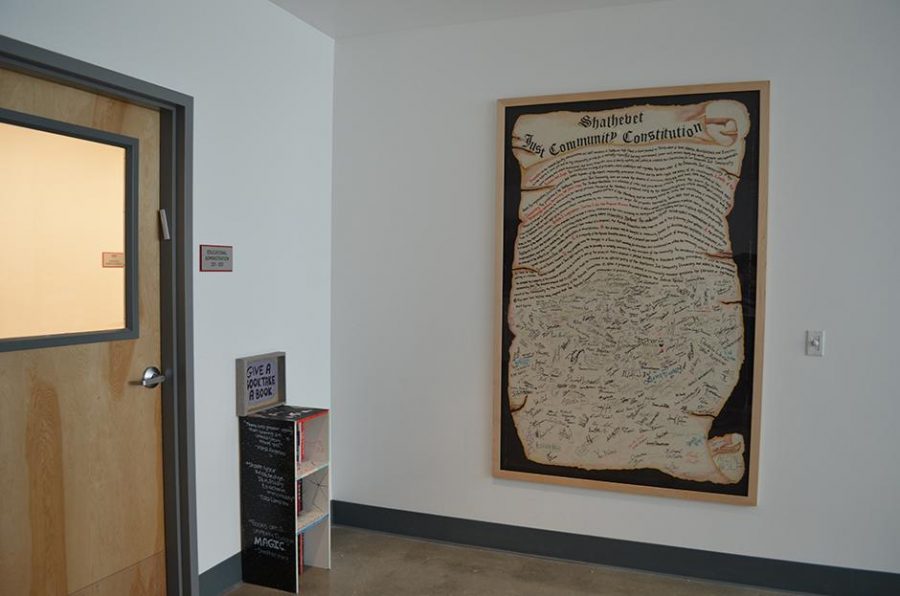 Zev Kent, Senior Editor
September 9, 2016
With the Just Community constitution recently found — revealing many discrepancies between how the Just Community runs today and how it was originally set up to run — Head of School Rabbi Ari Segal weighed in today on what he thinks should be done about the seemingly outdated piece of legislation.
"I think the constitution should be revisited and amended," said Rabbi Segal at a news conference of Boiling Point editors. "I don't think it should be redone. You don't redo constitutions; you amend them to reflect modern realities.
"You can't change certain core pieces. You wouldn't say: we're getting rid of the first amendment, even if 90 percent of America said it. No, that's what America was founded on."
Drafted by students and staff in 1993, Shalhevet's constitution, which contains some elements that are not in use today, in general describes a spirit of the Just Community that is familiar to students in 2016.
In Article 2, for example, the document states that everyone, including administration, students, teachers, and staff, has the right to fairness, respect and the right to be heard. It also describes the Agenda and Fairness committees, which function almost the exact same way today the constitution describes.
Differences include two committees that now are absent or dormant. One is a Judicial Review committee, in charge of determining the constitutionality of Town Hall proposals, and the other is a Constructive Consequences Committee, to set consequences for those acting in violation of the constitution.
Rabbi Segal said the constitution should not be completely redone.
"The school is founded on certain principles which I don't think are changeable," he said.
When asked about who should be responsible for amending the constitution, Rabbi Segal said that a committee would be best.
"I think there should be a committee of students, faculty, administration, and maybe board members who are involved in looking at it and saying are there things we can tweak," he said. "There's nothing better than for everyone to have a north star to follow."
To those who said no one missed it when it was lost, he replied that it had gradually become outdated.
"I certainly think there are things that can be updated in the constitution," Rabbi Segal said. "I think it should be updated and then it will become more relevant," he said.
He also said the constitution was worth considering more often.
"Why wouldn't we look at the constitution every few years?" he said. "I don't think we can look at it every year. That's a very intense process, like looking at the mission statement of a school."
A committee, he said, could make incremental changes.
"It's not: does the administration have the power to do 'x' and the students have the power to do 'y,'" he said. "The school is founded on certain principles which I don't think are changeable, but I certainly think there are things that can be updated in the constitution."
"
There's nothing better than for everyone to have a north star to follow."
— Rabbi Ari Segal, Head of School
Co-Editor-in-Chief Maayan Waldman noted that when more than half of the constitution was missing, it seemed no one had missed it. Last spring the Boiling Point conducted a search for the document and, after finding it, discovered it contained four articles that had not been seen in years. The first article has five sections, of which Section 1.1 – along with a preamble – is on a signed poster that hangs outside of the principals' offices on the second floor.
"The status quo of our school is that I would say 97 percent of our students have no idea what is written in the constitution and have never laid eyes on it," said Maayan. "Most people don't know what's written in it."
"I think sometimes there are times that call for action," Rabbi Segal replied. "This is part of democracy. It happened, now form a committee and discuss."
He noted that the document was written by students, faculty and administration when the school was new.
"The constitution was written when the school was in its formation, and it needed more," he said. "Things were just being decided and you had a bigger, more robust committee structure. Maybe you don't need one now. You have a full-fledged administration and a school that's running now. Lots of, I hope, good things are happening now where students feel like their voices are being heard. They're involved in those kinds of things. I would revisit it.
Meet the Writer
Zev Kent, Senior Editor and Features Editor
Zev Kent is a senior at Shalhevet and is the Senior Editor and Features Editor of the Boiling Point. Over the past three years, Zev has written many articles for the Boiling Point about sports, community, and outside news. In addition, he did play-by-play for the Boiling Point broadcast of the Steve Glouberman Basketball Tournament.