Table Talk: White House, Knesset open their doors to familiar faces / US adopts Israel's knock-on-the-roof' tactic in bombing ISIS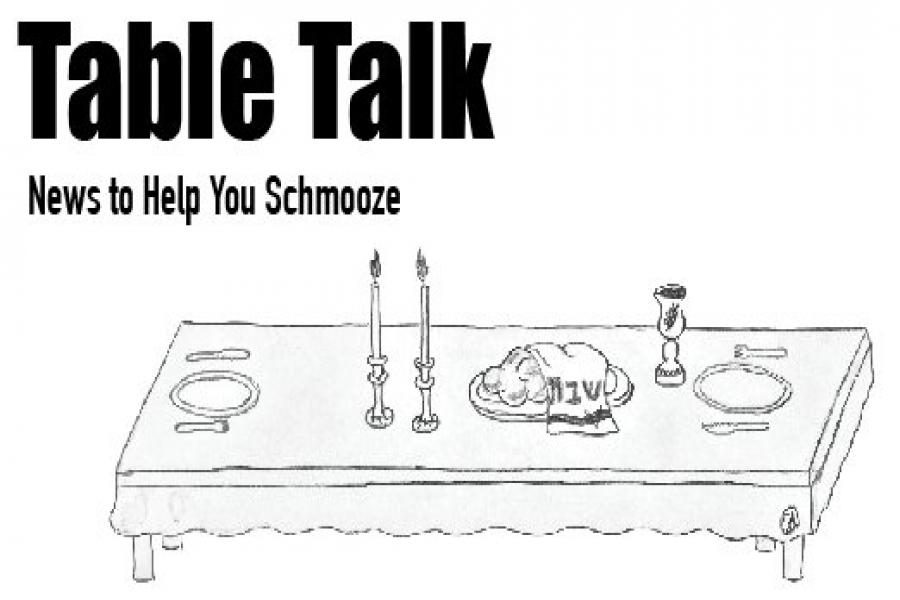 White House, Knesset open their doors to familiar faces
Shalhevet has a new presence in world politics, with Reb Noam Weissman's brother, Chanan Weissman, being President Obama's new Jewish liaison to the Jewish community, and David Keyes, one of the school's very first students, as Benjamin Netanyahu's spokesperson for English-language media.
Mr. Weissman, who replaced Matt Nosanchuk, is the first Modern Orthodox Jewish liaison to a Democratic White House, but not the first Orthodox Jew in the Obama administration.  Others are Jack Lew, the current Treasury Secretary and formerly White House Chief of Staff, and Norm Eisen, currently Ambassador to the Czech Republic and formerly President Obama's Special Counsel for Ethics and Government Reform.
In his new post, Mr. Weissman will serve as the administration's voice to the Jewish community and gather the community's views on various issues and policies, according to Wikipedia. He has a Master's degree from Georgetown University's School of Foreign Service and a bachelor's degree from the University of Maryland.
Mr. Keyes, who replaces former spokesman Mark Regev, is co-founder of cyberdissidents.org and previously served as executive director of Advancing Human Rights.  His siblings Jonathan, Sarah and Rachel all attended Shalhevet, with Rachel being part of the class of '06 until the family made aliyah to Raanana after her sophomore year.
An alumnus of UCLA with a master's in diplomacy from Tel Aviv University, Mr. Keyes has been published in the New York Times, Washington Post, and Wall Street Journal.
But he is best known for "punking" Iranian diplomats in Vienna last summer during nuclear negotiations. Approaching them in hotel lobbies and on sidewalks, he asks who their favorite political prisoner is and tries to get them to reduce hangings from one every two hours to one every two-and-a-half.
Shalhevet alumni serving in government include Tzvika Krieger '02; the State Department's representative to Silicon Valley and Senior Advisor for Technology and Innovation strategist in the Office of the Secretary of Defense; and Ilan Graff, Assistant U.S. Attorney for the Southern District of New York.
— Clara Sandler, Staff Writer
US adopts Israel's knock-on-the-roof' tactic in bombing ISIS
Taking a cue from the IDF, American forces operating against ISIS have adopted a bombing tactic known as "knock-on-roof," in which a small missile is exploded above the roof of a building to warn civilians to evacuate before a larger missile hits.
The knock-on-roof tactic was first used by Israel during operation Protective Edge, when Israel launched 5,226 air strikes into Gazan territory. After analyzing its effectiveness, the US military decided to adopt it in its fight against ISIS, the Islamic State in Iraq and Syria.
During a press briefing on April 26, Major General Peter E. Gersten described a recent instance when the tactic was used, albeit not with complete success. Before launching the missile to destroy a building, which was an ISIS cash storage center, U.S. forces first exploded a missile above the building's roof.
This preliminary strike caused chaos within the building, he said, and a woman carrying a child was hurt.
"Men that were in the building—multiple men—literally trampled over her to get out of that building," Gen. Gersten said. "We watched her and observed her leaving the building, and we began to process the strike."
But to the alarm of the team conducting the strike, the woman went back into the house, and was ultimately killed by the airstrike.
"[It was] very difficult for us to watch, and it was within the final seconds of the actual impact," he said.
Still the general considers the tactic an effective way of saving civilian lives. In 2014, the U.S. Chairman of the Joint Chiefs of Staff commended Israel for going to "extraordinary lengths" to minimize civilian casualties, including dropping leaflets, making phone calls, and roof-knocking.
However, the tactic has been criticized by many organizations for not serving its purpose. The United Nations, for example, criticized the tactic for not providing enough time between the warning and the main strike for civilians to leave.
The Al Mezan Center for Human Rights, a Gaza-based NGO, said many people fail to register the preliminary strike as a warning, especially in areas where missile strikes are regular occurrences.
Officials said that as of February of this year, there had been only 41 civilian casualties in ISIS-controlled areas since the offensive began in 2014, though others have reported as many as 1,200.
–Mark Miller, Staff Writer