Without a coach, student takes the lead and leads tennis team to its best season yet
They lost their coach just as the season was starting and after some negotiation, settled on a team member to lead them.  But the Firehawk tennis team still managed to surpass last year's five wins and four losses with a 7-3 game record this season.
Before the season started, Coach Patrick Flame was offered another job and stopped attending practice.  It was two weeks before the first match, and junior Nathan Benyowitz was leading by default.
"When Coach wasn't showing up to practice, I was very disappointed and players began to rely on me," said Nathan mid-season. "I am just going to take the leadership role and keep coaching and progressing until we find someone to coach the team."
Athletic Director Mr. Eli Schiff had two candidates in mind, but neither could commit to the all of the job's hours and schedule.
Having no coach would mean disbanding the team.
"I really didn't want to cancel the season, because I knew how much it meant to the kids," Mr. Schiff said last week.
Nathan, who is ranked No. 100 in tennis among California 18-year-olds, seemed a natural choice.  He has an almost undefeated high school record, going 33-0 his freshman year, 30-0 his sophomore year, and 32-1 his junior year.
There were concerns over safety with a teenager in charge, but eventually school officials said Nathan could coach with adult supervision. Seth Nayowitz, who had been a candidate for the job, would be present at home games, while Nathan would be in charge for the rest.
"Nathan is a great leader, someone who is inspiring to other and himself," said Principal Reb Noam Weissman. "He is also someone who holds himself accountable and takes responsibility."
Reaction from students was not all positive at first. Sophomore Arman Marghzar was skeptical,but appreciated Nathan's coaching by season's end.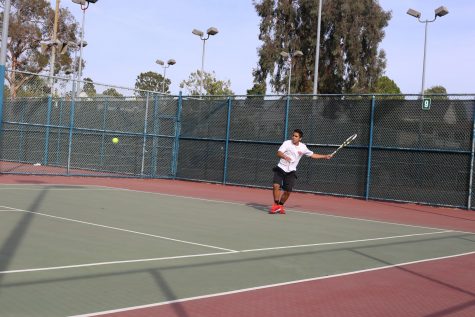 "I felt that he was too young and inexperienced to coach our team with kids his age," said Arman.  "But as the season went on and we won more games," Arman said, "I realized that Nathan showed a lot of commitment and leadership to help with the team's success."
For Nathan, coaching the Firehawks meant finding a way to keep up his regular training so he could pursue his dream of playing for a Division I team in college.
Nathan spends four hours a day training, two hours with his private tennis coach and another two in the gym. He said the administration made it work by giving him a special schedule.
The Firehawks' 13 players  — nine starters and four alternates – started the season 4-0, the team showed its experience and poise after learning Nathan would coach them for the rest of the season.
Then they lost two straight games. The first was to Milken, where Nathan lost his first match of the year to Samuel Feit,  the brother of last year's coach. The second was to rival Culver City.
After that, they only lost once in the next four games, falling once more to Culver City.
At season's end, the Firehawks had just missed the qualifications for a non-league team to join the California Interscholastic Federation (CIF). That's because the school's regular league, the Mulholland League, doesn't have schools that play tennis.
For now, the squad is still a freelance team, meaning it plays any school with a tennis team and then submits the scores to CIF.
To join the CIF playoffs without a league, they need an 80 percent winning percentage and play at least 12 games.  This year, they had a 70 percent winning percentage and played two games less than the minimum.
If Shalhevet were in a league it would at least guarantee playoffs against the teams within the league, and then the top two teams would be able to go to divisional.
Mr. Schiff said one possibility was a league headed by Vistamar High School, which includes schools like Wildwood and New Roads that Shalhevet played in other sports.
"I am happy with the way the season went," said team co-captain senior Daniel Soroudi.  "I looked for a good season where the team improved and the team had fun and both happened, and that's all a co-captain can ask for."