Junior Yaakov Sobel honored with Friendship Circle 'Hineini' award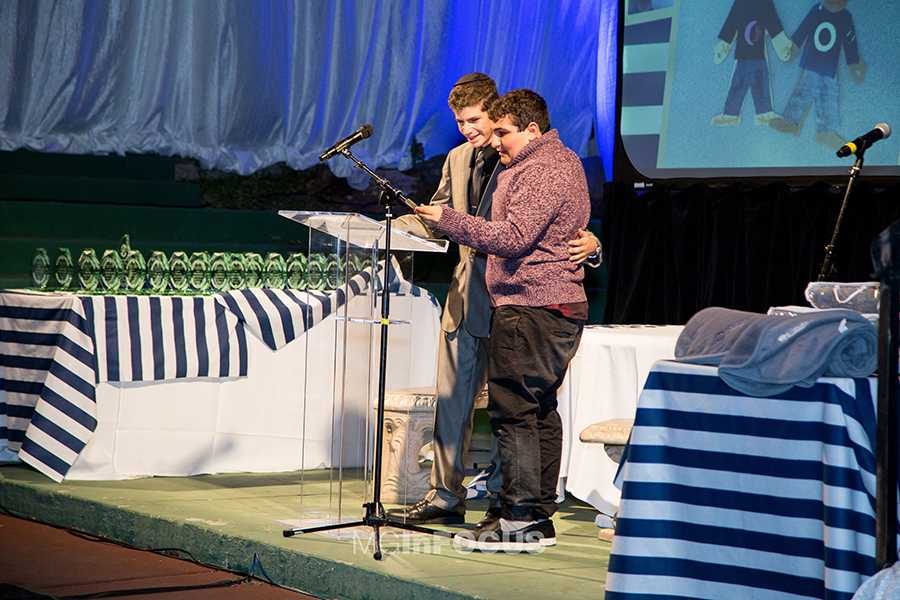 During his acceptance speech for one of the most prestigious awards a high school student in Los Angeles can receive, junior Yaakov Sobel looked up from his prepared remarks and saw his friend Sam jumping and waving at him with excitement.
Yaakov knew instinctively that his night of honor needed to be shared, and invited Sam to join him at the microphone.
"Come, why don't you come stand next to me," Yaakov called to Sam, beckoning him with a welcoming hand gesture. As Sam made his way up to the stage, the well-dressed audience of nearly 350 at a home in Beverly Hills burst into applause.
Nothing was amiss. The two boys- Yaakov and Sam, who has special needs and whose real name isn't Sam- stood together, arm in arm and smiling proudly.
There could not have been a better way to show exactly why it was Yaakov who was being honored near the close of a night of food, music, and speeches at the annual Friendship Circle "Garden Party" event honoring its 481 volunteers Tuesday May 24.
Yaakov was receiving the Hineini award, presented each year to a volunteer who displays stellar dedication to the Friendship Circle, which assists children and young adults with special needs.
In the midst of his acceptance speech, Yaakov not only noticed Sam's excitement, but on the spot thought to include him in the moment.
"You can take that as a distraction," Yaakov said later, "Or you can say, 'Wow, he loves the attention. Why don't I just invite him onto the stage and have him stand there with me to include him in it.'"
The Friendship Circle is a non-profit, Chabad organization that provides programming and support for children and young adults with special needs and their families. The Los Angeles branch was founded in 2003, making this its "bar mitzvah" year.
Yaakov has volunteered for almost every Friendship Circle program, including Hebrew School, Sunday Circle, Friends at Home, holiday programs, birthday bashes, and summer and winter camps.
He also helps in the office and with set-up and clean-up for events, and he has been especially active in the weekly afterschool Karate class.
In his speech, Yaakov thanked the Friendship Circle for being a place where everyone can feel included, no matter how different he or she feels.
"Society is like a jigsaw puzzle and every single person in society is a piece, with a different shape and a different cut from every single other piece in that jigsaw puzzle," he said. "If that jigsaw puzzle is put together just right, then it makes a beautiful picture."
However, Yaakov explained that an often mistaken approach to children with special needs is to try to put them somewhere where they don't fit.
"Rather than asking some of the other pieces to make some room for that piece, we try forcing that piece into a place where it just doesn't fit," he said. "They're looking at how to fit the individual into society, instead of how society can, and should, accommodate each individual."
After Yaakov and Sam had embraced, Sam sat down for a few moments beside him while Yaakov continued his speech. Then Sam left the stage, and Yaakov glanced back to where he'd been sitting. He saw his award plaque on the seat, broken in two.
Turning again towards the audience, rather than looking distraught or upset, Yaakov had the biggest smile on his face.
"When he sat down, the trophy fell and broke into two pieces, so it was my own little jigsaw puzzle," Yaakov said later in an interview. "We made that joke."
Yaakov said the moment had encapsulated what it means to be part of the special needs community.
"It was a very Friendship Circle-esque speech," he said. "Everything goes wrong and you just gotta keep your composure up there, keep a smile on your face, keep relaxed."
"The wind was in my face, I lost my place a ton of times, and it just did not go as planned at all," he explained. "But that's okay. You deal with that."
In his speech, Yaakov confided to the audience that he initially became involved with the Friendship Circle as a participant, working hard to overcome personal struggles with dyslexia, dysgraphia and ADHD.
But at age 14, he became a volunteer.
"Yaakov has truly come full circle," said Rabbi Michy Rav Noy, the director of Friendship Circle Los Angeles, "and the fact that he has been able to utilize his experiences is very telling."
Rabbi Michy said Yaakov reminded him of King Solomon's words, "I have seen that there is an advantage of wisdom over silliness like the advantage of light over darkness."
This verse, he explained, really teaches that true greatness is attained when light comes from darkness.
"Yaakov is a great example of being able to elevate the part of our lives that are most challenging," he said.
Yaaokv met Sam, who has autism, at the karate program.
"Today as I stand here and look at Sam, I see someone who is perfect and beautiful in every way," Yaakov shared in his speech, looking out to Sam in the crowd. "And as I look at my friends from Friendship Circle – yes, all of them – I see that every single one of them is perfect."
He continued by saying that everyone is made "in the image of God."
Just because your cut may be different from the person next to you, Yaakov said, doesn't mean you are worth any less. As he added later, "Sometimes it's our flaws that make us beautiful."
In his closing remarks, Yaakov thanked the Friendship Circle organization, addressed the friends he made there, and called for action from the audience.
"Friendship Circle has created a place that is safe for people who don't necessarily fit into the mold of a rigid society," Yaakov said. "The community that Friendship Circle has built conforms to the needs of our special and perfect friends."
He then turned to Sam.
"You're beautiful," Yaakov said. "You're perfect. You're my best friend. Every time we hang out, you make me smile. You make me happy. You bring joy and meaning into my life."
To everybody else at Friendship Circle, Yaakov said to never forget that they are perfect and that Friendship Circle is always a home for them – "the place," he said, "that will create the mold around you for a perfect fit."
Meet the Writer
Maayan Waldman, Co Editor-in-Chief
Ma'ayan Waldman has interviewed, reported, and reviewed for the Boiling Point since ninth grade. She has served as staff writer, Arts Editor and Opinion Editor, Community Editor during her junior year, and is now co-Editor-in-Chief. Aside from her passion for journalism, she also enjoys debate, Mock Trial, and swimming. Outside of school, she loves spending time with her family and friends and listening to music.