Grappling club teaches athletes to fight with their minds, not just their strength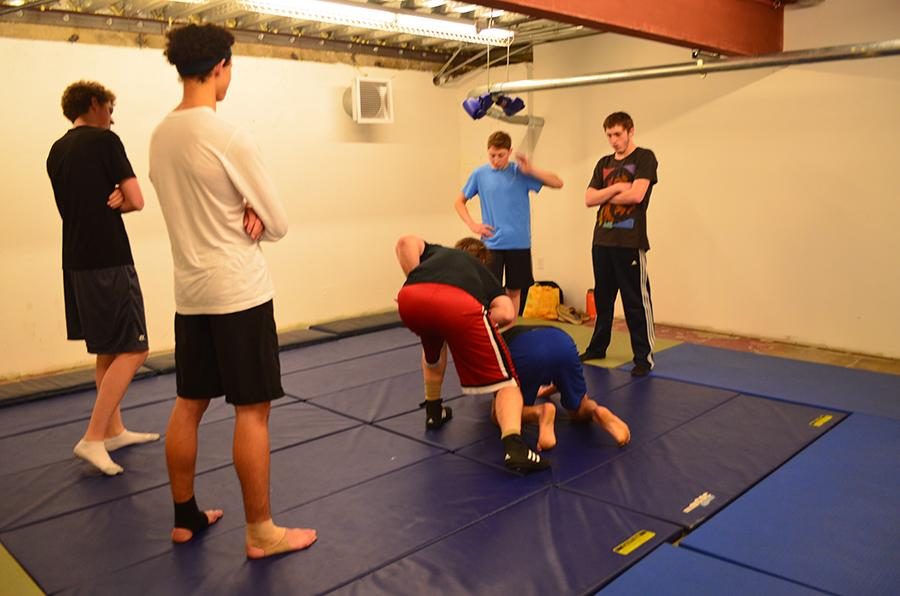 By Will Kasdan, Staff Writer
February 15, 2016
Sweat fills the air as the grappling club continues to practice moves in a secluded room in the basement.
Nine to 12 members spend 90 minutes on Monday nights pursuing their passion for martial arts, specifically Brazilian jiu jitsu. They practice numerous fighting techniques designed to teach them how to fight more with their minds than their strength.
"Jiu jitsu is like a game of chess," said senior Kian Marghzar. "It's not about picking someone up and throwing them on the ground, it's not like basketball where there's a height advantage. It's about figuring out a person's weaknesses and exploiting them to your advantage."
The club is led by history teacher Mr. William Reusch, who is also faculty advisor for the Debate team.
"I initiated it because I think it is an extremely important thing for young men to study," said Mr. Reusch in an interview. "This year the students asked to bring it back." 
Mr. Reusch is an avid martial artist. His experiences includes eight years of karate, one year of Thai kickboxing, one year of western, and six years of jiu jitsu. Two years ago, he was awarded a gold medal at a North American Brazilian Jiu Jitsu Federation. 
"Learning martial arts is one of the most important decisions of my life," Mr. Reusch said.  "The benefits of being a martial artist far exceed any other activity I have ever done and it has helped me and many others in all aspects of their lives."
Jiu jitsu focuses mainly on ground fighting, enabling fighters of all sizes to practice.  
Shalhevet's club was formed two years ago in the old building, then skipped last year because there was no place to practice at the JCC.  This year, it is back.
Since the club only meets once a week and does not qualify for enough exercise time, members are not exempt from P.E., according to Sports Director Eli Schiff.  That means they're doing it just for the love of the sport.
Members come dressed in shorts and T-shirts, removing their glasses and wristwatches in preparation for each session. Once the students finish cleaning the mats, they warm up for 15 minutes. They begin with a few repetitions of full-body exercises and then summersault on the mats, while rock music blasts from portable speakers. 
After the warm-ups come one-on-one, there are two-minute sparring rounds where members practice the moves they have learned. A submission, when one opponent taps out, can end the fight at any time, but a point system, calculated by the number of fighting techniques achieved during the round, generally determines the winner.  
For students to pick up specific fighting moves that contain multiple steps, Mr. Reusch demonstrates on members and critiques their stances. Junior Jonah Kaye and sophomore Ilan Bouskilla watched on Jan. 4 as he practiced defense on senior Eric Bazak.
The meeting caps off with 30 repetitions of six different strength exercises, followed by fights between all five members and Mr. Reusch.
The teacher said he has seen some improvement in the members' performance. He is confident that with more experience, they will be able to easily take down someone larger and stronger than they are.
So far though, most of the members have not engaged in any martial arts activity outside of the club.
"I hope having the club begins the martial arts journey for students at Shalhevet," Mr. Reusch said. 
The only complaint heard was from senior Zev Frankel, who said he hopes more will join in the future.