Little sleep but plenty of medals for karate champion and student leader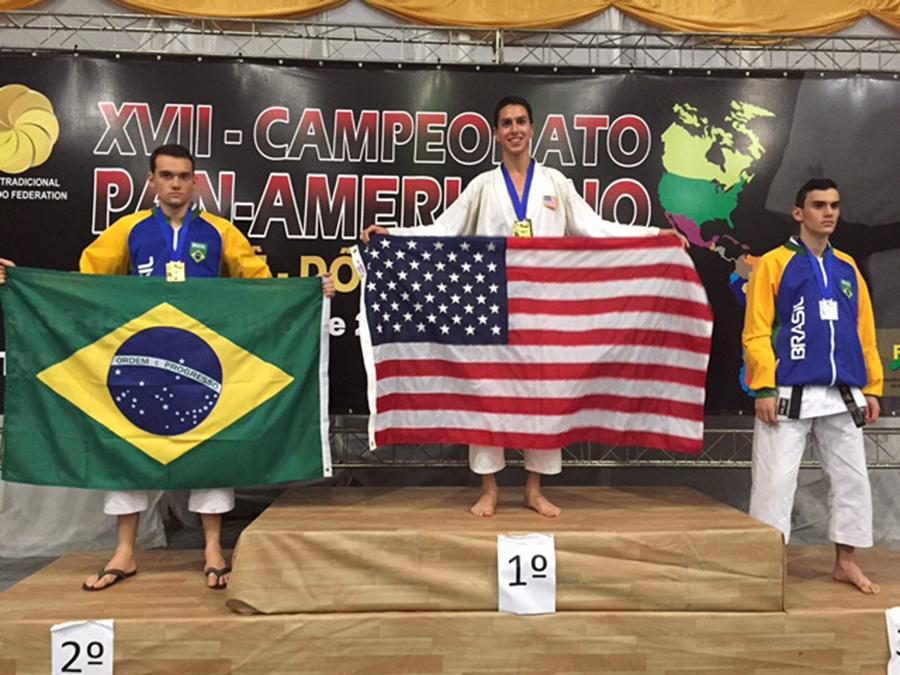 By Eric Bazak, Editor-in-Chief and Zev Kent, Sports Editor
January 31, 2016
Senior Daniel Soroudi entered the 17th Pan American Karate Championship in Natal, Brazil, last fall with the same mindset he brings to all of his goals: low expectations but high determination. He left with three medals around his neck, having beaten competitors with as much as 13 years of karate experience.
Hundreds of competitors from nine different countries across North and South America participated, dozens of whom competed with Daniel directly. Most fighters had been national champions in their respective country.
Daniel competed in three categories in the 16-17-year-old male division. The categories were Ko-Go Kumite, which is offense-defense sparring; Kata, individual form; and Fuku-Go, which combines the two.
He won gold medals in Ko-Go and Fuku-Go and a bronze medal in Kata.
"I was honestly shocked that I did so well at the competition," Daniel said. "When I think about it, I know it's an incredible achievement. But I'm constantly surrounded by national and international champions so at the end of the day, I don't feel like it's a crazy accomplishment."
Somehow, the Mock Trial, Model Congress, and tennis team captain found time to train up to 17 hours a week during the months leading up to the Brazil competition Nov. 6 and 7 – months that are notorious for seniors working on college applications.
Those who know him, including History teacher and Model Congress adviser Mr. William Reusch, were not surprised. Mr. Reusch also coaches the Grappling Club, where a handful of students – including Daniel – are learning another martial art, Brazilian jiu jitsu.
"At the core of martial arts is discipline," Mr. Reusch. "Daniel is one of the most disciplined students at Shalhevet and it's not a coincidence. The only way to get good at high stakes martial arts is to know how to follow directions and stick to a plan."
He said Model Congress is run and coached mostly by the captains.
"All I do is plan trips," Mr. Reusch said. "Moreso than being faculty advisor on other teams, there is very little teacher interaction in MC. It's very student run and I have faith in the captains to run it."
Daniel's karate teacher is Mr. Avi Rokah, father of Shalhevet alumni Adam '15 and David '12 and owner of the Avi Rokah Dojo on Pico Boulevard. Mr. Rokah suggested that Daniel's academic strengths helped him in karate.
"On one hand you need to be a hard worker and consistent and focused," Mr. Rokah said. "[But] some people work hard and don't get anywhere, because it's not only hard work. You have to pay attention to details. It's the details that make the difference between someone on high level to mediocre."
While most karate practitioners start training from a very young age, Daniel was only introduced to karate in middle school, though he quickly developed a passion for it.
He completed his black belt in four-and-a-half years; most people take about 10.
Part of that speed can be attributed to Daniel's strict work regimen. He can be spotted on Pico and Rexford training inside the Dojo every Sunday and on some weekdays.
In the months before the competition, he understood that the only way to succeed while keeping up with class work would be to work extremely hard from morning until late at night.
"Those weeks leading up to the competition were definitely the hardest," Daniel said. "Not only did karate take up a lot of time, it drained all of my energy."
He said he didn't sleep much.
"I think I managed to get through it only because teachers understood how much I had on my plate," he said. "That, combined with very little sleep and free time every night, made it all possible."
Daniel has won four Model Congress and two Mock Trial awards while at Shalhevet, and also performed in guitar recitals. He also takes AP Art, and maintains a high GPA.
With success has come sacrifice, though he still manages a social life. On average, he only sleeps five hours a night, waking up at 6:30 each morning to attend Hashkama minyan at 7:20.
He rarely watches television. Survivor, his favorite show, can only be watched once he's more or less finished with all his work. Lakers and Dodgers games — staples for many students — don't interest him.
Daniel does manage to do volunteer work at Mr. Rokah's dojo. Since karate has been proven to aid kids with mental disabilities, Daniel volunteers at a Friendship Circle program there and teaches the kids karate.
"If you ask anyone who knew me before I started karate and who knows me now, they'll tell you that karate really changed me," he said. "I wanted to give that back to other people, especially when they really need it."
He has three siblings, Shalhevet alumni David '10 and Sarah '13, and Jonathan, 10.
"Daniel's fearless," said his friend, senior Shirel Benji. "When he has a goal, he will put all his effort into achieving it. But … he still always makes time for his friends and he recognizes the importance of friendship."
In the summer of 2014, Daniel won a bronze medal in the American Amateur Karate Federation, also known as nationals, in Washington, D.C., qualifying him for Brazil. The summer prior, he had competed in nationals in Dallas, Texas.
Then last June after receiving his first-degree black belt, Daniel traveled to Brazil with the rest of Team USA, along with his brother David, a graduate of USC.
Since he was the only Jewish person competing, challenges such as kashrut were part of the experience. He said he explained the laws of Kashrut to the rest of the team members, who made accommodations for him and his religious needs.
"They were very receptive to it," Daniel said. "They loved learning about it too and they made sure every time they were finding a place to eat they said: 'Ok, there's something there for Daniel and David.'"
A lot of Daniel's time was spent with his fellow members of Team USA, and he tried to do some personal outreach with them. Many had never gotten to know a Jewish person before.
"I was sensitive to other people and other nations because the media right now is presenting things in a weird way, and I wanted them to see this is what a Jew is," Daniel said.
When it came time to compete, Daniel said that Team USA members were supportive and cheering each other on. The U.S. coach, Sasa Panic, advised and motivated Daniel and the other members throughout.
Back in Los Angeles, Mr. Rokah was only partly surprised at the result.
"I was very excited," Mr. Rokah said. "At the same time I expected him to do really well, but you never know in competition. I knew he was ready for it."
For Daniel himself, it was also just another learning experience.
"Participating in competitions, no matter how big they are, is just another way to see what you need to work on," Daniel said. "I made dozens of mistakes in Brazil and I know that each will take years and maybe even decades to fix. I really like that this competition was something to push off of and learn from."