Freshman's bill becomes law as Debate team wins 11 awards at Princeton Model Congress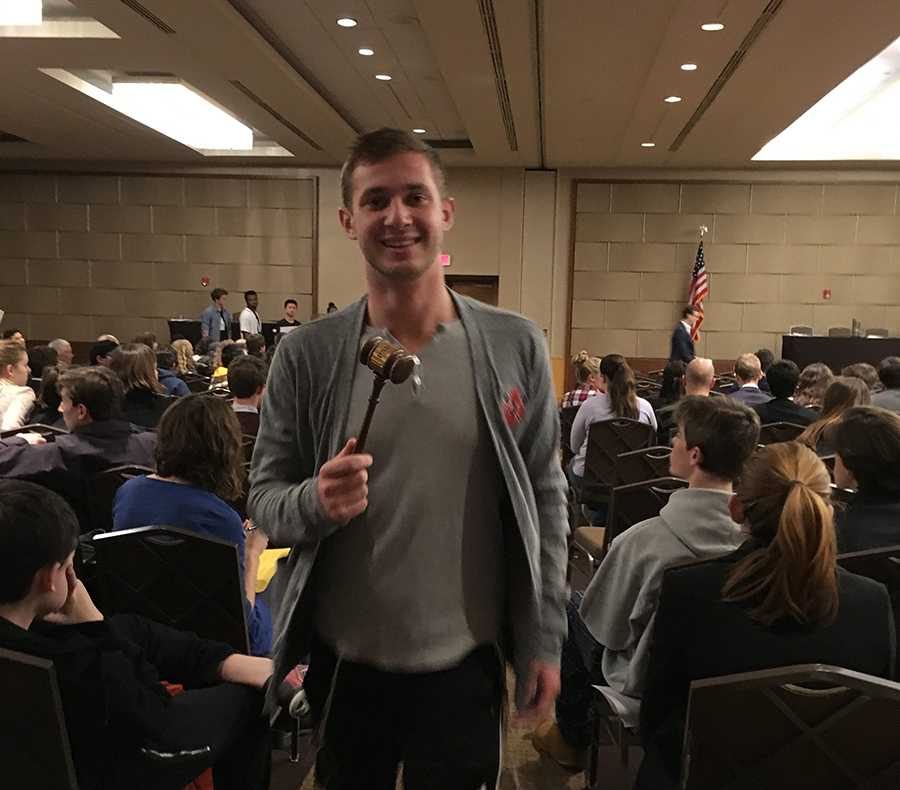 By Sharon Khalil, Staff Writer
January 7, 2016
Eleven awards were won and a ninth grader's bill made it all the way to the president's signature as the 22-member Model Congress team tackled a range of national issues and problems at Princeton Model Congress Nov. 18 – 21 in Washington, D.C.
Freshman Lucy Fried presented "An Act to Advocate for the Youth of America," which would have banned incarceration of youth for status offenses and other crimes that are not harmful to society. It passed in the Health, Education, Labor, and Pensions Committee and then full session. The student "president" — Michael Bass of the Hopkins School in New Haven, Conn. — then signed it into law.
It was the first time a Firehawk freshman had a bill get that far and only the third time in school history that a Shalhevet student's bill made it into law at all.
"I was initially really interested in the topic of kids and teenagers and their safety," said Lucy in an interview later. "Then I started thinking more and researching about our juvenile justice system and I realized how many problems I had with it."
Status offenses are actions that states make illegal only for people of a certain age group. Some status offenses are skipping school, violating a city or county curfew, underage possession and consumption of alcohol or drugs, and running away. Lucy's bill would not legalize those behaviors but would prevent kids convicted of them from having to go to prison.
"I think it was just a very common sense bill." said debate coach Mr. William Reusch. "It makes a lot of sense on all levels, from all kind of different political standpoints."
Mr. Ruesch said that Lucy's Bill was beneficial to everyone involved.
"There was no one who was gonna lose money on it." he said.
Firehawk debaters also won three gavels for excellence in committee debate, and eight honorable mentions. Students are judged on their bills and on their ability to think on their feet, debate other bills, and thrive under pressure.
Senior and team co-captain Boaz Willis won a gavel in the Banking, Housing and Urban Affairs committee, where he presented a bill called "An Act to Prevent Wrongful Influence Over Monetary Activity." The bill put limits on officials of Federal Reserve banks as to where they can work before and after their service at the federal reserve, to avoid using their influence for personal gain.
Jonah Gill, another senior, won a gavel in the Judiciary committee. His bill, "An Act to Fix The House of Representatives," ended geographically arranged districts and having everyone in a state vote for all its representatives instead.
The team's third gavel was won by sophomore Sam Hirschhorn, in the Ways and Means Committee. Sam presented a bill called "An Act to Prevent Government Shutdowns," which hoped to give congressmen an incentive for compromise by withholding their salaries for each day the government is closed when Congress has failed to pass a budget.
Lucy won one of the eight Honorable Mentions, and she said she'd learned a lot about debate.
"It was like an out of body experience, I almost couldn't recognize myself debating in front of all these people," said Lucy. "It definitely boosted my confidence and my speaking abilities have increased so much because of the trip."
"(This trip) really pushed me out of my comfort zone in so many ways," she added.
Boaz Willis said the team had won fewer awards this year – last year the team won 14 — but that it was because of the calendar.
"The way that the practices worked out wasn't so great because of the holidays and everything," Boaz said.
On Saturday night, near the end of the final debating sessions of the conference, the teams had to leave the Hyatt hotel due to smoke in the lobby, though students thought at that time that there was an actual fire. Some members of the team were still debating while others were already in their hotel rooms when they were told to evacuate.
According to a concierge who requested to remain anonymous, there were sparks and smoke in an electrical circuit that was next to an air vent, which sent the smoke to other hotel rooms. There was no actual fire, which is why the fire alarm did not set off.
After the Firehawk team regrouped outside of the hotel, they walked to Haagen Dazs and watched Spectre, as previously planned.