Sun sets on Vistamar as Firehawks head to championship match Thursday at Crossroads
Shalhevet wins new rivalry game 27 – 7 and heads to finals for second year in a row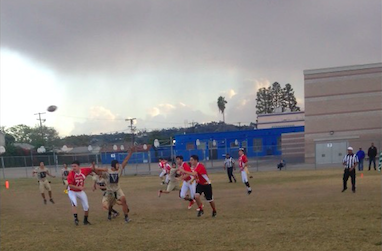 The boys Flag Football team is on its way back to the Coastal League championship after beating Vistamar in the semifinals last night, 27-7.
Quarterback Jacob Dauer threw for three touchdowns along with two extra-point conversions as clouds threatened on the home field at LACES. It never rained, and the Firehawks never weakened, leading through all four quarters.
In the second half, running back Micah Gill had a punt return for a touchdown, which really seemed to spark the team. Wide receiver Eitan Halpert scored a touchdown and offensive lineman Sammy Ellenhorn made his first touchdown of the season.
Zack Muller, wide receiver and corner back, had a huge game with both a touchdown and an interception, and defensive end Boaz "Sack Master" Willis lived up to his nickname with two sacks.
It was an easy win in what felt like a revenge match for the Firehawks.  Just a year ago, Shalhevet administration suspended then-coach Christopher Buckley from coaching the semi-final match after a Vistamar parent complained about his post-game speech to the players.  Coach Buckley resigned rather than accept the suspension.
That speech was as heated as it was, players and others have said, because of bad feelings on the field during that game.  Throughout last night's game, Firehawk players could be heard commenting that Vistamar was the one team they always wanted to beat.
"Not only is Vistamar a fierce competitor, but we've developed a rivalry with them over the past two seasons," said Micah Gill last night. "A win against Vistamar is always a big one."
The championship appearance will be Shalhevet's second in a row.  Last year the Firehawks won it, in only their first league season, defeating Crossroads 26-19 on Nov. 4, 2014.
This year's final is set for Thursday at 6 p.m. Athletic Director Eli Schiff announced on Schoology that the school is hiring a bus to take students to Santa Monica for the game, which will be played on Crossroads Norton Field on Olympic Boulevard at 18th Street.