Playwright, actress, journalist and former model joins English Department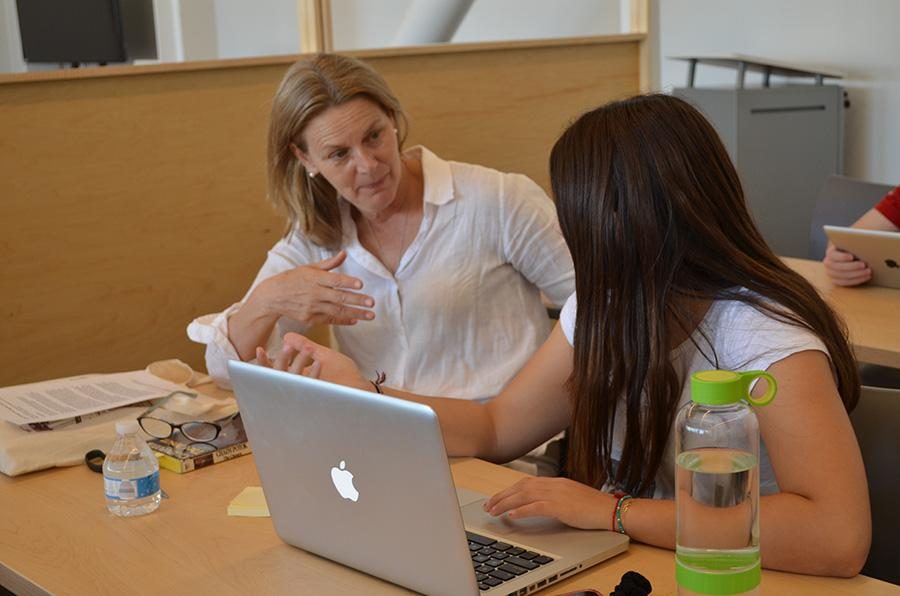 A bicoastal playwright, Brown alumna, and former fitting and runway model for Pauline Trigère, Ms. Devon O'Brien — one of Shalhevet's two new English teachers —  brings some unique experiences to her classrooms.
She has interviewed celebrities for the Los Angeles Times, including Emma Thompson and Nicole Kidman. She has blogged for the Huffington Post, written a play that was performed at the National Portrait gallery this spring, and appeared in the several movies including 1983's Terms of Endearment.
Her life and writing career have been a conglomerate of cool-sounding enterprises.  But at Shalhevet she will be teaching mostly literature — two 10th-grade American Literature classes, a 9th-grade Composition class and one section of AP English.  
"To be a fine reader is probably three-quarters of the way to being a good writer," Ms. O'Brien said in an interview. She wants students to think of great writers as people like themselves, "not a part of some alien and distant race." 
Ms. O'Brien's play, American Portraits, was performed by the Antaeus Theater Company last October. Although passionate about Shakespeare, she said picking a favorite literary work or author was like asking a chef what his favorite is. 
"When he goes in to the market Sunday morning, he says look at this beautiful lettuce, this beautiful chicken,' she explained.
Earlier in her life, Ms. O'Brien wrote articles about celebrities for the "At Home Abroad" column of the Los Angeles Times.  Before that, she was a model for legendary designer Pauline Trigère, who died in 2002.
"Standing side by side with Miss Trigère, I saw all that it took to be an artist," Ms. O'Brien wrote in the 2011 anthology, Nostalgia in Vogue.  " I did not learn this at college — or in acting class … I learned it through observation, while playing the mannequin of Miss Pauline Trigère."
Last spring, Ms. O'Brien took over the classes of then-General Studies Principal Mr. Roy Danovitch while he was on the senior Poland-Israel trip in May, leading a 12-day unit on sonnets for the 10th grade.
"I could easily tell she was passionate about the literature," said junior Maayan Waldman.
She earlier worked as a permanent substitute at Crossroads School in Santa Monica, and before that taught writing workshops privately.
Ms. O'Brien has not worked in a Jewish school before and said she is excited about joining "the bubble." Her stint as a substitute got her hooked.
"I felt a mutual sympathy between myself and Shalhevet," Ms. O'Brien said. "There was this palpable feeling of warmth, dedication, and excitement."
Over the summer, she prepared for her American literature classes by reading The Chosen, by Chaim Potok, for the first time, and said it gave her an introduction to Jewish culture and academics.
It left her feeling astonished and impressed by "the sort of intellectual study" that goes along with Jewish subjects such as Talmud, she said.
Meet the Writer
Hannah Jannol, Editor-in-Chief Emeritus
Hannah Jannol was Editor-in-Chief of the Boiling Point during the 2017-2018 school year. Since then, she has attended The New School and written for their HerCampus chapter; edited obituaries for The Trace; written poetry for Eleven and a Half literary magazine, and run Instagram and Twitter for Uptown Stories. Her favorite parts of being on Boiling Point were production night and writing long-form features stories, many of which won awards from CSPA, Quill & Scroll and the American Jewish Press Association.