UPDATED: Farewell to an icon as Ms. Berkey leaves for Oakwood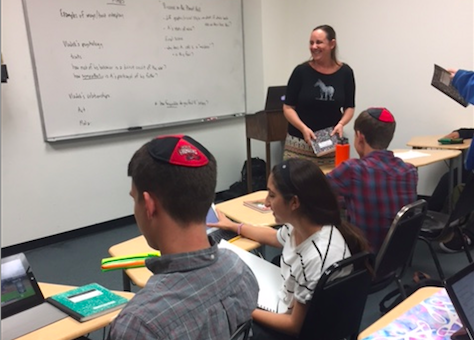 English teacher and Humanities Dean Melanie Berkey, who imbued decades of Shalhevet students with passion for film, literature and hard work, announced June 1 that she is leaving to teach at Oakwood High School in North Hollywood.
In an e-mail to the Shalhevet community, Ms. Berkey, who's just completing her 17th year at Shalhevet, wrote that she is leaving to work with her husband, former Shalhevet General Studies Principal Phu Tranchi, who is Science Department chair there. While nothing is final, she will probably teach classes like American Literature and AP Literature.
She said teaching there meant that Oakwood, which is one of the top secular private schools in Los Angeles, would fully cover her son's tuition. 
"Shalhevet will forever occupy an important piece of my heart," Ms. Berkey wrote in the e-mail. "I grew up as a teacher here, and even met my husband and started my family here. "I just want to clarify that I was not actively pursuing other jobs or looking to leave Shalhevet; however, I simply cannot pass up this opportunity to secure my son's future…," she wrote, adding, "As difficult as it feels to close this chapter, I leave beyond excited about the school's future." 
Ms. Berkey currently teaches American Literature, Film and Literature, AP Literature and also is Academic Dean for English and History. 
"I think she's the teacher who's taught me most in my life," said sophomore Alex Reich. "She transformed my writing so much it's actually insane. "I'm really happy that she's thinking about her son. It's just sad to see someone with such amazing skill and an amazing personality leave." 
And she doesn't just whip students into great writers— she helps them enjoy English class as well.
"She makes the class more fun for all of us," said sophomore Alex Silberstein. "We don't just sit down and break the books down, but we personalize and relate them to our lives."
Ms. Berkey graduated from Yale University and came to Shalhevet in 1997, working under former English Department Chair Dr. James Forman until 2004 when he left and she became chair. She was also responsible for bringing current General Studies Principal Mr. Roy Danovitch into the department, filling Dr. Forman's spot.
 Ironically, Dr. Forman left to chair the English department at Buckley School in Sherman Oaks, explaining that he would be able to send his daughter there. 
As English Department Chair, Ms. Berkey developed new courses, such as film and creative writing, and changed the nature of the ninth grade class to focus more on writing— particularly with the Collins Writing Program. Along with Ms. Malikov, she also spearheaded a peer to peer academic structure, where teachers speak with each other to learn how to improve.
Even with these accomplishments, Ms. Berkey still hopes that the English Department will move away from regional literature—like American Literature and British Literature—and come up with a more meaningful and engaging focus.
In 2009, Ms. Berkey received the Milken Family Foundation's Outstanding Jewish Educator Award, the same award that Ms. Katarina Malikov won this year. 
As chair of the English Department, Ms. Berkey brought Ms. Michelle Crincoli into the high school and has developed a close mentoring relationship with her. You can often find Ms. Berkey and Ms. Crincoli discussing lesson plans and curriculum in the hallway or during their lunch break. 
"She's not only a mentor, but also a friend," said Ms. Crincoli. "It's been invaluable to have her as a mentor and it's hard to see a future without her."
Ms. Berkey has worked under five principals and has been through both Shalhevet's tumultuous and stable periods. 
Through Shalhevet's rollercoaster years, teachers have formed a unique bond with Ms. Berkey.
"In her film class, she teaches Frtiz Lang's Metropolis which I happened to stumble upon channel surfing," said Jewish History teacher Mr. Feld. "I became obsessed with the film, so she invited me to have a joint lesson where I explain why it resonates so much with me.
"It's become an annual tradition and truly is one of the highlights of my year," he said.
Dr. Yoss, too, shares a special camaraderie with Ms. Berkey. 
"I need her here because I need someone to tell my jokes to everyday and for some more balance in the school," Dr. Yoss said. 
After the Boiling Point posted about her leave on Facebook, current students and alumni shared mixed feelings on Facebook. 
"One of the all time greats. leaving behind an incredible legacy and an endless roster of students who sing her praises!" wrote alumna Gaby Grossman '08. 
Benny Balasz '14 wrote, "Only had her for a semester, but it's characters like her that made Shalhevet such an amazing community." 
And current junior Shirin Nataneli summed up the feelings of many with a tearful emoji and the simple comment, "noo." 
On ratemyteachers.com, Ms. Berkey boasts a nearly perfect five stars and many glowing comments. 
"She is so invested in her work, is helpful whenever necessary, and just exudes intelligence and competence," said one anonymous student on the website. "Getting back an essay with checks peppering it would make my day, and the comments she leaves on each report card are rivaled only by Mrs. Sunshine." 
So what's her teaching secret?
"I always hold a really high intellectual bar for my students," said Ms. Berkey. "And I really enable different kinds of students to reach that bar."
In addition to teaching English, Ms. Berkey also has a knack for sports. She played on Yale's softball team and also initiated a girls' volleyball and softball team at Shalhevet. She coached the girls' volleyball team until 2009.
Much of her personal life has also developed at Shalhevet. She and former General Studies Principal, Mr. Tranchi married in 2006 and  had a son, Oliver, in 2010. 
As one of the longest teachers ever to have stayed at Shalhevet, Ms. Berkey offers her wishes for the future of the school: 
"My hope is that Shalhevet students use their strong foundation, their identity and their commitment to Judaism as a base with which they can engage with the rest of the world," Ms. Berkey said. "Shalhevet students have so much potential in this world."