Second Counselor Beefs Up College Advising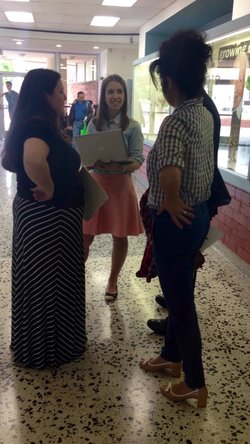 For the first time in school history, Shalhevet has added a second person to oversee its college counseling program, due to a growing number of students.
Last fall, Ms. Lisa Gruenbaum became the school's first-ever College Counseling Associate, assisting Ms. Aviva Walls, Director of College Counseling and Academic Guidance.
Ms. Walls works mainly with juniors and seniors. Both grades' enrollments have increased in the past few years.
"The number of students who I work with most intensely jumped from 61 to over 100 students in two years," said Ms. Walls in an interview Jan. 5. "That's just more than one person can manage. With the level of service we provide, I wouldn't be able to keep that up if we didn't bring in another person."
The addition of Ms. Gruenbaum, who works 10 to 20 hours a week, gives Shalhevet a ratio of approximately one college counselor per 125 students.
By comparison, YULA Girls and YULA boys each have one college counselor per approximately 200 students. The ratio at Harvard-Westlake is 1:145 students; at Hamilton High School 1:604 students, and at Beverly Hills High School 1:410, according to a Boiling Point survey.
That makes Shalhevet's counselor-to-student ratio the smallest among the five schools compared, and most similar to Harvard Westlake's.
But Ms. Walls said the comparison was misleading, because the other schools' counselors have full-time administrative support.
"Originally, I had wanted a college student to help me with administrative work and make sure everything is on track," said Ms.Walls. "We got really lucky because Lisa is much more experienced than the person I was searching for and she's able to bring so much to the table."
According to Admissions Director Ms. Natalie Weiss, there are 188 students at Shalhevet this year: 32 seniors, 46 juniors, 54 sophomores and 56 freshmen.
The year-by-year growth rate prompted Ms.Walls to begin searching for an assistant. Then last May, Ms. Gruenbaum—who had worked in the admissions office at University of Pennsylvania from 2011 to 2013—sent her an e-mail describing her interest in the career, and the match was made.
"Rather than have a full-time administrator, Lisa and I divide up the administrative work and also [both] provide counseling for students," Ms. Walls said.
Ms. Gruenbaum helps by ensuring that teacher's letters of recommendation and students' applications are in, and that students have signed up for standardized tests. To learn more about college counseling, she sometimes sits in on seniors' individual meetings with Ms. Walls.
         Ms. Walls, who joined the Shalhevet staff in 2013, gets to know each senior individually, and from learning about their interests, working habits and personalities, assists them in creating a list of colleges to investigate.
"Getting to know each senior personally helps me understand the entire kid and the full dynamic of what's happening with them," said Ms. Walls. "This allows me to counsel them toward success."
Additionally, she speaks to juniors about tests and extra-curriculars, and for lowerclassmen, she organizes college nights.
Getting ready for college applications also includes academic guidance, deciding what students are looking for in a college, studying for ACT or SAT subject tests, writing essays and applications and discovering one's strengths and weaknesses.
"We want to give students enough attention because the college process is different for everyone," said Ms. Gruenbaum in an interview Jan. 5. "I'm also Aviva's right-hand man. Whatever she needs help with, I'm here for."
Seniors say that now it's easier to schedule appointments and get answers to minor questions, even without a meeting.
"I think it's great to have Lisa around," said senior Jillian Einalhori. "Since Aviva's so busy, and I don't want to constantly bother her with my small college questions, I know I can randomly ask those questions to Lisa."
Ms. Walls anticipates that Ms. Gruenbaum will be back. Students hope so, too.
"Having two college counselors frees up both Aviva and Lisa so they can meet with us," said senior Max Helfand. "Scheduling a meeting with one or both of them was never an issue, and if I ever just wanted to show one of them a rough draft of an application essay, or just talk about a particular college, at least one of them would be able to meet."
Before coming to Shalhevet, Ms. Gruenbaum also worked as an editor's assistant at US Weekly, taught kindergarten at Yavneh for one year and planned social events for AishLA.