At school construction site, a change in the skyline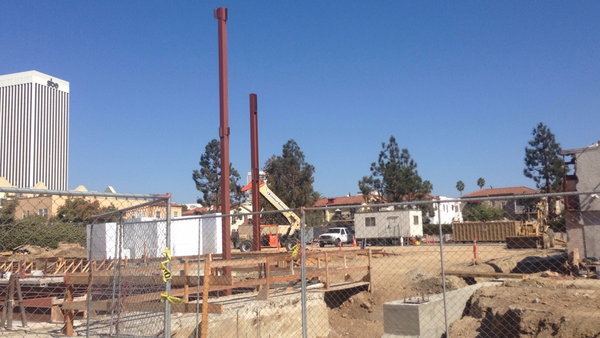 Rising two stories tall above the dirt and machinery, the first piece of Shalhevet's building is now visible above the scaffolding on Fairfax Avenue, about 27 feet in the air.
Two reddish-orange steel beams are now standing in the construction zone on Fairfax.
According to John Vega, the project's head contractor for Ed Grush General Contractor, the newly visible beams are called structural scale columns, which will support the floors of the school.
This week there are two columns up, but there will be 20 by the time they are ready to start putting in the first floor, Mr. Vega said in an interview.
At 27 feet tall, they will reach the third floor elevation, but above that there will be another 10 feet of height to the ceiling and roof, said Don Tinkley, project superintendent at the site.
Mr. Vega said that the workers are beginning to install the basement floors but haven't yet laid down the tile yet. Soon they will be putting down the foundations for the first floor, he said.
He added that construction is proceeding on schedule.
"No major changes have been made, so we're right where we're supposed to be in the construction process," Mr. Vega said.
As of now, the construction site is layered with solid dirt, small trailers and trucks, orange cones and a dump truck. Caution tape is spread across the metal fence surrounding the perimeter of the site, which is visible from the street on Fairfax and less so on Olympic.
The new beams can be seen clearly from Fairfax, Olympic and San Vicente, reaching far above the old building's former roof line, with the Los Angeles County Museum of Art as a backdrop.