Sophomores enjoying enjoying cool air, chill atmosphere at B'nai David-Judea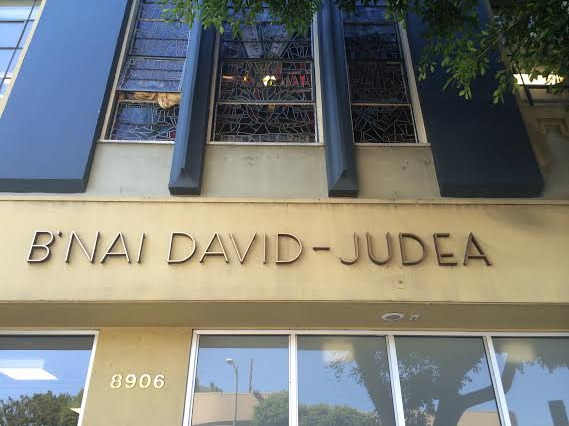 Instead of a miserable "Heat Wave Week," the sophomores, relocated to Bnai David-Judea Congregation, enjoyed working air-conditioning, off-campus lunch privileges, 25-minute passing periods, and less rigorous classes due to the relaxed environment yesterday as Shalhevet spent its first day as a divided school due to the extreme weather.
So far, almost everything has been running smoothly. In order to ease the sophomores into their new location on Monday morning, Head of School Rabbi Ari Segal gathered everyone in the Beit Midrash during first period to go over basic policies and scheduling. Afterwards, Mr. Feld took the students on a tour of the areas allotted to Shalhevet on the first floor.
A sophomore schedule outlining the locations of each class was posted on the Beit Midrash wall to avoid confusion among either students or teachers.
"I thought it was going to be disastrous," said sophomore Maya Golan, "but classes are actually being taken seriously and kids are trying their best to respect the building."
Due to the extended passing periods between classes, teachers have been on time to classes. The Wifi was slow at times, but it seemed to be working for most of the day.
B'nai David is letting Shalhevet use its space free of charge according to the shul's executive director, Mr. Amram Hassan.
As of now, Shalhevet has only announced plans to use the various locations for this week. However, if the sophomores and freshmen need different locations next Monday and Tuesday as well, Mr. Hassan said it would be arranged — even though it would be right before the High Holidays.
Rosh Hashanah starts next Wednesday night, Sept. 25.
Since the synagogue's more classroom-like spaces on the second floor are used year-long by Yeshivat Ohr Chanoch, a small Chabad high school, tables and chairs were set up as makeshift classrooms in the Social Hall, on the landing downstairs from the main floor, and in the Beit Midrash, which is also doubling as a room for davening.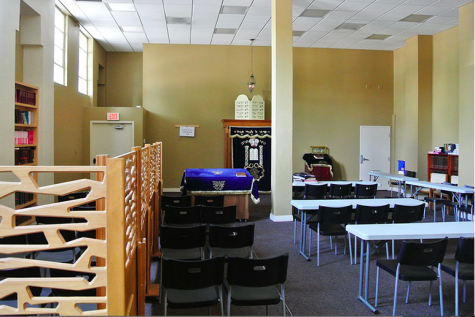 Despite being in the same location as the Yeshiva, the Shalhevet students had no interaction with the Yeshiva students and teachers. According to Mr. Hassan, though the Yeshiva members sometimes go out for lunch, they don't come to the area where Shalhevet is having classes.
"I didn't ask the Yeshiva about having Shalhevet here," said Mr. Hassan in an interview, "but I'm sure they're not happy with the fact that there are girls here."
Related: It's back to JCC after Heat Wave Week ends early
Related: JCC weather live
Related: VIDEO: Heat Wave Week
Related: What you need to know for Heat Wave Week
Related: Heat wave next week will send school to area synagogues
Related: Letter from Rabbi Segal outlining special procedures for Heat Wave Week
Related: 2014-15 school year opens at JCC