Wait – my Tanakh teacher is a singing astronaut?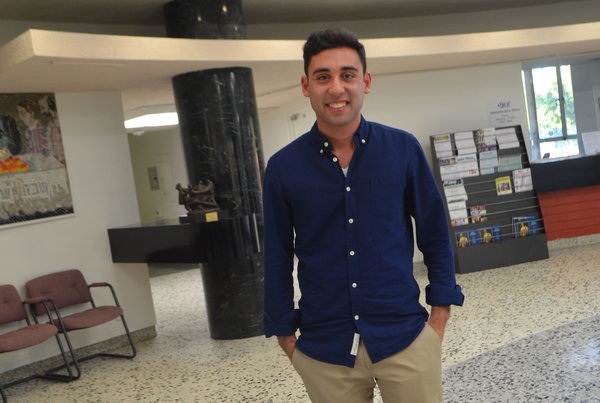 A member of the Maccabeats — the famous Yeshiva University singing group — is working part-time at Shalhevet this year while he creates his own solo music album in Los Angeles.
Noah Jacobson — known to many as the "astronaut" in the Maccabeats' breakout video "Candlelight" — will teach an 11th-grade Tanach class, work on recruiting in the Admissions department, and be communications assistant to Head of School Rabbi Ari Segal.
He will also help run two of Shalhevet's alternative minyans, the "Tefilah Through Songwriting" minyan and the "Explanatory Davening."
While many would-be performing artists take day jobs such as waiting tables so they can write music or screenplays at night, Mr. Jacobson said in an interview that he feels lucky to be a part of Shalhevet.
"It's really a special opportunity to have the time to do music but also to be working at a school that I think is really awesome," said Mr. Jacobson, a graduate of the Robert M. Beren Hebrew Academy in Houston, where Rabbi Segal was head of school before coming to Shalhevet in 2011.
Rabbi Segal said he brought Mr. Jacobson to Shalhevet because of the kind of person he is.
"I think he serves as a role model of everything that Shalhevet stands for," Segal said. "He is a thoughtful, creative, passionate, authentic, nuanced and talented young man."
Mr. Jacobson left Beren after 11th grade– he explained that this was the norm at his school then — and attended the Shalavim yeshiva in Israel for two years. He then studied English at Yeshiva University for three years and went on to work at YU for an additional two years after graduating.
During the first year, he worked as a speechwriter for YU President Richard Joel as part of the university's Presidential Scholars program. He decided to spend a second year, this past, working at YU as Manager of Communications for the president.
As he is still part of the Maccabeats, Mr. Jacobson plans to fly to New York often for weekend gigs on Thursday evenings and to return in time for class at Shalhevet Monday morning.
The vocal group practices once a week for two hours in New York, in addition to several practices before shows and on tour, but Mr. Jacobson said he would not be attending practice regularly this year.
"Everyone in the group is doing something else more primary — doctors, lawyers, businessmen, etcetera," Mr. Jacobson said. "But we keep doing it because we love it. The moment it's not fun anymore we'll probably throw in the towel."
Mr. Jacobson tried out for the Maccabeats — a small student club at the time working on its first album — during his first year at YU. He stayed with the group as it became famous and traveled with the Maccabeats to the White House, six different continents, and many countries including China, England and New Zealand.
This onset of touring was sparked by the release of "Candlelight," the Maccabeats' Chanukah video, which they made as a joke but which ended up receiving over 20 million hits on the internet, Mr. Jacobson said.
Though he has not yet heard Shalhevet's choir, the Choirhawks, Mr. Jacobson said he would give the same advice to any musician or musical group: never be afraid to be too prolific.
"Our story is a testament to the fact that sometimes the factors align and something special can come out of something you never expected would be big," Mr. Jacobson said.
In spite of all his music activities, Mr. Jacobson considers himself a writer "first and foremost." He was Opinions Editor for the YU Commentator, and plans to experiment more with writing in Los Angeles, possibly writing a screenplay or starting a novel.
Though Mr. Jacobson has no teaching experience, he has been involved in education through YU and in camp settings. At YU, Mr. Jacobson was a member of the Center for the Jewish Future, which sends YU students and rabbis out for shabbatonim or to give classes. Mr. Jacobson ran a summer camp for underprivileged teens in Kiryat Gat, Israel, in 2013.
He said he looks forward to developing relationships with students and teaching the curriculum. But he doesn't plan on going into education long term.
"It's a little nerve-racking," Mr. Jacobson said, "but I'm mostly excited to teach because the material and the questions we'll be exploring are very interesting to me."
RELATED: Cutest Maccabeat Goes Solo