SENIOR POLAND-ISRAEL BLOG / Post 7 – Masada: Songs under a dancing sky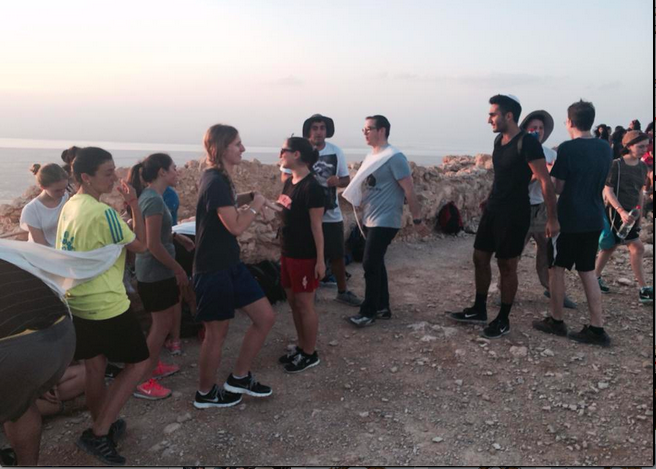 By Benny Balazs, Staff Columnist
MASADA, Israel, June 6 — Shavuot chag had just ended and our plans for the following hours were set in motion. Everyone packed up and we boarded our coach bus to Ein Gedi. We were to wake at 4 am to hike Masada, a beautiful, ancient castle structure. We did exactly that and the process was grueling. With little sleep we climbed our way to the top and found that although it was exhausting, the hike was not nearly as bad as we imagined.
When everyone reached the top of the plateau, we sang "Am Yisrael Chai." We stood in anticipation of the sun's rising and were welcomed by its warmth in a matter of minutes. As its rays danced along the skies above us, we danced and sang a series of melodic and heartwarming songs. We heard a quick song from Natalie who was applauded by the surrounding tourists, and we choir kids managed to chirp a few neat tunes.
Eventually we gathered in the remains of an age-old synagogue that we proceeded to pray in. The prayer was made all the more intense and powerful with the incredible view that we had of the surrounding desert and Dead Sea in the distance. In between sets of prayers, we sang niggunim that brought even more fervor into the prayer. I would strongly consider a minyan in Shalhevet that implemented this niggun-saturated form of prayer (hint hint).
After that passionate davening we descended the castle via cable car, which ironically turned out to be the most eventful part of our time there. In the cable car, a small conversation arose between Rabbi Segal and another visitor to the landmark, during which they discovered that they knew a few friends of friends. The best part was when we discovered that the visitor's birthday was on that very day. Of course, as per the formalities of any tour in a foreign country — of which there are none — the entire cable car broke out in a wonderful "Yom huledet sameach" – happy birthday in Hebrew. It occurred to me that it was very doubtful I'd ever encounter the same level of enthusiasm in a country that wasn't Israel.
Post 6 – JERUSALEM: Loving it
By Tamar Willis, Editor-in-Chief
JERUSALEM, Israel, June 5 —  I used to hate Israel. I went there for a year without wanting to in seventh grade, and promised myself I would never love it no matter what. Later I decided to spend spring semester of sophomore year in Jerusalem on an amazing program–four of the best months of my life. I didn't want to break the petty promise I had made to my 12-year-old self, but once I realized it was just stubbornness holding me back, I decided to embrace the country's positive qualities — its uniqueness and its comfort.
Since that semester I've been back here twice now, and each time i fall in love even more (and I can't wait to return in the fall for a year abroad). This trip is no exception. Everything we do makes me love this country even more, and it doesn't hurt that we have a really killer itinerary filled with both fun and meaningful activities.
As soon as we landed — at 3 am Tuesday morning, June 3, — we headed to Jerusalem and stopped on the way for Jeep rides at sunrise. We were crying of laughter during the ride as we literally bounced off our seats because of the bumpy terrain!
After some coffee at the top of the mountain we headed back down and to Jerusalem where we toured the City of David, something I've done enough times before that I preferred to take mini naps whenever our guide stopped. But for those who had never been, it was an opportunity to see the oldest city of Jerusalem and to walk through Hezekiah's ancient water tunnels.
Next we went to Machane Yehuda, the famous shuk, where we had time to explore and buy some lunch. Naturally, we went to Marzipan bakery to get some rugelach and borekas–crucial food groups when in the holy land.  I used to despise the shuk because of its chaos and dirty, smelly streets, but I was so happy to be there — and to be eating Israeli food — just because it is so classically Israeli. There is nothing like the shuk in America, and being there was both comforting and delicious — despite the still dirty and smelly streets.
After the shuk we went to our hotel to get ready for Shavuot. Shavuot in Israel is one of my favorite things ever. I was there two years ago for the holiday and was really looking forward to experiencing it again. After some post-dinner naps, our group gathered together for a shiur and Q-and-A with Rabbi Judah, one of Reb Tuli's good friends. We sat outside on the mirpeset (patio) of the hotel–even at midnight the weather was perfect. Then around 1 am we trekked to the Old City, where the girls went to Yeud, a seminary, and the boys went to Orayta, a yeshiva. We toured around, met the girls, and learned with one of their rabbis — though several of us dozed off. Jet lag combined with lack of sleep is not really conducive to learning, unfortunately.
At 4 am, we headed to the Kotel. The kotel on Shavuot is like nothing you've ever seen before. The streets are filled with Jews, even though it's the dead of night. We got to the plaza just as the sun was rising. There were thousands of people there–it's impossible not to run into someone you know. We saw all of last years' seniors, who told us about their experiences in Israel this past year.  It made those of us who are going next year extremely excited for what's to come, and those who are going straight to college regretted not choosing to take a gap year.
By the time we got back to the hotel it was just 7:30 am, though we'd been up for days. We slept all day and since we kept two days of chag, hung out late that night and slept in the next morning. At the end of Thursday night before havdalah, we had a quick song session — something we've been doing a lot of on this trip — during which we sang songs like "Acheinu" and "Tov Lehodot." We also went around and shared how we felt about being in Israel so far.
Hearing what everyone had to say made me so happy–the kind of happy where you can feel it bubbling up and you can't help but smile and want to cry at the same time. There are about five or six kids on the trip who have never been to Israel, and they were all gushing about how much they loved it already.
That was what really touched me–it's exactly the opposite experience I had, which is probably why. I love knowing that other people love Israel just as much as I do–and Baruch HaShem that they didn't have to take as long to realize it as I did.
Post 5 – AUSCHWITZ: in our world
By Tamar Willis, Editor-in-Chief
AUCSHWITZ, Poland, June 2 — The vegetarian food in Poland is subpar and I hate myself for thinking so. My friends and I can't help but point out the abundance of bread and dearth of variety in our meals. But we know (and it might sound trite) that we should be thankful to have food especially when visiting the Jewish ghettos and learning about their 100-gram bread rations. I'm trying not to complain yet I can't help but think it.

This dichotomy of feelings kept resurfacing during our time in Poland.  Our day at Auschwitz and Birkenau was long and both physically and mentally exhausting. We found ourselves barely able to keep walking during the afternoon tour of Auschwitz 1. We squatted or sat on the floor, talking about how much our feet ached and how we couldn't wait to nap on the bus as our guide explained what was around us. Then we'd look up and see the "Wall of Death," where Nazis shot down countless people, or we'd be staring at the faces and bodies of emaciated child victims of Dr. Mengele. And our feet still ached but we quieted our complaints.

Despite seeing extermination camps and ghettos with my own eyes, it's hard to separate myself from my life back home and the discomfort of long days with little sleep and lots of carbs.  I still think about missing my friends' graduations and the very limited time I'll have at home before going to camp for the summer. I feel like maybe I should be a bit more sensitive but I can't control where my mind wanders, so I try to accept the fact that it won't be able to escape the petty worries and stresses that I thought I had left behind in LA.

Even when I'm not thinking about home I can't seem to really understand the gravity of what I'm seeing. Logically and mentally I'm aware of the blood shed and shots fired by the Nazis in the very places I stand, but emotionally it just doesn't register. I'm numb; I don't feel anything but a little nauseous at the thought that I'm standing on so many people's ashes.

For some, seeing Auschwitz is hard because it's "beautiful."  The lush green grass, wild flowers blowing in the wind, and birds chirping make it so real, so normal. But it's not beautiful. If anything, it's a crude reminder that this happened in our world and not in some faraway land. It happened in a place where trees grow and bunnies scamper around. It may have been hell, but it was on hell on earth, and that's the worst part.

The only beautiful thing about Auschwitz was the fact that we were there, walking around proudly wearing Israeli flags on our backs.
Post 4 – LODZ: A candle struggles to stay lit
By Benny Balazs, Staff Columnist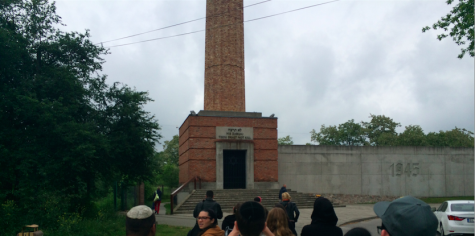 LODZ, Poland, June 1 — One of the first landmarks we visited was the massive Holocaust memorial monument in Lodz. The monument was a two-sided sculpture – one side depicting strong men and women, and the other depicting those who were fearful and small.
We lit candles for those who passed away as heroes during the war, but every single candle we lit was burned out by the harsh winds of a very cool evening. I watched toward the end of the ceremony, when a single candle was left lit and was struggling to stay as such. Eventually the bright, somewhat faintly warm glow withered and died.
Although it was a natural occurrence in such brisk weather, it seemed to me as a reminder of sorts. Our act of memorializing these people is not strong enough on its own. The light cannot hope to last against the harsh and coarse winds of time and hatred without the support of powerful and pure intention.
What we do here and now is mostly mandatory, and doesn't take into account the so valuable virtue of volunteered interest. The quintessence of might and pride comes after this. After this exposure. After this revelation. What we do with with this hefty trove of emotion is up to us.
We can choose to carry and concentrate it – to let it simmer and ferment in our souls so that we may pour its rich contents onto those who are deemed the next generation. Then comes the question of whether they will drink this potion. Is it an elixir or a poison? Perhaps they will gain wisdom, but perhaps they will lose innocence. It's all weighed in the palms of a gilded scale, the validity of which is only questioned by the will of faith. Is it a cost worth accepting? Is our youth too easily exposed to an indecent truth that is so cruelly delectable and addicting?
The greatest struggle the Jewish people face today is taking the hands of our elderly survivors and clenching them in the refreshing grasp of our children. It is, in the long run, impossible  — due to the fact that those elderly will no longer be around to guide and inform us. Their knowledge, in all it's abundant glory, will not be tangible for very long. Soon the gold of their minds will be left in the twisted and visceral hands of imagination. Oh, and what a beast she is. Mercilessly bending and contorting our history like a balloon trick, imagination is no more friend than foe. People trust their imagination far more then they should. It feeds off of their sanity, absorbing it until all that's left is a dark cavity that leaves a subtle ache in their heads. It begs them to let go, to remember as they like and not as is truth. The result is a future where the history of the Jews is a delusional fantasy that demands the creation of mythical machinations and untraceable legends.
This is the worst-case scenario for the Jewish people as a whole. It cannot happen. The truth must carry on – the flame must not be smothered by nature. It must burn bright for all those candles who've lost their strength, whose wicks are scorched and tired. Most crucially of all, we must never forget.
POST 3 – RADEGAST STATION: Lost worlds in a cable car
By Liat Menna, 12th Grade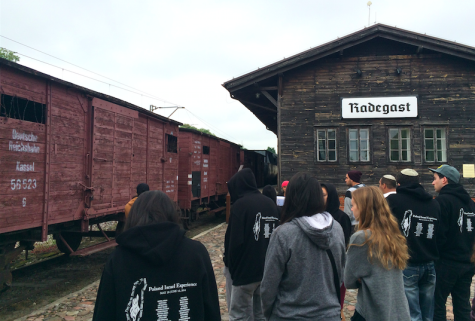 LODZ, Poland, May 31 — My name is Chaya. I never really thought about it much before today. Chaya means life — more specifically, living. I am living.
In the ghetto some people say they were living. Yes, they were breathing. Yes, they were working. No, I do not believe they were living. To say that the ghetto was life angers me. Because it was not.
Just because it was relatively better than the camps doesn't mean it was good. It wasn't a life of living. It was a life of surviving. The ghetto was the last of any remnant of anything minutely identifiable as life. It was the last time family existed. Once someone left those walls, they were alone. They were a lonely heartbeat. A heartbeat that did not beat for life but beat to prolong a death.
At the Radegast station in Lodz, we sat in one of the train cars. There was a moment there when I felt like a ghost. I felt as if everyone in that cable car was a stranger. They were worlds I did not know. Then, it hit me. These worlds could have been the lost worlds. Maybe they were, but even if they were not, it was worlds just like them that sat in the torment of these cable cars.
We began to sing "Ani Ma'amin" — "I believe with perfect faith…"  The words right now make little sense to me. Yet there is some unspeakable power and spirit in them. These words meant something to some of these victims. For that reason, I sang with dignity. I felt like the more I sang the more voice I gave their spirit.
When we were told to leave the cart, it was very difficult for me. I felt that I left my family there. I wanted to wait for them. I hoped they would come. But they didn't. They couldn't.
Once out of the cart, our screams from the hymn of "Am Yisrael Chai" vibrated through my head. I felt a huge weight. The weight of my name. I am Chaya, and Yisrael is Chai. My living is part of their living. My living is the living of Yisrael.
POST 2 – WOBRUM FOREST: The Shabbats They Lost
By Liat Bainvoll, 12th Grade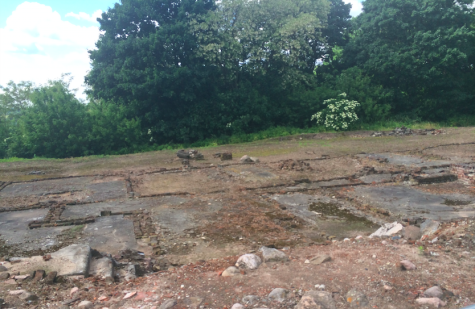 WOLBRUM, POLAND, May 30 – Today we went to the Wolbrom forest, where the father of Mr. David Shapell  — a major donor to our Poland-Israel trip — is buried. Mr. Shapell's father and hundreds of other Jewish men, women, and children from the shtetl of Wolbrom are all buried in three mass graves. They were left to die, sold out by their neighbors, and desecrated once the bodies were cold.
At the grave, my group with Benny and Natalie sang a rendition of "Esa Enai," followed by a poem written by Benny about the irony of the green and flourishing grass masking the bodies of hundreds.
Then, we gave the people buried there something that they haven't had in 74 years. We welcomed the Shabbat with them. We started with "Shalom Aleichem." This hit close to home with me because my family instituted singing it as a tradition every Friday night at the Shabbat table after my grandfather passed away. A Holocaust survivor from Lodz, he was full of life. There is not one moment that I remember him without a smile, unless it was part of a joke. This life that he had, is the life that all those souls were stripped of.
We gave them one more opportunity to bring in Shabbat and the joy that comes with it.
After this experience, I will never again see my family tradition of singing "Shalom Aleichem" as a nuisance. I will not mumble the words annoyed, but it will sing with pride and full of life for those who never got the chance to sing.
POST 1 – PARIS: ANTICIPATION
By Tamar Willis, Editor-in-Chief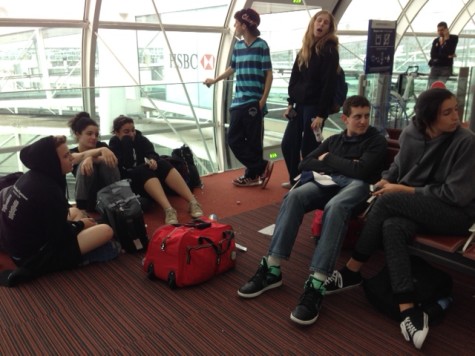 PARIS, May 29 – Arriving late from Los Angeles, we missed our connecting flight to Warsaw and are stuck in the Paris airport for six hours. Half the group boarded a flight three hours later and the rest of us are still here, waiting. We'll probably miss the opportunity to see the Warsaw cemetery and remnants of the Jewish ghetto, which irks some of us but there's nothing we can do.
The extra time gives me a little time to think about what's to come.  Honestly, I'm scared.  I've heard from so many who have done the Poland-then-Israel thing that it is amazing, life-changing, and unlike anything they'd ever experienced.  I'm sure it will affect me in ways deeper than I can anticipate and that's unnerving. I just don't know what to expect, and while I told myself that I wouldn't overthink it, sitting on the carpeted airport terminal I can't help but think about the places I'm soon to see.
Thanks to the 16-euro voucher AirFrance generously gave us to make our long wait more bearable, Jennie and I are sitting and drinking cappuccinos at an airport cafe. She tells me about her grandfather, who said he'd never come back to Eastern Europe to do the Holocaust circuit.The last time he was here, he lived in the forest with his family and only after the war discovered that his home village had been burned and destroyed.
Even after our extensive Holocaust education prior to the trip, I can't begin to fathom some of the stories I hear. But soon I'm going to be standing in the camps where millions of Jews just like us  were brutally murdered, I'm going to be seeing the forests where they hid and going to visit the houses that were taken away from them. I have no idea how I will react. "You're going to be pretty emotional at the camps, right?" I ask Jennie. She gives me a look that confirms my suspicion, incredulous that I would even ask. But she doesn't know either.  No one does.
I ask Jennie how she wants to be comforted when crying. Should I hug her, talk to her, try to cheer her up? I ask myself the same question and decide that I think the best thing for me would be to be with people but not to talk about it.
"I don't really know," Jennie says. As she answers, I realize the questions are probably futile anyway. It's just not possible to anticipate how anyone is going to react, or what kind of comfort we will seek, if we seek any at all.
Now I'm back at square one. Despite trying to prepare myself for what's to come, I can't. My nerves aren't quelled–the caffeine from my cappuccino has only excited the butterflies more. I guess it's just better not to think about it.