Memorial Day vacations looming, Shalhevet forfeits baseball playoff game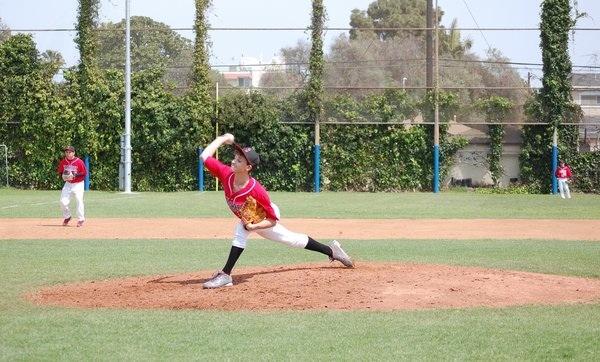 Shalhevet baseball is forfeiting its first-round playoff game due to players' Memorial Day weekend plans, it was announced yesterday. Athletic Director Eli Schiff posted the news on the team's Schoology page at around 2:30 p.m.
According to Mr. Eli Schiff, five players will be out of town for the holiday weekend, leaving the team with just nine available players — the minimum. The Firehawks  (7-6) were supposed to face Riverside Prep (18-4-1) in Riverside at 3:15 Friday afternoon.
"There are a few kids that aren't able to make it," said Mr. Schiff, who called CIF today to declare the school's decision, in an interview. "I had no confirmation for a full team."
A full team usually consists of more than nine players or an extra pitcher, but team co-captains Jeremy Glouberman and Max Helfand, both juniors, thought that nine would have been enough.
"I think there are enough," said Max. "I don't know why they are canceling it."
Players who are unavailable are Max, Noah Rothman, Jacob Toczek, Daniel Frolich and Zev Kent, who have commitments ranging from a parent's birthday dinner to a cousin's wedding on the East Coast.
Disappointment was rampant Thursday afternoon.
"It's a bad way to end off the season," said freshman second-baseman Jonah Kaye.
Freshman Zev Kent,  who would have missed Friday's game because of the NCSY Shabbaton, said he was "pretty upset."
"Even though I couldn't play in it, I was hoping that we could win that game and then we could play in the next game after that, and make it to the championship," said Zev, who also plays second base.
Mr. Schiff said both the school administration and team manager Jerry Royster agreed with his decision.
"I wouldn't have cancelled if he [Royster] wanted to go ahead with it," said Mr. Schiff.
It wasn't the first time that Shalhevet canceled a playoff game. The Poland-Israel senior trip used to take place during the opening rounds of the postseason, sometimes depleting the team's numbers severely.
In 2012, there were only two seniors on the team and the Firehawks still planned on canceling the game, set for Temecula on a Friday afternoon.
However, CIF threatened to punish Shalhevet Athletics if it skipped another playoff game. The Firehawks brought a few non-players from school to substitute and were blown out by over 15 runs.
This year under Coach Royster — formerly with the Milwaukee Brewers — was different, Mr. Schiff said, and he was not willing to bring non-players to the ballgame.
"This year we have a real team," said Mr. Schiff.
Mr. Schiff also told the Boiling Point that he called the CIF office, explained the situation, and asked them not to place sanctions on Shalhevet because of another playoff forfeit. He and Shalhevet are currently awaiting a reply.
This year there were no seniors on the team and no Poland-Israel conflict. Jeremy Glouberman was looking forward to this postseason opportunity, partly for the sake of next year's team.
"I wanted a chance to play in the playoffs again," said Jeremy.
Although the game was also set close to Shabbat and more than two hours away , Mr. Schiff said that was not the reason for the forfeit. He said that if they had planned to play in the game, they would have found accommodations for Shabbat.
But Jeremy said the game's location and Shabbat were deciding factors.