CIJE students get a taste of work and play at Google in Venice
Tour for engineering and programming classes includes a "Google Earth" of Mars and an exercise to understand "hashing"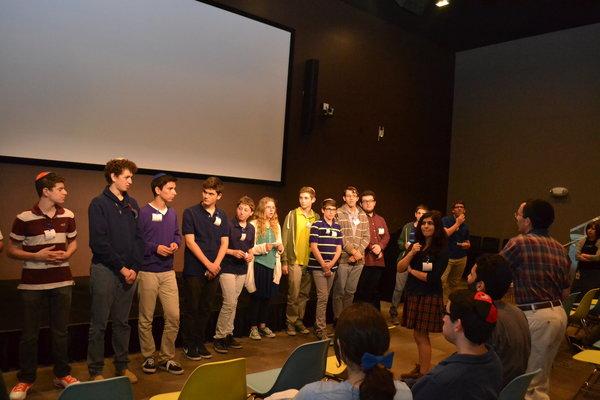 "Working at Google, now that's the dream," said freshman Isaac Goor as he walked out of the local Google office March 19, with the rest of CIJE and the Introduction to Computer Programming class. "The employees get so many awesome things."
The office, located on Main Street in Venice, is quite unlike your typical corporate space, with basketball hoops, rock-climbing walls and video games around every corner. But working at Google isn't all fun and games, as students who toured the offices quickly discovered.
Gary Hirschhorn, father of sophomore Michelle Hirschhorn and a Google employee, arranged the tour for Shalhevet's budding programmers and members of the hands-on engineering class known as CIJE, for Center for Initiatives in Jewish Education. He along with two of his colleagues showed the students around, and explained that employees are divided into groups of 10 to 20, each focusing on a different program or activity run by Google's software.
"Once I made a change to the Google home screen," said Mr. Hirschhorn, who is one of six observant Jewish employees in the Santa Monica office.  "You would never be able to tell, since it only had to do with the internal coding, but I was able to fix something that someone else was working on."
On the tour, students encountered a huge, multi-screen display of Google Earth where they were able to explore anywhere on Earth or Mars. One group of students found Shalhevet, and another student was even able to see his car in the parking lot.
They also did a number-search activity to understand how Google focuses a search into relevant web pages using a tool called a "hashing function."
The way it works is that all websites fitting a certain criteria are grouped together, and when a word or phrase searched fits into that criteria, that whole group, or "hashing table," is called up.
To help them understand that concept, students were divided into pairs and each pair was given a paper with 10 columns of numbers randomly arranged.  One partner picked a number the other had to guess what it was.
"It was hard – it took like 15 to 20 guesses," said freshman Ezra Fax.
Then they were given a paper with the numbers in ascending order, and their partner in after each guess would say whether they needed to look higher or lower.
"That time was easier, it took like 10 guesses tops," Ezra said.
"We learned that Google needs a lot of coding and a lot of different components to finally pinpoint what you're looking for," he added. "It made perfect sense, but there must have been more layers to the hash function than we saw."
CIJE teacher Dr. Jay Smallwood said that Google's search engine is more like the second exercise.
"Instead of looking through 3 billion websites, you are only looking through 10,000," said Dr. Smallwood.
After the tour, students spoke to three employees to ask questions about their experiences before joining Google.
Even though there are only 500 employees at the Venice office, the space still has a basketball court, rock climbing wall, gym with personal trainers, free food, and on-site doctors. The employees can stop work anytime to take a nap or go to the game room, which has pool, Pac-man, and X-Box 360s.
For the observant employees, Google pays for them to order from a kosher restaurant in the area instead of requiring them to eat on-campus.
"You could live here 24/7 if you wanted to," said Mr. Hirschhorn. "However, no one does."
According to Mr. Hirschhorn, Google offers these amenities in order to encourage its employees to work harder. Dr. Smallwood took his students there in order to motivate them, too.
"My students are always asking me, 'What good will this do us?'" said Dr. Smallwood. "By going to Google, they got to see how they could use what they are being taught about computer programming and engineering in the real world."
Student reaction suggested it had been a success.
"I am working harder in CIJE," said freshman Eytan Rosenman. "When I saw how much engineering can benefit me in the future, I realized that I need to work harder."
Freshman Jonah Kaye wasn't just inspired by the amenities.
"Sure, its awesome that they get to do basically whatever they want," said Freshman Jonah Kaye. "But, those are just an added bonus. The real reason I want to work at Google is because I enjoy engineering and Google has one of the best engineering programs out there."