Dr. Smallwood leaving to coordinate CIJE at day schools in New York and New Jersey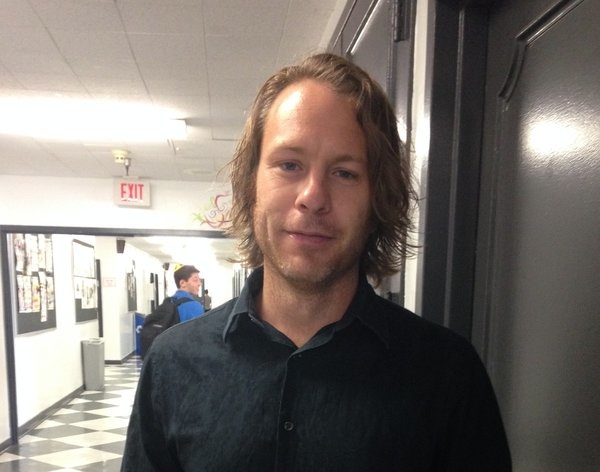 Science teacher Dr. Jay Smallwood yesterday announced his departure after three years of teaching Chemistry, Biology and Physics and inaugurating the school's popular CIJE hands-on engineering program.
On Monday after school, the former Science Department Chair gathered his students who had participated in the extra-curricular program, and told them that he would be moving to New York this summer to work as a CIJE coordinator for Jewish schools in New York and New Jersey.
CIJE is an anagram for Center for Initiatives in Jewish Education, the New York-based organization which sponsors the program through grants to participating schools.  Twenty-seven students enrolled in CIJE last fall, filling two sections — one meeting Monday-Wednesday, the other Tuesday-Thursday.
During the after-school elective, 9th- and 10th-graders work in groups to create computer-based products like robots. Just last week they met at YULA to compare their projects with those at other Jewish schools.
Dr. Smallwood said CIJE was his favorite part of the job.
"I have watched students who didn't know their way around a wire in September in eight short months build sophisticated electronics projects," Dr. Smallwood wrote in a statement to The Boiling Point. "It is the one course in my teaching career that has been the best aligned with my technical skill-sets, interests, and pedagogical approach."
Students were stunned at the news.
"I was really surprised," said freshman Noah Suissa. "Dr. Smallwood is one of my favorite teachers and I'll miss all the good times we had during CIJE."
General Studies Principal Mr. Roy Danovitch said CIJE would definitely continue but that the school had not yet found someone to teach it. He said the administration is currently interviewing potential candidates.
"Dr. Smallwood has been an incredibly dedicated teacher and department chair," Mr, Danovitch said. "The fact that he can focus exclusively on CIJE-Tech is really exciting, and worthy of his talents."
In his e-mail to The Boiling Point, Dr. Smallwood said his new job would be support liaison and curriculum advisor for New York and New Jersey Jewish day schools
He also said he was grateful to "every single student," and that he had "learned something about teaching or about life" from "the good students, the bad students, the easy students, and the difficult students." Click here for the full text of Dr. Smallwood's statement.
"The open secret of education is that teachers are the students, and this fact engenders the passion that you, the students, see in your classrooms," he wrote. "Of course, this dedication leads to inevitable conflicts as every teacher here works hard to achieve an ideal learning environment.
"In a perfect world, I would be returning to Shalhevet next year; however, this is not the case. At this time, I do not wish to elaborate further."
Dr. Smallwood has a Ph.D. in Chemistry from UCLA and published papers on the quantum mechanics of chemical reactions in fluidsand taught at Touro College before coming to Shalhevet in 2011.
He taught AP Chemistry and AP Biology and was chair of the Science Department until the administration changed to an "academic dean" system, with Mrs. Katia Malikov leading science and math while Ms. Melanie Berkey leads English and History.