Ex-MLB coach now managing Firehawk baseball team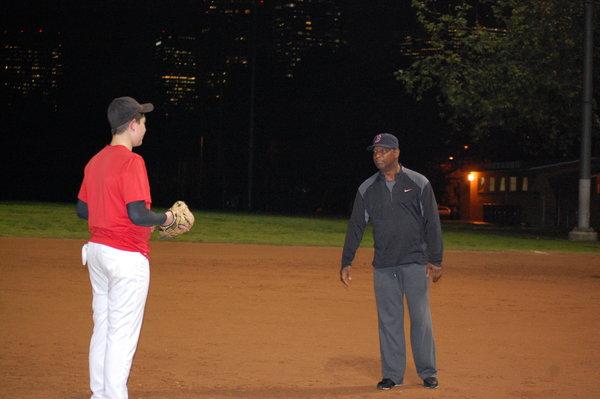 By Mati Hurwitz, Sports Editor
Jerry Royster, former manager of the Milwaukee Brewers and a 16-year veteran of Major League Baseball, has accepted the post of Shalhevet's new baseball coach – his first high school job and the first time any Firehawk team will have a coach hail from the highest of pro leagues in the world.
Coach Royster, 61, has more than 41 years of experience playing and coaching on the professional baseball circuit, extending from Atlanta to South Korea. He was introduced to Shalhevet through three students who he'd been coaching privately – juniors Jeremy Glouberman and Max Helfand, who are the Firehawk baseball co-captains, and freshman Zev Kent.
Coaching high school, the new coach said, would not be that different from coaching in the pros.
"I am given a talent and my job is to get the most out of that person," Coach Royster said. "I coach talent — I don't coach age. I'll see a kid's ability and fortunately for me I am able to assess that ability pretty quickly."
He told The Boiling Point he was helping to set up a baseball academy in Culver City and had intended to be on the search committee for Shalhevet's new coach. But when Shalhevet Athletic
When the call came in from Athletic Director Eli Schiff, Jerry embraced the opportunity.
Tryouts were held Feb. 3 and the new coach hopes to make the most of Shalhevet's limited practice schedule, which competes not just with typical high school academics but with the Jewish calendar and an unusually long school day because of the dual curriculum .
"I'm going to try to maximize the time I have with them, which isn't a lot," Coach Royster said. "I guarantee by April we'll be ready to play."
A native of Sacramento, Coach Royster has been involved in baseball steadily since he was 18. His most recent stint was with the Boston Red Sox, where he coached third base. He served as the manager for 147 games for the 2002 Milwaukee Brewers.
He coached for the Colorado Rockies in 1993, and also in the minor leagues over the course of a 41-year playing and coaching career. In the minors, he managed the Las Vegas 51s, a Triple-A ball club for the 2005 and 2006 seasons. At the time, the 51s were part of the Dodgers' farm system, and now train players for the New York Mets.
Jerry also coached in the San Diego Padres' organization, training Dodger icons including 30-30 hitter Matt Kemp, slugger Adrian Gonzalez, and defensive stud catcher A.J. Ellis. Lastly, he spent four years managing the Lotte Giants, a pro team located in Busan, South Korea.
Despite the huge drop off in baseball talent and experience that Shalhevet hosts compared to the professional world, Coach Royster embraces the newest chapter in his "baseball life."
"I'm committed to making the best possible situation for the kids that decide to play baseball at Shalhevet," Coach Royster said.
As a player, Jerry Royster played 16 seasons — including 10 with the Atlanta Braves, who are Rabbi Ari Schwarzberg's favorite team and childhood obsession.
According to baseball-reference.com, he scored a career .249 batting average, belted 40 home runs, and drove in 352 runs while scoring 552 times. An infielder who enjoyed some time in the outfield too, he recorded a career .961 fielding percentage.
Max is exuberant about this new opportunity and eager to get back on the diamond.
"It seems that every year since my ninth grade season, we've been improving the quality of our coaches," said Max. "Freshman year the coaching situation didn't bode so well for us… Last year we had Corey, who was great. And this year we have Jerry."
Although he could not fully experience the Royster era in Atlanta enough to appreciate Jerry's legacy, Rabbi Schwarzberg looks forward to the 2014 season.
"I'm interested in seeing if this guy can import his baseball acumen to the Shalhevet baseball team," said Rabbi Schwarzberg. "I'll come to a couple extra games because he's the manager."
Coach Royster finally left pro baseball in 2012 to spend more time with his family, hr dsif. He is not thinking long term about Shalhevet Baseball and is just focusing on 2014.
When asked if he would ever return to his roots in pro baseball, Coach answered, "Who's to say I wouldn't?"
Max said he thought Coach Jerry would improve the Firehawks' chances of prevailing in CIF Division 7.
"Someone with his experience definitely knows his stuff," Max said, "and I think he will be able to put the team back on the right track for a season of success."