GLI club partners with school in India to help girls learn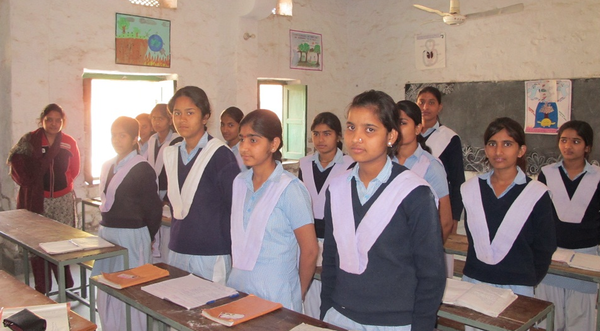 Mayaan Waldman and Nicole Soussana, Staff Writers
November 21, 2013
Shalhevet now has a sister school in Jodhpur, India, through which the Girls Learn International club hopes to support female education in a place where girls usually receive less schooling than boys.
The Veerni School, where about 100 girls can continue their education past the primary grades, will receive funds raised by club, now in its second year at Shalhevet.
Current senior Tamar Willis started the GLI chapter last year and raised over $500, but the funds didn't go to any specific school. She initiated a partnership with the Veerni School in September.
"It's nice to have a tangible recipient that we know more about," Tamar said.
Last year, the GLI club brought a representative of a school in Malawi to speak at a fundraiser. Despite having this connection with Malawi, Tamar decided to partner with India instead.
"I think that India has a really interesting culture," Tamar said, "and we could also make a difference in the gender gap there."
The Veerni School is a boarding school located in the western part of India, about halfway between India's capital, Delhi, and Karachi, Pakistan. The school's name means "heroine" in Hindi.
According to GLI national program director Ashley Steimer-King, boarding is essential, since many of the students are in danger of being forced to marry before the age of 18.
"This initiative has the potential to change the course of their lives in a positive way," Ms. Steimer-King said in an interview with The Boiling Point.
Shalhevet is one of the many schools supporting Veerni.
"Veerni can only educate girls and empower women because of the support of our sponsors," says a posting on the school's website. "We are extremely grateful for their generous support year after year."
So far, there's been one fundraiser for the Veerni School. In the beginning of October, Tamar and other club members sold cookies to spread awareness about GLI.
In addition to paying $1 for the cookie, each person who contributed was asked to write why girls' education is important on a piece of printer paper, which was then hung up in the school hallways. Some students at least had a vague understanding of what GLI is, while others were just in it for the food.
"I didn't know exactly where my money was going to, but I knew it was for women's rights," said freshman Sarit Ashkenazi.
"I just wanted a cookie," said Yonatan Khalil.
The club sold $70 worth of cookies that day. The national organization challenges chapters to raise $1000 per year, so Tamar plans on more fundraisers and awareness meetings.
"We need to set goals and we should try to reach them," Tamar said.
Girls Learn International currently has more than 100 chapters around the world
that sponsor schools in need. Ten percent of the funds raised are used to keep the organization running, while the other ninety percent is sent to partner schools.
In the past, funds raised by GLI chapters have gone toward tuition, school supplies, white boards, uniforms, transportation costs, operating expenses and staffing needs in areas where girls lag behind boys in access to education.