LIVE BLOG: YULA sweeps Lady Firehawks in volleyball at JCC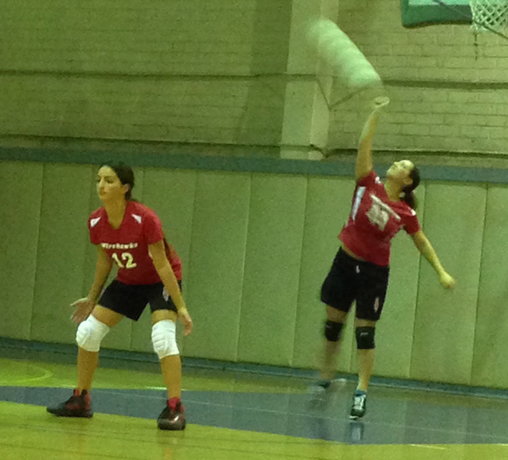 Noah Suissa, Staff Writer
October 29, 2013
Thanks for tuning in to the Boiling Point's live-blog of the Shalhevet-YULA volleyball game!
6:11 pm: YULA wins Game 3 with the final score being 25-13, same as the second game. Good effort by the Shalhevet squad, which seemed to come alive more as the games went on, with longer volleys and YULA having to work harder for the points.  Final tally is 3 games to none as YULA sweeps the best-of-five match.
6:09 pm: Kimia Kavosh serves as YULA leads 23-11
6:06 pm: Shalhevet is losing 18-9.
6:04 pm: Tamar Willis sparks a comeback as Shalhevet trails 14-8.
6:01 pm: YULA leads 11-3 midway through the 3rd game.
5:59 pm: YULA center Kimia Kavosh leads her team to a quick 6-1 lead.
5:57 pm: Third game starts of 3-1 in favor of YULA.
5:54 pm: With the third game starting, Shalhevet looks to avoid the shutout.
5:52 pm: YULA wins the second game 25 – 13. Shalhevet slowly running out of chances to win.
5:47 pm: YULA leads the game 22-9 as Eliana Kahan serves.
5:43 pm: YULA is just too powerful as Shalhevet trails 19-6.
5:40 pm: Margo Feuer rallies Shalhevet squad as we are coming back from a 10-4 deficit.
5:37 pm: YULA leads the in the second game 6-1
5:33 pm: Shalhevet cheers with hope of a comeback lead by stars Natacha Chowaiki, and Ariella Vaakil.
5:28 pm: Robbie Lurie controlls the floor with magnificent serving. YULA wins first game 25-8. Best of 5 games win the match.5:26 pm: YULA leads the game 20-6.
5:24 pm: Shalhevet players are having trouble aiming the ball toward the net.
5:23 pm:  Margo Feuer serves as Shalhevet gets a point
5:17 PM: Score is 6-1 in favor of YULA
5:16 PM: First point goes to YULA
5:14 PM: YULA will serve
5:12 PM: The teams are on the court.
Stand by for live blog from the game at the JCC beginning at 5 p.m.