Reb Noam Weissman becomes overall principal in administrative reshuffle; department chair positions are removed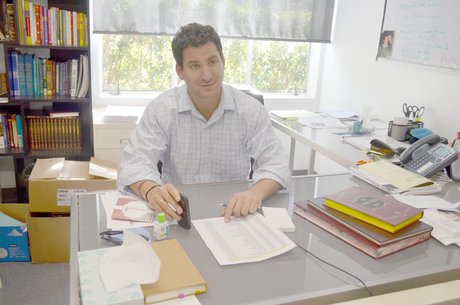 Shalhevet's administration has realigned job positions, titles and responsibilities this fall, matching its building makeover with a reshuffling of top administrative staff.
Reb Noam Weissman, formerly Judaic Studies Director, is now overall principal, overseeing policy, discipline, davening, co-curriculars and other day-to-day operations.  Mr. Roy Danovitch remains principal of General Studies but has shifted his focus from the Just Community and student life to improving the curriculum and General Studies overall.
Judaic Studies teacher Mr. Jason Feld now oversees Advisory, along with professional development and information technology,  including the new Schoology class management software and the iPads now required for all 9th and 10th grade students.
The changes, according to Head of School Rabbi Ari Segal, are designed to make the best use of people's individual talents.
"I'm a big believer in playing to peoples strengths rather than sticking to pre-assigned roles," Rabbi Segal said. "You can either be rigid and shove people into certain positions, or you can recognize that you have people with specific strengths."
At the department level, instead of having a separate chair for each general studies subject, Ms. Melanie Berkey and Ms. Katya Malikov now oversee two subjects each.  Their titles are Academic Chairs.
The end of academic departments the end of chairmanships for Dr. Jay Smallwood in Science and Dr. Michael Yoss in History. This year Ms. Berkey is in charge of English and History while Ms. Malikov is in charge of Science and Math.
"I thought it was too many cooks for such a small school," said Rabbi Segal. "Not in the sense of too many opinions, but the model we had before would be more effective in a bigger school instead of our intimate environment with small departments."
With just two or three teachers per department, he said, the chairs did not know what was expected from them or how best to hold meetings.  Ms. Berkey and Ms. Malikov will work on mentorship and professional development and serve as a voice for the faculty, Rabbi Segal said.
"I think that it will be very good for the Math and Science departments with greater consistency between the teachers," said Ms. Malikov. "We can present overlapping material in similar ways, which will make it easier for our students to learn and succeed."
Meanwhile, Mrs. Robyn Lewis remains both Executive Director and Director of Major Gifts, but she has acquired two new assistants, Claire Benyowitz and Ivan Donadic, in development and information technology, respectively.
Mrs. Benyowitz, mother of sophomore Jake Benyowitz  and freshman Nathan Benyowitz, focuses on development and fundraising.  Director of Institutional Advancement Mr. Aaron Keigher, who used to assist with development, will now focus exclusively on publicity, marketing and organizing school events.
In the technology department, former science teacher Mr. Yossie Frankel is still Director of the Consortium for Academic and Informational Technologies, splitting his time among Shalhevet, Hillel Hebrew Academy and Oakland Hebrew Day School in the Bay Area.
Therefore, both Mr. Feld and new IT Consultant Ivan Donadic operate various technological gears in the school too, working with students, faculty and administration to iron out problems as they arise.
New Principal Reb Noam Weissman began teaching Tanach and Gemara at Shalhevet in 2009.   In 2012, he was promoted to Director of Judaic Studies, focusing on curriculum improvements and teacher guidance.
Last spring, a new Talmud curriculum that he co-wrote with Judaic Studies teacher Rabbi David Stein won a $50,000 grant from the Mayberg Family Foundation to help spread it beyond Shalhevet.
Among his new responsibilities this year are "handbook enforcement" relating to both teachers and students, and a wide range of policy matters in addition to his previous jobs as Director of Judaic Studies, according to an email Rabbi Segal sent out over the summer.
Reb Noam also remains Israel Guidance Counselor, oversees davening, coordinates guest speakers and supervises the athletic department, said Rabbi Segal.
"Noam has a lot of strengths and is detail-oriented," said Rabbi Segal in an interview. "He is also great with following through, and a lot of the stuff I'm giving to him requires follow-through and reliability."
One price of all this responsibility is a teaching schedule of just three classes: 10th grade Bekiut, 11th grade Honors Tanakh, and a 12th grade Jewish Philosophy class.
According to Rabbi Segal, there is always a fear when you take someone who is an incredible teacher and give them more administrative responsibilities, but he is not worried.
"Noam is a competent administrator and this is the right equilibrium because of what he adds to the administrative team," added Rabbi Segal. "We are losing Noam for a period of class but the benefit we get from that completely outweighs the loss."
Even though Noam is a "very charismatic teacher, a skill that is hard to teach," Rabbi Segal said, "all the teachers in the school are as good as any teachers I have seen in the country."
In the General Studies Department, Mr. Danovitch has served as principal since 2012.  He came to Shalhevet in 2004, and since then has served as Dean of Students and JV basketball coach, created the advisory program and the creative writing class, and taught composition, British Literature, American Literature and World Literature.
In past years, Mr. Danovitch also concentrated on co-curriculars, the just community and more day-to-day projects at school.
This year, Rabbi Segal asked him to "focus exclusively on improving the general studies academic program and departments."  Mr. Danovitch has said he will hold a series of competitive "symposia" this year, when students will address important issues in the liberal arts such as whether technology makes us more or less human.
"Dano is creative, thoughtful and passionate about academic life," said Rabbi Segal, using Mr. Danovitch's popular nickname. "So the purpose is to give him the opportunity to focus in on it."
In the Judaic department, instead of having department heads, each teacher is in charge of a different aspect of Jewish life on campus.  While Mrs. Atara Segal supervises Tanach classes and Rabbi Ari Schwarzberg oversees the Shalhevet Institute, Mr. Jason Feld overlooks the Jewish History sections.
And while Mr. Feld also works on technology integration, professional development and underclassmen assistance, Ivan works with students, teachers and parents to make the best use of technology.
Both Mr. Feld and Ivan work on using Schoology in the classrooms and as a tool for communication.
"This is actually the first school I have ever worked at," said Ivan, who is also the husband of English teacher Ms. Michelle Crincoli.
"But this school particularly, the way it is structured, I really dig," Ivan said. "I truly like the Just Community and that you guys have a voice. I love how outgoing all you guys are. You are not 'too cool for school' high school students. You guys are very involved."