$50,000 grant will make Judaic curriculum accessible from iPads and nationally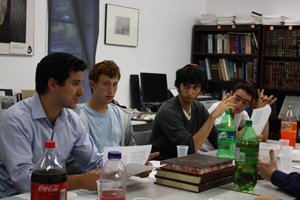 Shalhevet's four-year-old Judaic Studies curriculum, a systematic way to teach students not only the content of Jewish law but how it applies to modern life and how it is arrived at, was awarded a first-ever $50,000 grant May 14 from the Mayberg Family Foundation of Silver Spring, Md.
Judaic Studies Director Reb Noam Weissman and Judaic Studies teacher Rabbi David Stein, creators of the program, said the money would be used to make the curriculum accessible from iPads as well as textbooks and to fund innovative projects to improve Jewish education overall.
"We're still in process of developing our precise budget for this project," Rabbi Stein told the Boiling Point. "For the coming year, the grant will be used for organizing and digitizing our materials, as well as for PR materials to spread awareness and visibility of our project."
Reb Noam Weissman said "digitizing" would mean a person could click on a verse of text and gain access to a selection of translations, sources, biographies, commentaries and, for teachers, lesson plans about that verse.
These in turn would be shared between students and teachers, both in class and in assignments, using the interactive capabilities of the iPad and apps like Notability and Evernote.
"In that way, we'll be making it teacher-friendly and student-friendly," Mr. Noam Weissman said. "Now, students will have the ability to very easily look up stuff."
The previous week, Reb Noam Weissman and Rabbi Stein flew to Maryland to meet with the donors and present the school's project. Thirty-two schools applied for the grant, of which 18 were selected to submit full, detailed proposals.  Of those, five finalists presented their programs at the conference in Silver Spring.
Shalhevet's award seemed to be for its combination of new thinking about curriculum organization and cutting-edge use of iPad app technology.
"Shalhevet is unique because the Judaic studies curriculum gives students the tools to understand and know how to think about the core issues in halacha in the 21st century," Reb Noam Weissman said in an interview.
In 9th and 10th grade, students study the halachic process, with units on the role of precedent, objectivity, authority, and rigidity versus flexibility in Jewish law. There's also a unit titled "American Law, Jewish Law and the New York Times."
"Then in 11th and 12th grade, we take all that knowledge and all those principles," Reb Noam Weissman said, "and apply them to what we see as the core issues in Jewish law – women in Jewish law, Shabbat observance in the 21st century, and the ramifications of Israel's existence Medinat Yisrael in Jewish law."
"If students study key ideas, and they really enjoy it, then they are going to want to become life-long learners," he added.
Reb Noam and Rabbi Stein have written two textbooks for the curriculum, one for freshmen and sophomores and the other for upperclassmen.
Faculty and students learned of the grant through emails sent out by Rabbi Segal and Reb Noam the day before Shavuot break, and immediately the hallways were buzzing with the news.
"I think it's a really great curriculum because it does emphasize the process not just the result," junior Jennie Drazin said. "It really emphasizes critical thinking, which is a skill that we won't only use in Judaic studies, but in higher education as well."
The competition, announced by the Mayberg Foundation in January, was designed to incentivize Jewish middle schools and high schools across North America to create new ways to improve Jewish eduction. The contest had three phases, with increasing donations awarded to schools that pass through each stage. The top prize would be $50,000.
"David Stein and Noam Weissman, two members of our incredibly talented Judaic Studies staff have been the brains, vision and passion behind this important project, presented at the competition," Rabbi Segal wrote in his email, on Friday, May 17, informing the school of the win. "I can think of no greater affirmation of the direction we are headed than being awarded this coveted honor."