Mr. Ablin will leave to become new General Studies Principal at Hillel Hebrew Academy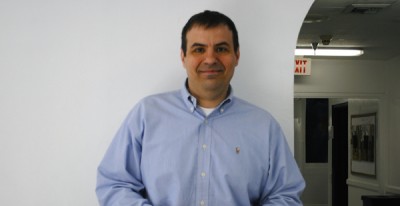 Hang on for a minute...we're trying to find some more stories you might like.
By Jacob Ellenhorn, Co-Editor-in-Chief
A  letter was sent this evening to parents at Harkham Hillel Hebrew Academy, announcing that Mr. Jason Ablin would leave Shalhevet to become their school's new General Studies principal next fall.
Mr. Ablin joined Shalhevet's administration this year as Coordinator of Curriculum Development, though his title was changed mid-year to Director of Professional Development and Innovation.  His most visible role has been arranging tutorials for teachers to learn how to use i-Pads in the classroom.
Ending in June 2012, Mr. Ablin had held several administrative posts, including Head of School, at Milken Community High School.
Here is the text of the letter to parents from Hillel Head of School Rabbi Boruch Sufrin:
Dear Parents,
Hillel is very fortunate to have been able to put together a strong Educational Administrative team over the past few years. One of the keys to our success has been to have Mr. Jeffrey Tremblay as Principal (General Studies) during this time. It is bittersweet to inform everyone that Mr. Tremblay will be continuing his professional journey to the next level as he pursues his skills as a Head of School.
I take this opportunity to thank Mr. Tremblay for his vision, leadership and dedication to the children and families of our school. On a personal level, he has, and will continue to be, a true colleague and personal friend. It is a privilege to count him as one of those few people one cherishes in his life. Fortuitously, we have completed our search and selected a new educational leader.
I would like to take this opportunity to introduce Mr. Jason Ablin as our Principal (General Studies) and integral part of our Educational Administrative Team. Mr. Ablin is well known in the Los Angeles community and has played a significant role in its educational growth over the past few years. Mr. Ablin, originally from New York City, is a graduate of Vassar College and NYU. He chaired the English Department at Yeshiva University High School of Los Angeles (YULA) from 1993-1999 and was the Director of General and Integrated Studies and eventually the Head of School for Milken Community High School from 1999-2012. This past year, Mr. Ablin served as an educational consultant for several schools in the L.A. area, including Shalhevet School.
Mr. Ablin has been an educational leader in several areas, including implementing programs to integrate cognitive neuroscience into educational practice and utilize design thinking and learning through the use of educational technology. Mr. Ablin and his wife, Lisa, have lived in Los Angeles for over 20 years and are members of B'nai David-Judea Congregation.
We are thrilled to welcome Mr. Ablin to the Harkham Hillel Hebrew Academy family, and we look forward to continued growth and advancement under his guidance. We hope to formally introduce Mr. Ablin to the parent body in the upcoming weeks after Pesach break.
Sincerely,
Rabbi Y. Boruch Sufrin
Head of School
Related: From Twitter to Talmud, technology comes to the classroom
Related: Milken's Jason Ablin to blend Judaic, General Studies here