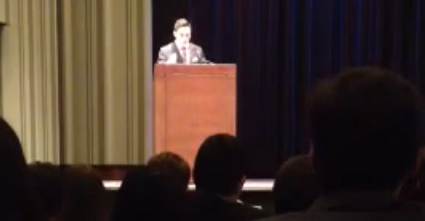 Agenda Chair Daniel Schwartz made history Feb. 7 as the first observant Jew to be elected president of the University of Pennsylvania's annual Model Congress conference in Philadelphia, defeating Rajan Mehra from Harrison High School in Westchester County, New York.
In past years, observant Jewish students were not allowed to run for president, because they would miss Congress on Shabbat.  The four-day conference, which runs from Thursday through Sunday, holds three sessions during the Sabbath.
But last fall, Daniel contacted conference organizers and asked if he could choose a non-Jewish vice president from another delegation, who would be able to take over his duties Friday night and Saturday.  Normally, presidential candidates run with a vice presidential candidate from their own school.
Model Congress staff agreed, and Daniel asked a student he knew from previous conferences, William Kast of the Key School in Annapolis, Maryland, to be his vice president.

"Penn Model Congress staff didn't give me any problems because I was the first one to come up with this solution," said Daniel.
For Daniel, it was a crowning achievement after four years with Shalhevet Debate.  Starting freshman year, he has now participated in six Model Congress conferences, and won seven awards.
"I wanted to be president because it was my last year at Model Congress and I wanted the biggest challenge," Daniel said. "I also wanted to influence U.S. policy on the highest, most powerful level."
It was not the only Firehawk achievement at the conference.  The team won 15 awards, with sophomores Avishai Rabin, Alex Schwartz and Eric Lunzer each winning two awards, while the other winners each received one.
Approximately 700 delegates from 38 schools, some of them top prep schools from New York City, competed at the conference Feb. 7 – 10, writing and debating original bills in various committees modeled after those in Washington, D.C.
Earlier in the week, 10 Shalhevet debaters were in Connecticut for the Yeshiva University Model United Nations (YUNMUN) conference. For the second year in a row, they won no awards.
"I think the members of the Shalhevet delegation deserved to win," said sophomore Avishai Rabin, who participated in both YUNMUN and Model Congress.
"We couldn't believe that we didn't win any awards, and furthermore, we couldn't believe that the most unlikely people won in our place,"  he said.
But the Penn conference was a different story.
At the opening ceremony, each candidate for president was given the opportunity to speak for four minutes to appeal for votes and outline his or her candidacy.
Daniel called gridlock in Washington the nation's biggest problem, and addressed immigration reform as the son of Mexican immigrants.
"The gravest issue that Washington faces today is not the national debt nor the threat of global terrorism," said Daniel.  "It is the political gridlock and lack of unity that defines the holes in the capital on a daily basis."
He said it was imperative for America to make immigration easier, if it wants to remain a world power.
"We must repair the burdensome process of legal immigration," Daniel said, "so that when immigrants decide that they want to move to America, they will not be encouraged to escape two of their major obligations to society: paying taxes and obeying the law."
Delegate Sigal Spitzer, who was at the conference, said Daniel's speech was very nerve-wracking because he went second.
"There was a lot of pressure because Schwartz went after Rajan," said Sigal. "But he was much more passionate than Rajan, and has lots of friends from previous conferences, who were happy to vote for him."
Sigal said Shalhevet's team also helped.
"We all helped Schwartz's campaign by passing out flyers, posters, and cheering," said Sigal.  "Rajan had a campaign too, but he tried to bribe people by passing out chocolates."
Besides winning an automatic gavel, Daniel noticed the perks of being president.  He said he was not really treated like a celebrity, but that other students jokingly called him Mr. President.
"I was able to veto bills from competing schools that passed first session," said Daniel.  "I also signed the Shalhevet bills that passed into law, which gave us some extra points."
Daniel signed two Shalhevet bills into law— one by sophomore Max Helfand, and the other by sophomore Daniel Steinberg. Max proposed that there should be a tax on ammunition, that gun licenses should be federal and not state-by-state, and that there should be stricter criteria about who can get a gun.
Daniel Steinberg proposed to shut off all aid to Northern Sudan, and asked the rest of the world to do the same.
As president, Daniel was part of a special committee comprised of delegate cabinet members.  They still had a chair, and the chair gave out awards to the best debaters.