New caterer has taken over the kitchen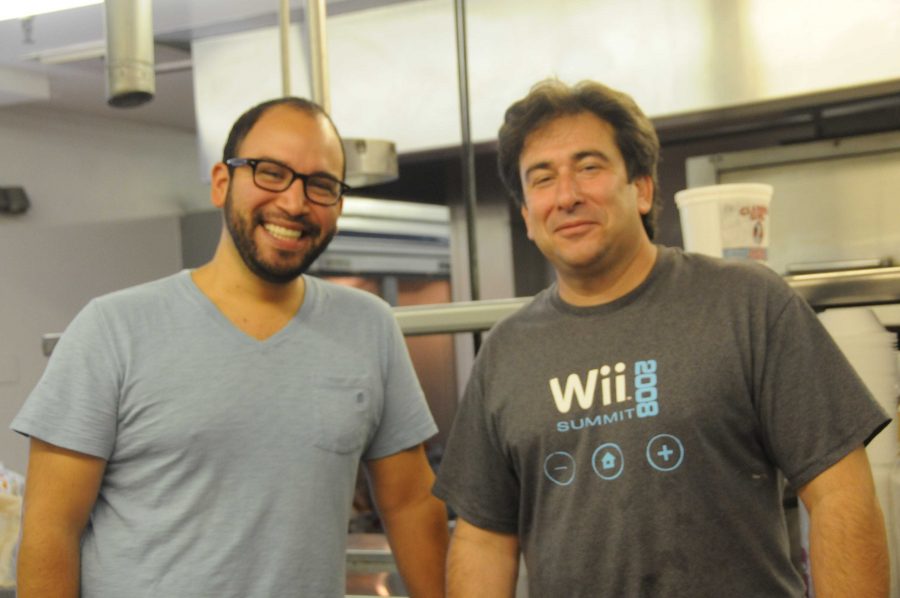 Say goodbye to cardboard boxes and aluminum tins: Shalhevet has found a new on-site caterer to provide breakfast and lunch cooked on campus.
After three months of deliveries from fast-food purveyors Pizza World and Chick'n'Chow, effective Friday, Oct. 28, Randy Fried of R House Foods will be cooking in the school's sprawling kitchen behind the cafeteria. He said order sheets for Friday's lunches would be distributed the day before, Oct. 27.
Mr. Fried previously worked as a manager for Got Kosher. R House was founded last February, and this is its first time catering for a school.
"For a school with high tuition like Shalhevet, students should be able to at least have choices for lunch," Mr. Fried said in an interview.
Mr. Fried expects to offer daily three types of sandwiches, a daily soup, daily salad, a hot entree, and sushi.  For breakfast, he plans free cereal and milk as in the past, but also fresh fruit and parfaits for sale.
He will also said he would sell assorted snacks during Mincha.
"We want to know what students like," he said. "If they let us know, and it's within reason, then we will make it happen."
R House will be using the kitchen for its larger catering business as well, and also hopes to offer ready-made Shabbat dinners for sale. When families who use their catering services mention they're part of the Shalhevet community, R House will give 5 percent of the price back to the school.
Chick'n'Chow's Darren Melamed stepped in temporarily last August after the departure of former caterer David "Dudu" Zrihen of California Caterers.  Dudu had been at Shalhevet for three years.
Mr. Melamed, who is the father of senior Laura Melamed, used his own restaurants' kitchens rather than the kitchen at school, and brought dishes like baked ziti and barbecued chicken pizza to school in boxes and aluminum serving trays.  He also offered sushi and, on Fridays, a salad bar.
The cafeteria also sold snacks but was closed during Mincha and after school.
Mr. Melamed and said he had been contracted to provide food through the fall Jewish holidays.  But Mr. Fried wasn't ready on Monday, so students ordered lunch individually from Pizza World. Facilities Director Eli Schiff and Assistant Development Director Robin Federman took the orders and handed out lunches on tables in the foyer.
This way of ordering lunch was too impractical to continue for the rest of the year.
"It's very difficult to deal with, especially when I should be dealing with the building instead," Mr. Schiff said.  "In addition, having a caterer working on campus benefits students and faculty more.  It means food will be fresh, hot, and sold at a more reasonable price.
"They will also be around all day to sell snacks," he added.
In an e-mail to the Boiling Point, Mr. Melamed said he'd enjoyed working at Shalhevet and had been impressed with the students.
"It was nice after being a parent for seven years to be inside the Shalhevet community, and getting to know the teachers and students a little more intimately," said Mr. Melamed, whose older daughter Debra graduated in 2009.
"I was proud to see how well-behaved and honest the students were, too."
Mr. Fried said students could e-mail him with menu suggestions at [email protected].
Meet the Writer
Tamar Willis, Editor-In-Chief Emeritus
Tamar Willis is a graduate of Princeton University where she wrote and served as business manager for the culture magazine Nassau Weekly.

She joined the Boiling Point staff in ninth grade and served as Staff Writer, Features Editor, Outside News Editor and Sports Editor, winning national awards in feature writing from Quill and Scroll, the American Jewish Press Association and the Columbia Scholastic Press Association. In high school, English and US History were her favorite subjects, and she loved to read and write, especially for the Boiling Point!

Tamar says that if she were a punctuation mark, she would be an Oxford comma or an exclamation point. Tamar could eat sushi for breakfast, lunch, and dinner, and she thinks Clueless is one of the best movies ever made.

Tamar was Deputy Editor and then Editor-in-Chief of the Boiling Point in 2013-14 school year, leading the paper to its second CSPA Gold Crown Award the following spring....