Boycott, sit-in challenge non-renewal of Rabbi Richler, apparently without success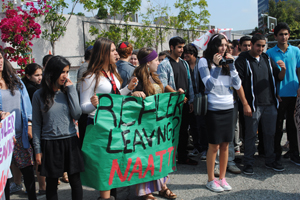 Long-time rabbi says he's 'touched' and administrators say they're listening, but so far no success in drive to keep school's last long-bearded rabbi
To see Rabbi Segal's letter in response to the sit-in click here.
To see the video of the sit-in click here.
In an organized but apparently unsuccessful attempt to reverse the non-renewal of Rabbi Naftali Richler's teaching job, about 100 Shalhevet students and alumni rallied, chanted, and stormed through the halls during a 3rd period walkout Thursday, May 19.
With calls of "Shalhevet needs Richler!" and "Rabbi Richler leaving? Not!"—in imitation of the teacher's distinctive Chicago accent —protesting students surged from a gathering point on the Sport Court into the south hallway of the main building at around 9:35 a.m. in support of one of the longest tenured teachers still at school.
"We want Rabbi Richler to stay," said sophomore Rebecca Ordin as she headed into the building. "We're not going to class."
Students carried pro-Richler signs and banners, first marching around the school and parking lot and finally sitting down and jamming the main hallway at around 9:45.  There, event organizers Shir Alkoby and Yonah Nimmer, both juniors, led cheers for a few minutes until alumna Karen Cohen '07 suggested that the students hold an emergency Town Hall to discuss what to do next.
At one point, Rabbi Richler, who had been teaching the one student who came to class, peered into the hallway in surprise.  A cheer erupted from the crowd on the floor.
"Honestly, I was touched," Rabbi Richler later said.
Administrators did not try to break up the gathering, which continued in the Bet Midrash as students  shared personal memories and said why they thought not rehiring Rabbi Richler was a mistake.
"I couldn't imagine Shalhevet without him," said junior Josh Chowaiki, one of Rabbi Richler's Gemarah students.  "He's always there for students in and out of class, and I enjoy his teaching and bonding with him.'
Long-bearded and usually smiling, Rabbi Richler has taught a wide array of Judaic classes in 11 years at Shalhevet.  He is currently the only Judaic Studies teacher who is not Modern Orthodox.  Affiliated with the Chabad-Lubavitch movement, he is known for being a non-judgmental yet endearing advocate of all of Judaism's laws, from the most basic to the most quirky.
"He's a special teacher because he strengthens every student's religious beliefs without causing conflict," said sophomore Adir Hassid, who has Navi class with Rabbi Richler.  "It would be tough to replace the things he brings to our school."
In 2009, for example, Rabbi Richler prepared the community for the once-in-every-28-years blessing of the sun. He carried in his pocket a folded-up piece of paper on which he'd drawn a circle with short lines emanating from it for rays, which he would remove from his pocket and ceremoniously unfold.
"He got up in every Town Hall and told us all to get ready for Birkat Ha'Chama," said Yonah.  "I didn't know about the mitzvah before, but he made the idea of it fun."
Other teachers also have not been renewed for the 2011-12 school year. But students said Rabbi Richler's easygoing and close relationship with the entire school community, along with his unique (for Shalhevet) religious orientation, merited special attention.
Shir Alkoby said that other faculty leaving also deserved support.
"We would fight for every teacher if we could," Shir said.  "But we felt we needed concentrate our efforts on saving Rabbi Richler—which again shows how important we feel he is to Shalhevet."
As the rally continued in the Bet Midrash, after a handful of student speeches Judaic Studies Principal Rabbi Ari Leubitz addressed the crowd. He called the protest's venue and style "not productive" and suggested that instead, each grade choose representatives to talk directly to the administration.
"I empathize with all the faculty and students," Rabbi Leubitz said soon after the rally died down. "But I'm concerned about other faculty that don't have rallies for them."
Rabbi Leubitz, who spoke to the protesters at around 9:50, added that all students still out of class by 10:00 would be marked tardy.  Students stood their ground until about 10:20, though, when Period 3 was about over. Afterwards, Rabbi Leubitz said he was "not concerned about the tardies."
Right after the demonstration died down, a meeting was held with about between about a dozen students and administrators Rabbi Leubitz and General Studies Principal Phu Tranchi, at which students presented their reasons for wanting to keep Rabbi Richler. According to Yonah, Mr. Tranchi took notes and promised to convey them to Rabbi Segal.
Beyond that, it was confidential.
"I think it becomes a confidential discussion about a teacher, so I can't comment about it," Rabbi Leubitz later said.
Rabbi Richler said he has not been rehired.
"Nothing has changed," Rabbi Richler said.  "Actually, [the administration] got mad at me at first [because of the rally], but then I told them I had nothing to do with the event."
Throughout the rally and afterwards, many students expressed unease at possibility that incoming Head of School Rabbi Ari Segal was making personnel decisions without fully understanding the "big picture" at Shalhevet.
"He doesn't really know the way Shalhevet works, the way Shalhevet operates," said junior Deanna Grunfeld.  "So it's not fair for him to come in, judge it and make a decision."
Interviewed by telephone in Houston, where he is currently head of the Robert M. Beren Academy, Rabbi Segal countered that he used a variety of resources to decide on next year's faculty.
"No decision I make is made in a vacuum," Rabbi Segal told The Boiling Point.  "I spent well over 100 hours talking with parents, faculty, and former directors of curriculum about each case.
"There are so many factors that go into every decision, it's beyond what people can see from their perspective," he continued. "These decisions take tremendous amounts of thought."
Rabbi Segal also wrote a letter via The Boiling Point to the Shalhevet community (see box at right). The entire text of the letter can be found at www.shalhevetboilingpoint.com.
The May 19 sit-in followed a petition drive, also organized by Shir and Yonah, which was signed by 126 students – nearly everyone at school, considering that the senior class was away on the Poland-Israel trip – and a handful of alumni in town who heard about it. The idea for the rally came after the administration failed to respond to the petition.
"Obviously, the petition didn't work," Yonah said, "so hopefully this showed the school we mean business."
"I was really impressed with the turnout," said sophomore Ariela Feitelberg.  "It validated that Shalhevet really treasures student-teacher relationships."
After the hallway sit-in, protesters migrated to the Beit Midrash to speak about why not re-hiring the rabbi would be a mistake.
Some shared personal memories during the impromptu Town Hall, while others—some of whom never had the rabbi as a teacher—rose to attest to his positive impact on their Shalhevet experiences.
In the Bet Midrash, shared personal memories and said why they thought not rehiring Rabbi Richler was a mistake.  But they were soon joined by Judaic Studies Principal Rabbi Ari Leubitz, who called the gathering "unproductive" and said Rabbi Richler was embarrassed.
"I don't think this is productive," Rabbi Leubitz said. "I do think this makes Rabbi Richler uncomfortable, actually I know it does."
Meet the Writer
Ari Feuer, Opinion Editor
Having written an article for the paper even before his Freshman year at Shalhevet, Ari Feuer quickly found himself a niche at The Boiling Point.  Ari rose to Sports Editor at the middle of his Sophomore year and enjoyed a full year writing about Firehawk action until taking on the Opinion Editorship this semester.  The Junior immerses himself in The Boiling Point, the varsity basketball team, and the Model Congress debate team, and can commonly be found on the Sport Court ready to play an intense ballgame.  Don't shy away from writing those Letters to Editor!