Arson at Chabad near U Delaware gives Div. 1 athlete a platform to oppose hate
Shalhevet alum issues statement, but federal ATF says no indication of hate crime so far
When Nathan Benyowitz saw pictures of an arson attack burning the Chabad Jewish Center serving the University of Delaware, he realized he had a platform to take a stand against hate.
Nathan, who graduated from Shalhevet in 2017, is now a senior at the university in Newark, Del., where he plays Division 1 tennis for the Blue Hens.
Although the fire is under investigation and has not been deemed a hate crime — the sight of flames destroying a synagogue was enough to make him act.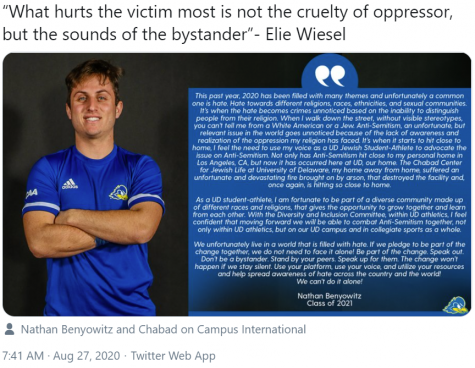 "I came out with a statement on anti-semitism as a whole and all hate as a whole, just within the whole world, that Delaware Athletics pushed out," Nathan said in an interview with the Boiling Point. "I was like, this is my time to use my platform. This is my time to speak."
His statement was first published on the athletic department's Twitter and Instagram accounts and the social media accounts of UD Men's Tennis.
"Anti-Semitism, an unfortunate, but relevant issue in the world, goes unnoticed because of the lack of awarness and realization of the oppression my religion has faced," the statement said. "It's when it starts to hit close to home [that] I feel the need to use my voice as a UD Jewish Student-Athlete to advocate the issue on Anti-Semitism. "
The rabbi and his family live in a separate building and were unharmed.
It was the second arson attack in a month in the Newark area, the first having involved a townhouse on Aug. 17. The federal Bureau of Alcohol, Tobacco and Firearms (ATF), which handles all arson cases, is investigating both that fire and the Chabad fire, and did not rule out the possibility that the two might be connected.
"At this time, investigators do not have evidence linking the two fires together but have not ruled out that possibility," the announcement said. It offered a $5,000 reward to anyone who has information about either of the two fires that took place in Newark.
"ATF Special Agents from the Wilmington Field Office are working alongside the Delaware Office of the State Fire Marshal."
Nathan speculated that a reason they may have not determined whether this was a hate crime yet is because they have yet to find the suspect. But in an email to the Boiling Point, an ATF official put it differently.
"There is currently no indication to suggest the fire at the Chabad Center for Jewish Life was a hate crime.," said Ms. Amanda Hils, Public Information Officer for ATF Baltimore Field Division Amanda Hils in an email response to Boiling Point questions.
The Chabad Jewish Center is not a University of Delaware campus building, but along with Hillel is one of the Jewish organizations serving the school.
According to a Facebook statement by the Aetna Hose, Hook & Ladder Company, one of the agencies responding to the fire, it began on Aug. 25 at around 11 p.m.
"Crews arrived to find fire showing from the rear of the two-story occupancy and began an aggressive interior attack while simultaneously searching for any victims," said the Aetna statement, released Aug. 26.
"They were faced with a number of complicating factors including an unusual building layout (numerous rooms) as well as construction hazards ranging from fire extension in the knee walls to plaster-and-lath walls."
It said fire crews remained on the scene for three hours.
Nathan said that in normal, non-COVID times, between 120 and 140 students share Friday night dinner there each week.
The ATF report estimated the damage to the Chabad center at $200,000.
Nathan said that when he heard about the fire his first reaction was hoping everyone was okay, and then he thought about what he could do to help. He said that student athletes have a louder voice on campus.
"
When you're a Division 1 athlete, we're kinda viewed on a different platform. We have more platforms over social media and different areas that are difficult to reach, that maybe a regular student might not be able to reach.
— Nathan Benyowitz '17
"Being a Jewish student athlete on campus, we kinda have a louder voice," said Nathan. "When you're a Division 1 athlete, we're kinda viewed on a different platform. We have more platforms over social media and different areas that are difficult to reach, that maybe a regular student might not be able to reach."
He said that when George Floyd demonstrations and Black Lives Matter protests were going on last spring, UD Athletics asked African-American student athletes to come out with statements. So when the Chabad fire occurred, they asked Nathan.
The university's Associate Athletic Director for Athletics Communication, Scott Day, and Assistant Athletics Communication Director Maggie Hayon worked on the statement with him, Nathan said.
"It was kinda like a mutual thing," said Nathan. "I have worked with them a lot in their department so it was … me being like, I think it's time for me to speak up and come out with something, and then it was them kinda being like hey we really want you to speak up and come out with a statement."
In his statement, Nathan encouraged people to speak out and support change.
"We unfortunately live in a world that is filled with hate," he wrote. "If we pledge to be part of the change together, we do not need to face it alone! Be part of the change. Speak out. Don't be a bystander. Stand by your peers. Speak up for them. The change won't happen if we stay silent."
As a result of the fire, the Newark Chabad community started a Go Fund Me page with a starting goal of $1 million. As of Sep. 10, it had raised more than $536,000 and Chabad officials are planning a new $3 million center.
"Chabad grows every single year," Nathan said. "It's just a huge testament to how the whole world can actually come together in times of trouble like this."
Former Vice President and current Democratic presidential nominee Joe Biden, who attended the University of Delaware campus, called for a "full and swift investigation" into what occurred.
"With anti-semitism on the rise across the country, we all have a moral obligation to speak out and give hate no safe harbor," said Biden in a tweet Aug. 27.
Last weekend, Rabbi Voegl hosted 60 people in his backyard for the first Friday night dinner of the new school year, Nathan said. He added that the group's state permit was for 150 people but that Chabad had capped the event at 60, and RSVPs were required.
The Chabad Jewish Center in Portland, Ore., was also struck by fire — not once but twice last month — first on Aug. 14 apparently due to an electrical issue, and again Aug. 19. Both fires are under investigation, according to media reports, and the second is being investigated for arson.
CORRECTION: An earlier edition of this story mischaracterized when Nathan Benyowitz published his statement. He published his statement after the fire had been declared arson: he did not publish it before that announcement. The Boiling Point regrets the error.