Firehawk athletes support pros' Jacob Blake walkouts
Shalhevet Firehawk athletes were unanimously supportive of professional athletes' boycotting games in response to the shooting of Jacob Blake, an African-American man, by police in Kenosha, Wisc., Aug. 23, recognizing the importance of battling racism to many players across the various leagues.
Junior Talia Tizabi, who plays center on the basketball team, was one of seven Firehawk athletes surveyed by the Boiling Point.
"Often you hear a lot of people saying just dribble the ball, just get back to basketball, [but] basketball has nothing to do with this topic," said Talia. "While that might be a compelling point, I think it's also important to keep in mind that they're human, and yes they're basketball players on the court, but they are Black people both off and on the court.
"
There is no way to bring about change if people aren't aware of what needs changing.
— Talia Tizabi, 11th grade
"There is no way to bring about change if people aren't aware of what needs changing," she said in a voice message to the Boiling Point. "It's important to keep in mind that these players that are choosing to make a stand aren't only speaking on behalf of Jacob Blake, but are also advocating for themselves."
After players from the Milwaukee Bucks decided not to take the court on Aug. 26, at a playoff game in the Orlando bubble, the National Basketball Association (NBA), Women's National Basketball Association (WNBA), Major League Baseball (MLB), National Hockey League (NHL) and Major League Soccer (MLS) all postponed their games, and the NBA considered canceling the remainder of the playoffs.
"I would definitely do the same thing as the players did," said junior Andrew Petlak, who plays second base on the Firehawk baseball team. "Obviously enough is enough and people have heard their outcries, so I applaud the players and what they're doing."
Many pro athletes have shared their emotions in interviews, expressing their sorrow and concern about Jacob Blake and other African-Americans killed or injured by police, including George Floyd in Minnesota and Breonna Taylor in Kentucky.
"They are talking about fear, we're the one's getting killed, we're the ones getting shot, we're the ones that were denied to live in certain communities," said Los Angeles Clippers manager Doc Rivers in a postgame interview on Aug. 25. "It's amazing why we keep loving this country and this country does not love us back."
Andrew said it made sense for them to speak out.
"Sports is a really big part of our culture," said Andrew, "and seeing all of these big figures taking a stand against police brutality and the issue going on in our country right now is really powerful."
It was the Milwaukee Bucks who became the first team to boycott their playoff basketball game, saying that after the shooting of Jacob Blake, it didn't seem right to play. Kenosha is a Milwaukee suburb.
"The Bucks saw that no one was taking action after the horrible incident," said senior Hilla Lasry, who plays shooting guard on the Firehawk basketball team. "So they decided to take action and stated, 'Despite the overwhelming plea for change, there has been no action, so our focus today cannot be on basketball.'"
Professional athletes, many of whom are members of minority groups, believe the problem hits close to home, as they have watched people like themselves unnecessarily shot and sometimes killed by police — George Floyd being the most well-known recent example. Los Angeles Lakers star NBA player Lebron James said on Aug. 25, in a press conference, "We are scared as Black people in America. Black men, Black women, and Black kids — we are terrified."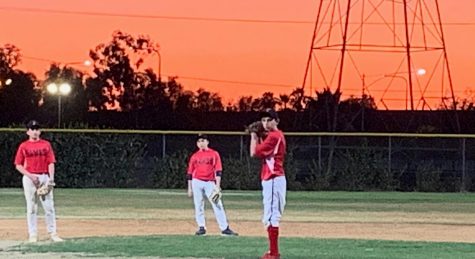 Varsity basketball captain Zev Remer, who plays point guard, echoed James' sentiments.
"I think it's the right thing, they're doing it in a respectful way and they're using the right that they don't want to play because they feel that something is wrong in our society right now which is very understandable," said Zev.
"Watching sports is a way to escape reality for a couple of hours, and when you don't have that escape it makes you think about issues that are in the world, and it doesn't let you run away from the problems. If we can't correct what's wrong in the world, then we don't deserve to watch them play," said Zev.
But even those who were unhappy about the boycott thought they had learned from it.
Jack Metzger, sophomore Firehawk baseball player, said the delayed games were a missed chance for people to show unity.
"One of the ways we could unite is through sports because most people enjoy sports, and if a sports player says a message, even if they continue playing their game, they will still listen," said Jack.
Sophomore Elijah Stern, who plays point guard on the JV team, was glad that the protests didn't extend past the weekend.
"I think the sports games being postponed is the right thing to do, but I don't think they should be postponed for more than one game," said Elijah, who plays point guard on the JV team. "Shaquille O'Neal said today, canceling a sports season isn't gonna turn a racist into a non-racist, and I completely agree with him."
Four MLB games were also postponed on Aug. 26, including a Dodger game and an Angels game.
But by Aug. 29, all the leagues were up and running. There was little doubt, however, that more people knew about Jacob Blake than would have if sports had not gotten involved.
"Before the Dodgers game [was canceled], I actually didn't know at all about the incident and what happened to Jacob Blake, and so looking back at it, the players actually succeeded in grabbing my attention and I learned about what happened," said Joshua Weissman, 11th-grade soccer player.
"And that really wouldn't have happened if they just played, and maybe if they just made an announcement I would be a lot less likely to look into it. So it was probably a good thing that they protested."
According to news reports. Jacob Blake is still in the hospital after being shot in the back seven times. He is reportedly in stable condition, paralyzed from the waist down.