New policy is sending asylum seekers to wait in Mexico as crime there rises
Two migrant teenagers from Honduras were killed in Tijuana in December
Three people were arrested in Mexico Dec. 19 for the murder of two teenaged Honduran migrants in Tijuana, as changes in U.S. policy began to collide with rising crime in the border city while thousands continue to arrive from Central America in hopes of crossing.
According to media reports, the two migrant boys, around 16 and 17 years old, had traveled with the migrant caravan of more than 6,000 people which left northern Honduras in October and arrived at the border in November, Mexican authorities said. The victims' names were not released.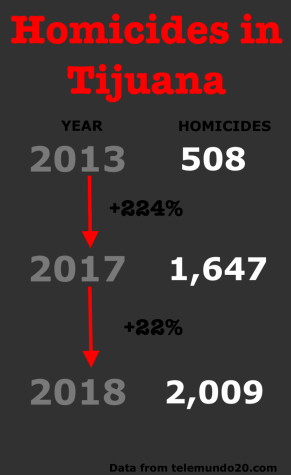 The boys were walking from one migrant shelter to another and were attacked along the way, according to Baja California Deputy Attorney General Jorge Alberto Álvarez Mendoza.
He said they were found in an alleyway at night on Dec. 15, with signs of being stabbed and strangled before being killed. A third teen who was with them escaped after suffering serious injuries.
Ms. Jean Guerrero, border reporter for KPBS San Diego, said she was not surprised that it happened.
"Homicides there are at an all time high, Tijuana is seeing record violence," said Ms. Guerrero, who is also the author of Crux: A Cross-Border Memoir, in a phone interview with the Boiling Point.
"Migrants are a particularly vulnerable group," Ms. Guerrero said. "And so they're often targeted for extortion and kidnapping and other crimes."
Last year was Tijuana's deadliest year yet, with more than 2,000 homicides in comparison to the 1,647 homicides in 2017 and 508 in 2013, according to data obtained by Telemundo 20 from the Mexican State Attorney General's office.
A day after the arrests, on Dec. 20, the U.S. Department of Homeland Security announced a new policy, under which some migrants who arrive at the border requesting asylum would be sent to Mexico while their claims are processed, rather than being allowed to stay in the U.S.
The policy, named Migration Protection Protocols (MPP), first went into effect Jan. 30, with the return of Carlos Gómez Perdomo, a 55-year-old Honduran man, according to media reports. By Feb. 1, at least 12 had been sent back.
Unaccompanied children and migrants from "vulnerable populations" will be excluded from MPP, Homeland Security stated in a press release on Jan. 24.
---
"Individuals arriving in or entering the U.S. from Mexico illegally or without proper documentation may be returned to Mexico for the duration of their immigration proceedings.
— Kirstjen Nielsen, Homeland Security Secretary

---
The policy is expected to face legal pushback. Immigrant advocacy groups have opposed it since its announcement.
Previously, if a migrant requested asylum, he or she would be allowed into the U.S. and given a Notice to Appear, along with a court date for an in-person immigration hearing.
Homeland Security Secretary Kirstjen Nielsen said that this former system, one which President Trump has coined "catch and release," poses a problem.
"All too frequently, if [migrants] say the magic words, they get a free pass into America," Ms. Nielsen said at a Dec. 20 department oversight hearing in which the policy was announced. And once they're in, she said, many of them don't end up showing up for their hearings.
Sending them to Mexico to wait, she said, would ensure that "they will not be able to disappear into the United States.
"Individuals arriving in or entering the United States from Mexico illegally or without proper documentation may be returned to Mexico for the duration of their immigration proceedings," Secretary Nielsen said.
Mexico, in turn, has agreed to house these migrants and provide them with "humanitarian visas to stay on Mexican soil," Ms. Nielsen said. "They will be given the ability to apply for work and be given other protections while they await a U.S. legal determination."
Secretary Nielsen said the DHS has worked with the Mexican government, and would continue to do so, to assure that the migrants "will be protected and provided for as they await their process."
Mexico Foreign Ministry spokesman Roberto Velasco spoke to the Washington Post last week about the Mexican authorities' position on the policy.
"The Mexican government does not agree with the unilateral measure implemented by the U.S. government," he said, according to the Post. "Nonetheless, and in line with our new migration policy, we reiterate our commitment to migrants and to human rights."
Ms. Guerrero said some believe this is better than U.S. detention.
"If you want to look at the bright side," she said, "there's a lot of men who end up detained for really inhumane periods of time, in the for-profit detention facilities in the United States, and it's kind of like a black hole. They don't have access to attorneys, they just end up stuck there."
The policy may also put a dent in the cost price of housing migrants. According to ICE's Fiscal Year 2018 Budget Overview, detention costs an average of $133.99 per adult per day. But ICE has been criticized for faulty rate calculations, and some have put the average daily cost at $208.
Accommodations for families cost more. Sending migrants back to Mexico to wait can help lower these costs.
But the problem of crime there remains, said Ms. Guerrero.
"The downside is that a lot of people don't feel safe in Mexico," she said, "because Mexico as a whole, as a country, is also seeing record levels of violence, and gangs that Central Americans are fleeing, like MS-13 and 18th street, often have networks that extend through Mexico, and there have been reports of people being targeted up here."
"We've created a situation where they don't have immediate access to the safety of the United States and so they continue to be at risk."
El Mexicano, a Tijuana newspaper, reported that during the teenagers' walk they were lured into a building by two women who offered them sex. Two men then arrived, and after learning that the teens didn't have money, they attacked them. The third teen managed to escape by telling the attackers that he would leave and return with money.
A third teen who survived the attack is under the protection of Mexican authorities. He testified that the killers were "in a full state of drug addiction" (translated).
---
Get the latest from The Boiling Point. Sign up for our news feed.
---
Leave a Comment
Meet the Writer
Sam Rubanowitz, Senior Editor
Sam Rubanowitz currently serves as Executive Producer of the Talking Point podcast, as well as Outside News Editor and Chief Video Editor of the Boiling Point. Sam joined as a staff writer at the start of 11th grade, contributing artwork also and winning awards for both writing and illustration. Last year he became BP's first traveling correspondent, flying to Arizona to follow a Los Angeles synagogue group volunteering to help migrants arriving in the U.S. from Central America. He has written extensively on immigration and other political and governmental topics.

After taking the Computer Science course offered at Shalhevet in his junior year, Sam fell in love with programming and took his passion further by interning as a programmer at California Association of Realtors® last summer.

He is a member of three committees on the Del Rey Neighborhood Council and enjoys problem-solving and thought-provoking discussions.