Prop. 12 passes, giving more space to hens, pigs and calves
Should ethics affect what you eat? For years, Californian animal rights activists have been advocating for state-wide cage-free eggs. They moved closer to this goal with the passage of Proposition 12 in the midterm elections, approved statewide by a margin of 62 to 38 percent.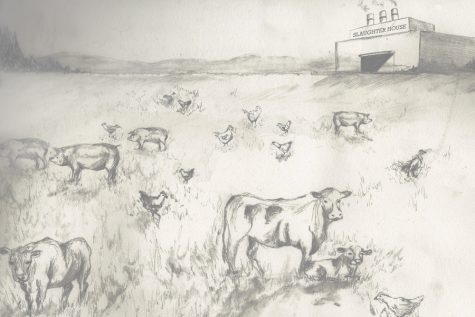 Proposition 12's new provisions will prohibit the selling of food from animals that have been confined in small areas in cages, with new guidelines for egg-laying hens, breeding pigs, and calves raised for veal.
And egg-laying hens whose eggs are either raised or sold in California must be raised cage-free beginning in 2022 at the latest.
The measure was strongly backed by the Humane Society of the United States, along with 32 other organizations and the TV host Ellen Degeneres.
"A vote yes on Prop 12 will prevent cruel and inhumane confinement of mother pigs, baby veal calves, and egg-laying hens in these filthy, tiny cages so small they can barely move," said HSUS's Ashley Welgan in an interview.
Supporters advocated on the basis of animal rights — but so did five opponent organizations, led by Californians Against Cruelty, Cages, and Fraud, sponsored by the Humane Farming Association (HFA).
The opponents argued that one square foot — the amount of space that would be allotted to hens under Prop. 12 passed — is still not enough room, and they didn't like the fact that the act would legalize small cages until 2022.
They also worried that the plan would fail. A proposition passed in 2008 — which Prop. 12 aimed to improve — was also led by the Humane Society and promised to ban egg industry cages by 2015. However, according to the Association of California Egg Farmers, it only changed the cages. Opponents argued that Prop. 12 would fail as well.
---
"Prop 12 will prevent cruel and inhumane confinement of mother pigs, baby veal calves, and egg-laying hens.
— Ashley Welgan, HSUS

---
Ms. Welgan of the Humane Society disagreed, saying that the proposition follows the United Egg Producers standard of cage-free guidelines. She said one square foot is definitely enough space, since the hens would no longer be in cages.
This isn't just a square foot, this will mean cage-free," Ms. Welgan explained. "The hens will now have the ability to roam around. Right now, hens are crammed in battery cages so small they're the size of our microwaves."
The new law also specifies that after 2021, producers will either have to give hens one square foot or one-and-a-half square feet of space. Currently, hens are given 116 square inches. A square foot contains 144.
Shalhevet students seemed to support the measure. Freshman Barbara Seruya agrees that one square foot is not enough.
"Even though hens are simply animals that people eat, giving a hen a square foot of room to live until they are killed is just mind-blowing," Barbara said. "Why is it so hard to let chickens have extra space? It is just absurd because they are so small and their lives are so short, but people just cannot seem to care."
Prop. 12, she said, would be better than nothing.
"It seems like both sides are flawed," Barbara said, "but I would have to agree with Prop. 12 because it seems like this is the best there is."
Aside from preventing animal cruelty, supporters claim that it will also provide better health for humans. According to The Humane Society, salmonella is more prevalent among caged eggs.
Humans' financial health is another matter. Both sides agree that the price of eggs will go up, though they disagree as to how much.
"Changes in housing systems, which come with significant costs that increase food prices, should be driven by consumer purchasing decisions, not the agenda of any activist group," said Jim Monroe of the National Pork Producers Council on the website Ballotpedia.
---
Get the latest from The Boiling Point. Sign up for our news feed.
---