French Jews abroad say election of Macron won't stop more from leaving
But they are very glad new president defeated Marine Le Pen.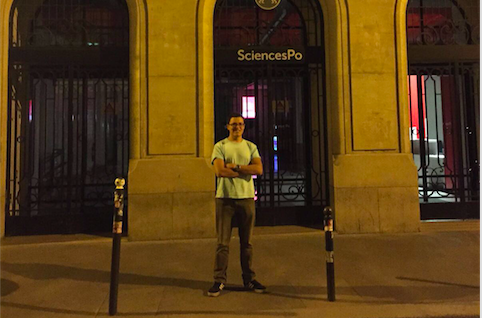 France's election of Emmanuel Macron as president May 7 was greeted with relief by Shalhevet's French-American families, but they also said it would not make the country more safe for Jews.
His opponent, Marine Le Pen, would have been worse, they said, but they don't expect Macron to make a difference for Jews still living there.
"I'm not sure that there is a future in France for Jews anymore," said Mrs. Severine Chriki, mother of sophomore Tara Chriki. "Whether it's Macron, whether it's Le Pen, whether it's anyone, I think that France is slowly going to become a France without Jews."
Shalhevet alumnus Nathaniel Kukurudz '11, a French citizen who is currently studying in London, said that he did not expect any major change for French Jews with Macron as president.
"There are soldiers in front of every single Jewish establishment in France," said Nathaniel, who is enrolled in a master's program that meets half in London and half in Paris. "In front of every school, in front of every shul. It's not a normal situation. People don't want to have the feeling that they are threatened."
"You have an entire group of Jews who are becoming more wary of the rising situation," he said in an interview. "[They] understand that perhaps the way of life they had before won't be there. They fear their safety."
However, Nathaniel also said that the situation would have become much worse if Le Pen had won.
"If Le Pen had won, of course you would have had even more Jews leaving France, with a sense of urgency I would imagine," he said.
Nathaniel's family left France in 2002 after an election very similar to this one, when Jean-Marie Le Pen — Marine's father — made it to the second round.
"My family was worried that this blatantly anti-semitic guy was in the final of the election," Nathaniel said. "That was a threat that they perceived, and that was part of the decision for us to leave."
Almost all Jewish communal leaders in France supported Macron, according to Times of Israel. France's Chief Rabbi Haim Korsia — along with Protestant, Muslim and other religious leaders leaders — wrote a statement endorsing Macron.
"Fully aware that our roles require us to be non-partisan, we are, however, first and foremost responsible citizens and therefore openly are calling for a vote in favor of Emmanuel Macron," the statement said, according to the Jewish Telegraphic Agency.
According to TimesofIsrael.com, 96.3 percent of French-Israelis voting in Tel Aviv, Netanya, Haifa, Ashdod, Eilat and Beersheba voted for Macron. Overall, Macron won 65 percent of the French vote to Le Pen's 35 percent.
Supporters of the European Union were relieved as well, as Mr. Macron's opponent, Marine Le Pen, had vowed for most of the campaign to follow Brexit with "Frexit" and take France out of united Europe.
Speaking to a Jewish audience in March when he was a candidate, Macron said that he planned to keep the status quo in French foreign policy.
However, that apparently did not go over well with the audience, though they support membership in the EU.
According to Times of Israel, they responded by hissing and booing.
"Oh, no?" said Macron, who seemed surprised, the report said. "Perhaps it's not your policy, but it is mine."
Under former President Francois Hollande, France had voted in favor of a UN resolution denying Judaism's connection to Jerusalem, and had proposed a Palestinian-Israeli peace conference without Israeli support. But Macron, a former economic minister without foreign policy experience, was
However, according to the Jerusalem Post, Macron plans on working very closely with Israel on policies that encouraged innovation.
Jean-Marie Le Pen was head of the National Front party until 2011, when his daughter took over. He was accused and convicted this past year of "inciting religious hatred" for his anti-semitic comments, according to independent.co.uk. His daughter ousted him as party leader after that.
Neither he nor his daughter won election as president of France, but both won many votes. Jean-Marie Le Pen won 17.8 percent of the vote in the second round in 2002, representing about 5.5 million votes. Marine Le Pen did even better, with 33.9 percent in the second round, about 10.5 million votes.
Mrs. Chriki said President Macron would not be able to change the current state of affairs for French Jews.Ms. Chriki, who left France with her family in 2003 but still has French citizenship, predicted that Jews would keep leaving France.
"It's too late," she said. "It's out of control. How could they get rid of all the extreme Muslims that are already in France and Europe? … You cannot do anything in France. You cannot wear a kippa, you cannot be jewish outside of your house."