Rams have some work to do to win fans from other teams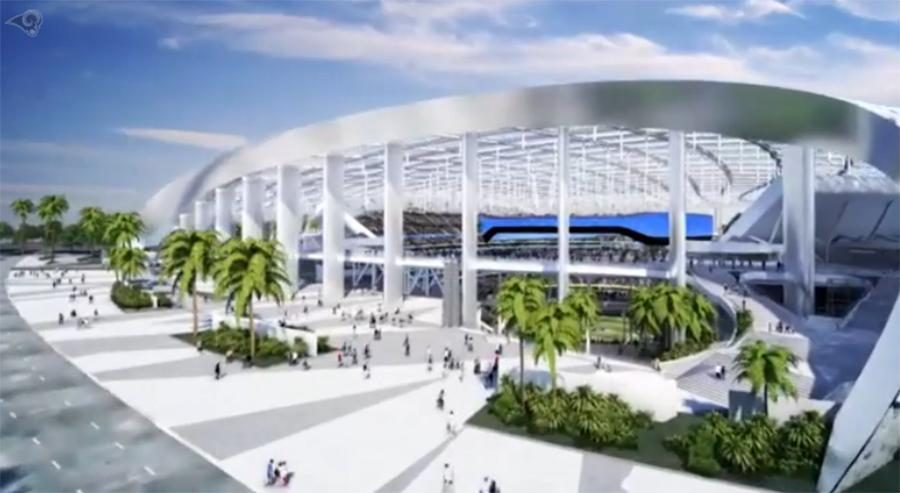 Jordan Fields, Staff Writer
January 27, 2016
Despite the excitement of the Rams coming to Los Angeles, many Shalhevet students will still support the team they already root for, according to an informal survey of students last week.
After a 22-year-drought, local football fans find a familiar team in the Rams. They played here before, and on Jan.12 the NFL, by a vote of 30-2, said they could come back.
"I am a firm believe in something called loyalty," said junior Alex Silberstein. "I feel like I dedicated a lot of my time and my heart to the [Atlanta] Falcons and I have developed a personal connection to them. I feel like it would be wrong if I betrayed them and started fresh with the Rams."
Of 18 Shalhevet sudents interviewed, 14 planned to stick with other teams, while only four would root for the Rams. No one who had been following another team planned to switch.
Sophomore Rami Gruman roots for the Green Bay Packers.
"It wouldn't feel right to switch allegiances after having rooted for them for so long," Rami said.
League owners also voted to let the San Diego Chargers join the Rams in their move to L.A. if they can work out a stadium-sharing plan. No decision has been made yet, but it seems likely that the Chargers will come to Los Angeles too, because they don't like their stadium in San Diego.
Another team that had hoped to come to L.A. was the Oakland Raiders, but the NFL owners turned them down.
Some students were disappointed that the Rams had been picked over the Raiders. Others are attached to teams who were not in the running to come to LA.
Sam Hirschhorn would have preferred the Raiders.
"I am still going to remain a [New York] Giants fan for sure," said Sam, who plays on Shalhevet's flag football team. 
"I might like the Rams a little," he said, "but I was disappointed it was not the Raiders, because the Rams are terrible and they just have a terrible head coach, bad organization, which is annoying. But the Raiders are really good and if they moved, I would be a hardcore Raiders fan."
Freshman Clara Sandler had been rooting for the Rams already.
"I will definitely root for the Rams, because my dad grew up a Rams fan and has been rooting for them to come home," Clara said. "And now they're finally here and I'm really pumped!"
Other students are just glad pro football will be here.
"I have been waiting to have a football team in LA to root for, and I am really happy it is the Rams and not the Chargers so far," said freshman Noah Altman.
The Chargers have until January 2017 to make a decision.
Junior Eitan Ohana, who before did not follow football, said he will now.
"I had no interest to root for football because there was no team that I could call mine — and now there is," Eitan said.
Up until 1980, the Rams played in Los Angeles, then moved to Anaheim, and in 1994 left for St. Louis. The Chargers were the closest football team to Los Angeles after that.
Although many are excited about the move, it may not take long for them to realize that the Rams have not had a winning season in more than 10 years.
Led by owner Stan Kroenke, the team plans to build a new $3 billion stadium in Inglewood, south of Culver City, where the Hollywood Park race track used to be. Reports say it will be the most expensive stadium in the world.
Except for the Staples Center, it will also be the closest to Shalhevet of any pro sports venue in Los Angeles — about nine miles away, compared to 9.3 miles for the Coliseum, 11.5 miles for Dodger Stadium and 19.6  miles for the Rose Bowl, according to Google Maps.  The Staples Center is 6.1 miles from Shalhevet and an easy Metro rail ride away.