Israel, California join forces on water crisis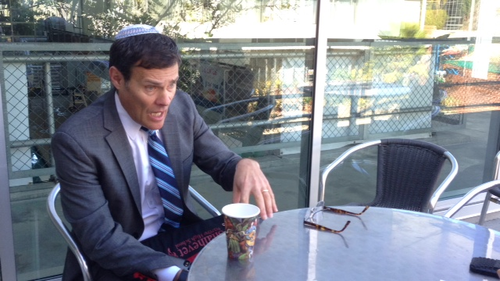 Hang on for a minute...we're trying to find some more stories you might like.
By Zack Hirschhorn, Staff Writer
The state of California and the government of Israel signed an agreement last spring on a large-scale plan that will bring Israeli expertise in a variety of areas — especially water — to California over the next couple of years.
Consul General David Siegel, Israel's representative to the southwestern United States, described this agreement in a speech to the student body Jan. 11 in the auditorium.
"It is the most significant agreement, the broadest agreement California has signed with any country in recent years," said Mr. Siegel in an interview with the Boiling Point after the talk. "California has other important agreements, with China, with Mexico, but this one is a broader more comprehensive agreement."
In Sacramento, Gov. Jerry Brown issued a statement March 5 after signing the agreement.
"Through this agreement, California and Israel will build on their respective strengths in research and technology to confront critical problems we both face, such as water scarcity, cybersecurity and climate change," said Gov. Brown, according to a press release.
According to the press release, the agreement states that it was created "for the purposes of establishing a formal relationship" between Israel and California in order to, among other things, "incubate global solutions from joint California-Israel innovation initiatives."
It is signed by Gov. Brown and Israeli Prime Minister Benyamin Netanyahu, and signed "on the 5th day of March, 2014, corresponding to the 3rd day of Adar II of 5774."
Along with water management, the agreement plans cooperation in the areas of agriculture, biotechnology and medicine, culture and education, cyber security, and the environment. They were chosen, as the Consul General put it, "to zero in on what the most important challenges for California that are also challenges that are important to Israel."
 "Israel has the experience," Consul General Siegel said, noting that a high percentage of Israel's land is the Negev Desert. "It has overcome its water problems through a variety of ways."
Among these are using water for agriculture that would not be suitable for drinking, and saving water under cities he said.
Israel and California have already set up a steering committee to oversee the agrement's implementation.
In the Culture and Education area, Israel has agreed to send the Dead Sea scrolls to the California Science Center from March to September of this year. A biotechnology agreement will pair and co-fund Israeli and Californian companies so they can share their research.
Israel will also send a cybersecurity team to California to advise both the government and private companies.
Water is of great concern to California now, partly because of a historic drought affecting the state and partly because global warming is diminishing snowpack and glaciers that feed the state's water system.
Israel and California now plan to co-host a water conference in California next year, and the state may also send delegates to international water conferences in Israel.
Israel is number one in the world at recycling water, Mr. Siegel said.
"Underneath cities, 30 to 40 percent of all water is lost" through aged and leaking pipes, he said. "You could do high-tech smart grids under cities to better manage water pressure and minimize leaks. Take the city of Tel Aviv, with two million people. Less than 10 percent of the water is lost. All of the water being used is being reused again, and that goes to agriculture in the Negev."
Separately from the agreement, a desalination plant is being built in Carlesbad, just north of San Diego, by the Israeli company IDE, set to open in 2016. Mr. Siegel said this would help California and Israel too, because California has more than 600 separate water and irrigation districts, and they will now know about an important sector of Israeli business and technology.
But Consul General Siegel agreed that desalination is not the best way to combat the current water shortage.
"Israel believes that … you should be doing other things before that," he said.
"Conservation doesn't cost you anything," he said. "If the water goes into the ocean and you don't capture it, it doesn't make any sense to spend a billion dollars to take it back out of the ocean."
A successful Israeli marketing campaign involved celebrities. In ads broadcast nationwide, the celebrities' faces appear to crack like dry soil as they say, "Israel is drying out."
"Recycle more, have a public campaign that teaches kids to shut off  water," the consul general said. "Israel has saved 10 percent of its water just through marketing.
"You can do a Hollywood campaign here in two minutes," he added.