Consul General says Palestinian ICC bid harms cooperation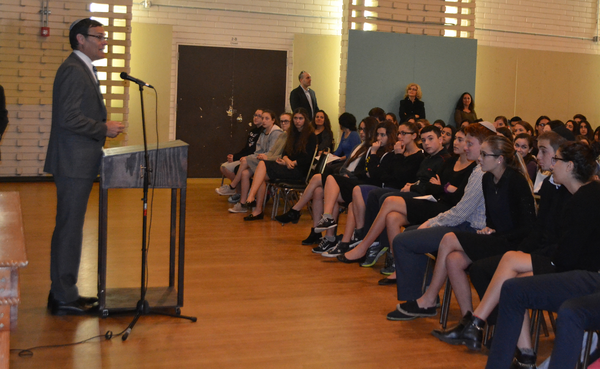 By Mark Miller, Staff Writer
February 15, 2015
"Once you decide to go to court, it's a completely new relationship," said Israeli Consul General David Siegel, describing the impact of the Palestinian Authority's plan to bring war crime charges against Israel in the International Criminal Court.
Mr. Siegel spoke to an all-school assembly Jan. 11, less than two weeks after P.A. President Mahmoud Abbas had signed papers to join the U.N.-sponsored tribunal, and the topic was a main focus of the discussion.
His visit was arranged by junior Jake Benyowitz, who is in charge of outreach and speakers for Fire-hawks for Israel. It was the first time an Israeli diplomat had spoken at school.
In response to students' questions, the Consul General also discussed the issue of settlements, the possibility of reform of Israel's complicated political system, and outreach to non-Jewish communities in the U.S.
Mr. Siegel said the P.A.'s decision to seek membership in the ICC, which would give it standing to bring charges whether it does so of tension between it and Israel. That would not only make negotiations together, but would make it hard for the two parties to cooperate in ways they already do, he said.
"With this kind of stuff, it's going to be very difficult to trust each other, to sit down in the same military command center in Judea-Samaria and cooperate together to fight terrorism," he said.
The Boiling Point asked whether Israel might actually benefit from going to the ICC, by presenting its case to the world. Mr. Siegel also argued the international courts and not objective and would likely find Israel guilty in any case.
"We have a very string case," Mr, Siegel replied. "There is no other army that tells the enemy what we are going to do before we do it in order to get civilians out of the way… The problem is that these courts are not objective. You could come with the best case, and if it's a political court, they will turn everything upside down."
Sophomore Maya Golan asked the Consul General to explain Israeli settlement policy. Mr. Siegel replied that world opinion is confused regarding settlements and Jerusalem, lumping at least three different kinds of areas into a single category.
Certain West Bank settlements are in large settlement blocks, he said, and it is generally agreed that those areas will belong to Israel after peace negotiations, after West Bank land swaps for a two-state solution. One block is Gush Etzion, including the large city of Efrat.
Second, there is Jerusalem. Israel has built many communities in Jerusalem for many years without problems but now this too is being criticized, he said.
"In recent years, everything we've been doing in Jerusalem, in the eyes of many governments, has become settlement issues," he said. "They never were before. Jerusalem is Jerusalem."
Then there are the isolated settlements, presumably including the outposts that Israel has dis-mantled or otherwise deemed illegal. Those, he said, would be discussed in negotiations and he said Israel was not committed to deciding them one way or the other.
But for now, he said, tension with the Palestinian Authority President Abbas stopped negotiating.
"They are not in a mode of negotiations with Israel," Mr. Siegel said. "The Palestinian leadership has made a strategic decision that they're not going to negotiate."
Mr. Siegel also discussed Israel's political system and said that there was a possibility for reform. Right now, very small parties can achieve representation in the Knesset, and so they have grown in popularity while the large parties have shrunken.
No party controls more than 35 percent of the Knesset's seats, making it hard for any leader to form a stable coalition, since a small party that disagrees with one decision could withdraw from the government, preventing anyone from having a majority of votes.
"There are attempts to tinker with it, to stabilize it, to raise the threshold so that smaller parties can't be part of the system," Mr. Siegel said. "But by and large, the issue is… that the big parties have shrunken in size, we need more and more parties to form a government, and it's very had to do that with a committee of rivals."
When someone asked what Shalhevet students could do to help, Mr. Siegel said Americans should reach out to non-Jewish communities to maintain and build support for Israel.
"Other communities are receptive to learning about both the Jewish community and Israel," Mr. Siegel said, "as long as we do it in a way that we connect to their values, and their life, and their world."
"We don't have to agree on everything theologically, but we can agree than when Muslim extremists are coming out to kill people in Paris,  or to kill Christians in the Middle East, we have a shared interest in fighting together," he said. "So, if you do this, and you do it with members of Congress… you have a very good chance of keeping America and Israel together."
Currently based in Los Angeles as the Israeli Consul General to the Southwestern United States, Mr. Siegel is a law school graduate and also worked as a speechwriter at for Israel at the United Nations.
He ended his visit by telling the students a bit about his day-to-day routine as Consul General, adding that it was a job anyone in the room could aspire to.
"It's a cool job– Native American in the mid morning, Persian Jews in the afternoon, Ashekenazis here…," he said.
Jake Benyowitz said he arranged the event by telephoning the Consulate and asking to speak to someone in public affairs. He was connected with Carolyn Ben-Natan, and the two worked for more than two months to arrange the event.
He was very happy with the results.
"I was thrilled," Jake said. "Everyone had really good questions, he was very engaging, and he said that he wants to come back again to talk a second time.