Hundreds of teens in throng at Beth Jacob remembering Shaar, Fraenkel and Yifrach
In interview, aunt of victim urges teenagers to remember him by learning Torah, behaving "seriously"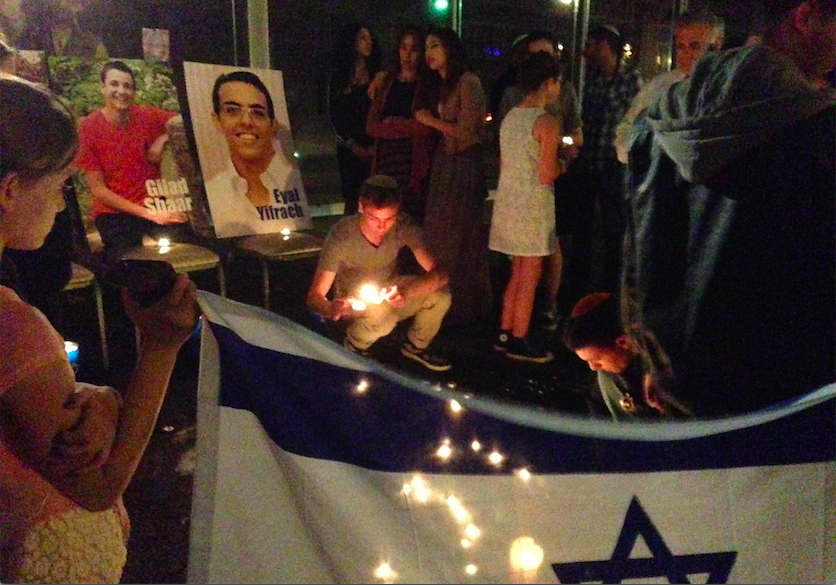 By Daniel Steinberg, Opinion Editor

Lihi Shaar ascended to Beth Jacob's sanctuary podium while a packed crowd gazed on with silent anticipation.  About 1,500 heartbroken supporters from the Jewish community and beyond had gathered there Tuesday evening to mourn the murders of three kidnapped Israeli boys at the hands of Palestinian terrorists.
Ms. Shaar's nephew, Gilad Shaar, was one of those boys.
She reached the podium and cleared her throat.
"It wasn't supposed to be like this."
"For the last 18 days, never for a moment did I ever think that Gilad, my dear nephew, was anything but alive," said Ms. Shaar, who recently moved to the Pico-Robertson neighborhood from Calabasas, and whose brother is Gilad's father.
"It was my emunah, my deep belief, that Gilad, with Hashem's help, would somehow live through all this, through all the torture that the terrorists might put him through," Ms. Shaar said.  "It was my emunah that Tzahal, the IDF, would find him and bring him home safely…"
"The victims are only three innocent boys who had done nothing hurtful to anyone," she continued. "But they were Jewish. We, the Jews, have the right to stand in our land. It's not a crime."
Supportive applause erupted throughout the room, as it would throughout her speech.
Ms. Shaar was one of the key speakers at a Community Memorial and Evening of Solidarity held at Beth Jacob on July 1. Led by Beth Jacob's Rabbi Adir Posy, other speakers included Israeli Consul General David Siegel, Jewish Federation CEO Jay Sanderson, Assemblyman Richard Bloom, and Pastor Jeremy Cook of Christians United for Israel.
All denounced the perpetrators of the murders as barbaric and avowed their solidarity.
Only a day before, Israeli rescue forces had discovered the bodies of the three missing victims – Gilad Shaar, 16; Eyal Yifrah, 19 and Naftali Frenkel, 16 — half-buried near Hebron, anguishing the Jews worldwide who had hoped and prayed for their survival through the18 days of uncertainty following their kidnapping.
Interviewed after her speech, Ms. Shaar asked Jewish teenagers to remember her nephew Gilad by emulating him.
"Listen, Gilad was a very responsible boy," Ms. Shaar told The Boiling Point. "He did everything correct. He was the one who called the police as soon as they were kidnapped. He tried to make everyone happy and do good things.
"So, remembering him, I wish all the teenagers would learn Torah, behave seriously, live by values, help each other, do good things, and forgive each other, because life is precious."
The crowd was so large that it didn't fit in the synagogue's main sanctuary. Supporters lined up out the doors out to Olympic Boulevard.  Estimates in the 1,500 range came from Beth Jacob's Facebook page and The Jewish Journal.
Some of those unable to find seating in the main hall watched the event projected live onto a screen in a smaller, adjacent hall. Others who couldn't fit inside the building followed the speeches through strained listening and the occasional rumor passed back through the crowd.
Among this sprawling crowd were several hundred teenagers, adolescents around the same ages as the Israeli victims they came to commemorate. While many Shalhevet students and staff were away due to summer plans – some in Israel –  at least 20 students, several more alumni and two staff members made it to the memorial.
Incoming junior Jake Benyowitz managed to secure a seat in the fourth row of the main sanctuary.
"This tragedy was much more impacting than normal news stories," said Jake. "These were kids who were my age and did the same things I do. It's made me realize that life is short, and I feel closer to God. When I go to Israel this summer, I think I'm going to have a very different experience."
New alumna Maya Ben-Shushan '14 said being a Bnei Akiva madrich, or counselor, had made the tragedy more personal to her, because all three victims were Bnei Akiva leaders in Israel.
"Like most people, I couldn't hold back my tears when I heard the details of the boys' murders," said Maya. "But all I could think about was the Bnei Akiva motto 'Am Yisrael, B'Eretz Yisrael, Al Pi Torat Yisrael,'" —  the nation of Israel in the land of Israel by the Torah of Israel.'
Ms. Shaar said she was grateful for the community's sympathy and solidarity.
"In this tragedy, I've felt like everyone is my own family," Ms. Shaar told The Boiling Point. "Even though I am alone, I've felt like I'm not alone. Everyone cares like they were their own children. The solidarity that they are showing me; the warmth, the care, and all the tefillot [prayers] – that's what has kept me from crashing."
In her speech, Ms. Shaar said she was surprised by the outcome.
"Every moment, I believed that his five sisters and his parents, my brother and sister-in-law, would have their beloved child back," Ms. Shaar said.  "But from the beginning, most everyone knew that terrorists only know how to act with ugly cruelty, and that is exactly what they did to him."