Confusion and civility combine at LAX after shooting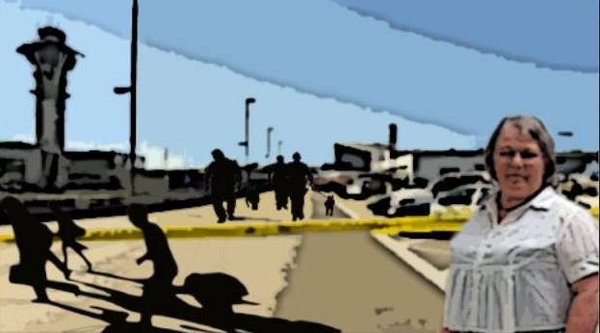 History teacher Mrs. Tove Sunshine and her son Nathan had just boarded their plane and were watching the remaining passengers squeeze down the aisle when suddenly one of the flight attendants said in a very urgent tone that everyone must evacuate.
As they did, Mrs. Sunshine saw hordes of people bursting out of the terminal doors through emergency exits and rushing onto the tarmac.
"I was baffled," said Mrs. Sunshine, who was waiting for Southwest Airlines Flight 254 to take her from Los Angeles to San Francisco, "and could not figure out what was going on."
Because Southwest is in Terminal 1, Mrs. Sunshine and Nathan had not heard gunshots. But over in Terminal 3, suspect Paul Ciancia had killed Gerardo I. Hernandez, a TSA agent with a wife and three children, in the security line. Mrs. Sunshine and her son were close enough to have been among thousands personally affected when the airport completely shut down well into the afternoon.
There was no school that day, but Mrs. Sunshine had been excused from faculty development meetings so she could visit her ailing mother in Northern California. From around 10:15 a.m. until 3:45 p.m., she and her son stayed in place at the airport as security officials searched for accomplices and other danger. Finally, they announced that everything was safe.
Among those not hurt, word of the shooting first spread as rumors, which was gradually and sadly confirmed as people checked their smartphones. If this confirmation was not enough, countless numbers of witnesses had stories they shared from Terminal 3.
"It was shocking when we heard about it and a little bit scary," Mrs. Sunshine said in an interview later, "even though realistically I knew we were a couple of buildings away."
In all, there were seven injuries in addition to the death of Mr. Hermandez, who became the first agent to die in the line of duty since the Transportation Security Administration was formed after the terror attacks of 9/11.
The shooter, who reportedly targeted TSA agents deliberately, remains at Ronald Reagan-UCLA Medical Center after having been shot during the incident by police. On Nov. 12, his condition was upgraded from critical to fair.
According to the Los Angeles Times, "the incident was over in less than 10 minutes, but caused chaos at the world's sixth-busiest airport and disrupted thousands of flights across the nation."
After evacuating their terminals and planes, passengers on the tarmac were carried by buses to a building behind the Bradley International Terminal. This building, which seemed old and which Mrs. Sunshine thought might have dated back to World War II, was normally used for immigration and included passenger seating waiting areas, she said.
Here, they would all be safe from the gunman and his bullets. Mrs. Sunshine estimated that about 1,500 people were crowded together inside, filling the building to the brim. News articles said as many as 2,700 people might have been there. All of the seats were taken and people resorted to sitting on the floor.
"It was hard to walk between people," Mrs. Sunshine said. Inside were passengers who'd come from Terminals 3, 2 and 1. Some had run for their lives while the shooting was happening and shared their stories with people sitting near them, while many others seemed in despair because they were so traumatized by what they had heard or seen themselves.
But the overall environment, according to Mrs. Sunshine, was surprisingly civilized considering how crowded it was. A Southwest Airlines representative took charge of updating the large group with information she could obtain about the shooting.
Emergency personnel brought water, peanuts, and pretzels, which were the only foods accessible until hours later, when more necessities were brought.
There was also kindness among the passengers. Many people, though still scared, shared their phone chargers, water and sometimes baby diapers with others who were not as well-supplied. People were helping reunite dogs with their owners and reported to paramedics if they noticed a person who looked or felt ill.
Additionally, people kept the courtesy to clean up after themselves and throw their trash away.
Eventually, more supplies arrived. The Red Cross brought Gatorade and cookies for everyone, and paramedics and firemen brought wheelchairs for those in need, Mrs. Sunshine said.
At a quarter to four, buses arrived once again and brought everyone to Terminal 2, from where they were able to finally leave. But the airport was still closed, and there were police cars, ambulances, fire trucks, and news trucks everywhere.
"It felt very surreal," said Mrs. Sunshine.
Those leaving the building were faced with another dilemma: how would they get home? Most had been dropped off at the airport by a family member or a friend and had no way of getting home without a taxi. But there were no taxis, because the airport was closed.
Luckily, Mrs. Sunshine and her son were able to leave the airport easily in her car, which was waiting for them in an airport parking lot since they were planning on being gone for just two days.
Contributing to the atmosphere of kindness, Mrs. Sunshine offered a woman who'd been in Terminal 3 at the time of the shooting and was somewhat shaken a ride to UCLA, slightly out of the way from Mrs. Sunshine's destination near Shalhevet.
Others, who were not as lucky, painstakingly carried their bags with them and walked out of the airport — sometimes all the way to the San Diego Freeway or beyond — until they were able to find a ride somewhere else, news reports said.
Mrs. Sunshine, who initially came to the airport to travel to her ill mother, was not able to do so that day. Instead, she and Nathan completed their trip to Northern California the following weekend without the chaos they witnessed on the Friday morning of Nov. 1.
Returning to the airport just a week after the shooting, Mrs. Sunshine felt more or less the same as she would have any other time she visited the airport, she said. The only difference, she noticed, were the TSA officers. Out of respect for the death of their fellow agent, they wore black bands over their badges.
"This brought it home to you that they had been particularly targeted," said Mrs. Sunshine. "I was very conscious of that."
Mrs. Sunshine visited her mother in Oakland the following weekend instead. She said her visit went very well and the delay did not affect it much.
"It was a good weekend," Mrs. Sunshine said.
Related: Lack of information hurt emergency response after LAX shooting
Meet the Writer
Nicole Soussana, Senior Writer
Nicole Soussana has been writing for the Boiling Point as a staff writer since freshman year and wasTorah Editor last semester. Aside from her work for the Boiling Point, Nicole is also involved in other extra curricular activities and organizations such as choir, Bnei Akiva, and Friendship Circle. She loves to sing but it's her dream to some day learn how to play the piano. During her free time she also enjoys golfing with her family and painting.